To Hollywood and Back
Hillary Hoggard Meinheit's varied film industry career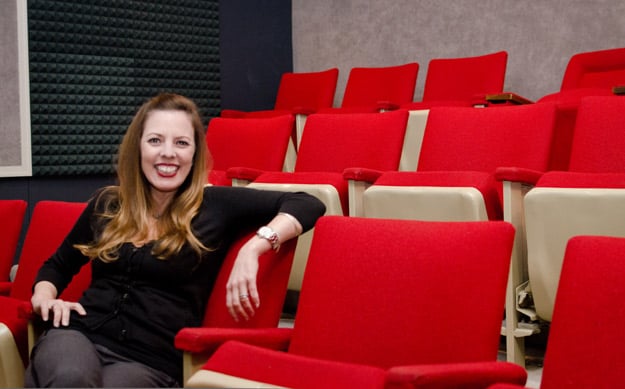 Twenty years ago, Hillary Hoggard Meinheit was cast as a stand-in for Lily Joseph in Disney's White Fang 2.
She'd done some theater growing up, but being on an actual set in Colorado with someone like Alfred Molina was intoxicating, and soon she was on her way to California where she worked as an extra, a production assistant, and a stand-in.
Eventually she landed in the commercial world as the head of production and producer for an international commercial production company.
"I loved the intense pace of commercials and the great sense of accomplishment that world offered. Mostly, I loved the camaraderie," says Meinheit, who now lives in Wilmington and still keeps a toehold in the film industry after her introduction to it years ago.
Jumping in feet first, one of the first films she worked on in Los Angeles was Forrest Gump. From there, she moved on to working on a large feature one day, a music video the next, even video games.
Originally from Wilmington – her great-grandfather was John T. Hoggard – she grew up in Italy and outside of Washington, D.C. After attending the University of North Carolina Wilmington and then traveling the country, she wound up in Aspen and on that fateful Disney set, which would eventually lead her back to Wilmington to work for the North Carolina offices of Entertainment Partners in payroll and film financing.
In the position, she looks for and works with clients interested in film tax credits on their projects. She keeps tabs on the legislative updates on the incentives throughout the region.
She can also be found providing requested items for productions that aren't easily available including "anything and everything," Meinheit says. "In one day I've ordered bonnets for Amish women and machine guns. The day is never boring, that's for sure."
And though she's busy with her own business – Meinheit Consulting, which is a base for the film and television scripts she's working on – she's also busy with her family and in the community, volunteering at her children's school, being the president of North Carolina Junior Sorosis, and being the newest board member of the Cucalorus Film Festival.
"I enjoy being involved in the community and doing what I can to make a difference," she says. "Everyone goes through difficult times in their life, it is our responsibility as a community and as human beings to be there for others and help them through."
She also sits on the planning committee for the Walk to Defeat ALS event. Meinheit took up the cause after the best man at her wedding developed, and ultimately succumbed to, the disease.
"It is one of the worst diseases that anyone can have. You want to do whatever you can do to not have someone else go through this," she says.
But her most recent achievement is being invited to be vice chairwoman of the Cape Fear Economic Development Council, which tries to bring to the forefront those industries, individuals, and concepts that further the development of the Cape Fear region that are "actionable, sustainable, and that builds on existing strengths of the region," according to the group.