Summer Sounds
Tune into these outdoor concert series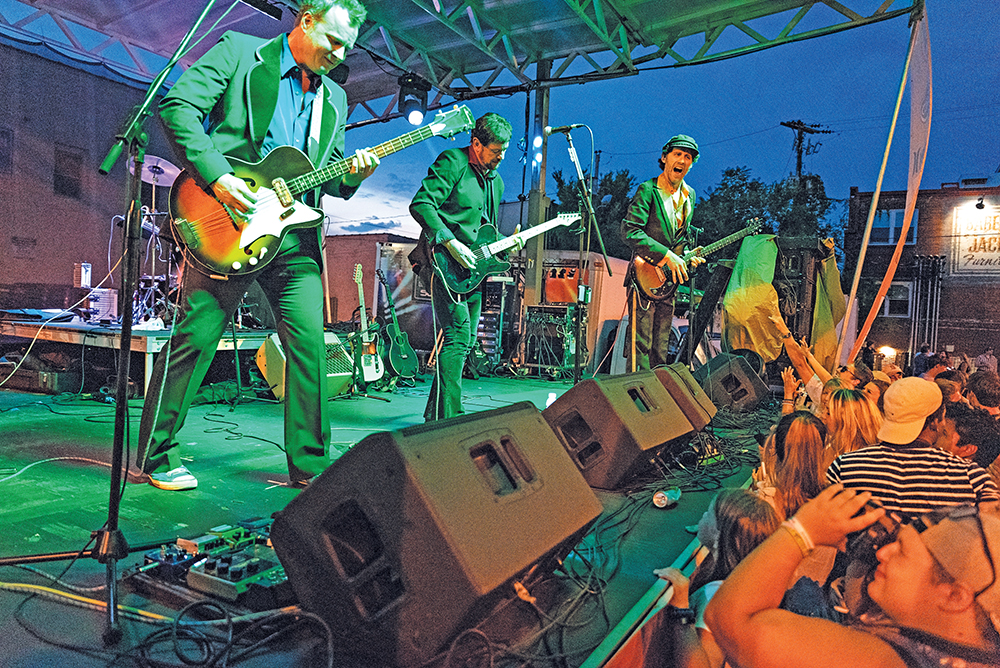 Cities seem to come alive with outdoor music events each summer, and Wilmington is one of them. In fact, the entire Cape Fear region is a treasure trove of such warm-weather shows.
With a number of seasonal concert series on tap, you can experience a variety of tunes and tastes to fit your musical style(s). So, grab your sarong because local summer concerts are in full swing.
Downtown Sundown Concert Series
Admission: Free
Fridays through August 30, 6:30-10 p.m.
Ligon-Flynn parking lot, 20 S. Second Street, Wilmington
In its fourteenth season (and at a new location because of Riverfront Park renovations), Wilmington Downtown Inc.'s summer concert staple features touring tribute acts that cover popular bands. From Led Zeppelin and Journey to Foo Fighters, you'll experience a different genre each week. What's more, two acts play each show, with a local band opening the bill.
Beer and wine are available for purchase.
Click here for info
---
Airlie Gardens Summer Concert Series
Admission: Kids $3 | Adults $10 | Members free
First & third Fridays through September 20, 6-8 p.m.
Airlie Gardens, 300 Airlie Road, Wilmington
If you like your tunes with a side of scenery, then this one's for you. Park your lawn chair by the Airlie Oak and take in the garden atmosphere. Pack your own picnic or forego the hassle and buy some nosh and adult bevs available on-site. From beach music to bluegrass and big band, there's a little something for everyone.
Click here for info
---
WECT Sounds of Summer
Admission: Free
Thursdays through August 8, 6:30-8 p.m.
Wrightsville Beach Park, 3 Bob Sawyer Drive, Wrightsville Beach
Beach bum or not, concertgoers can bring lawn chairs, blankets, and plenty of picnic items. Coolers are permitted, but alcohol isn't allowed in the park. Local food trucks are also parked for grabbing grub.
Click here for info
---
Topsail Sounds
Admission: Free
Tuesday, July 23, 6:30-8:30 p.m.
Topsail Beach Town Center, 624 South Anderson Boulevard, Topsail Beach
More of a limited engagement – the first of the two shows was in June – this community concert event is a collaboration between the town of Topsail Beach and Pender County Parks and Recreation. The July 23 concert features Randy Knight and Parrot Party, a tribute to musician Jimmy Buffet.
Info: (910) 259-1330
---
Boardwalk Blast
Admission: Free
Thursdays through August 22, 6:30-9:30 p.m. (except for Wednesday, July 3, and Friday, August 30)
Carolina Beach Boardwalk stage, Carolina Beach
Live music and fireworks? Yes, please! What's more, you don't even have to clean the sand off of your toes. The Carolina Beach Boardwalk stage showcases lively bands just steps from the waves, on a weekly basis. Shortly after sunset, concertgoers here get a second helping of entertainment, with a fireworks display following the show.
Click here for info
---
To view more of photographer Michael Cline Spencer's work, go to michaelclinephoto.com.
Want more WILMA? Click here to sign up for our WILMA newsletters and announcements.
Comments
comments