Sports Authority
Adrianne Swinney helps administer UNCW athletics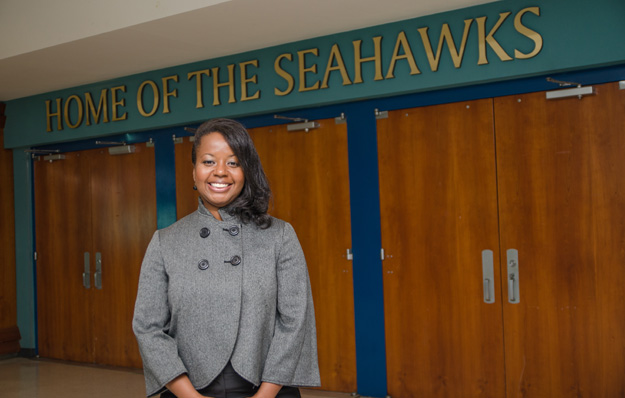 As the senior woman administrator at University of North Carolina, ADRIANNE SWINNEY is in charge of the university athletic program's compliance with Title IX – a federal law that prohibits sex discrimination within any educational program or activity receiving federal financial assistance.
"My role is basically overview and testing of gender equality," says Swinney, who was hired for the position earlier this year.
She works with the deputy coordinator for Title IX on campus with ongoing review of the university's programs to ensure gender equality standards are met.
Currently, UNCW uses a proportionality model when reviewing program compliance with Title IX requirements, however other model options are being considered.
Under the proportionality model, the law states, "all such assistance should be available on a substantially proportional basis to the number of male and female participants in the institution's athletic program," meaning that UNCW must ensure things such as roster sizes for teams come within the necessary percentage based on the university's demographics of 60 percent female students and 40 percent male students.
"We try to come within 1 percentage point," Swinney says.
Title IX, and specifically the proportionality model, has been criticized for not taking into consideration the difference in level of interest in certain athletic activities by the different genders and for being unfair to male students.
"My perception isn't fair or not fair," Swinney says. "It's for our student athletes, and I don't apply it as a benefit for men or women. Any underrepresented sex must have equal opportunity. We want to make decisions based on what is best for our students, male or female."
In addition to her duties as senior woman administrator, Swinney is also the school's senior associate athletic director – a position where she is heavily involved in the overall planning and direction of the Seahawk program.
She oversees fourteen sports programs and administration for the athletic department and the strength and conditioning program.
Prior to coming to UNCW, Swinney worked two stints at Jackson State University in Mississippi where she served as assistant athletic director, associate athletic director, interim assistant compliance officer and certified athletic trainer. She remains a certified trainer through the National Athletic Trainers' Association Board of Certification.
Swinney also worked at Paul Quinn College in Dallas where she was the director of sports medicine, associate director of institutional programs-athletics, interim director of institutional programs-athletics and head women's basketball coach. During her time as coach, she led her team through a winning season.
Her past experience as a coach and trainer serves her well at UNCW, especially when working with the Seahawk's own trainers and coaches.
"There's a level of respect and trust there because I have been in that position," Swinney says.
She works closely with the staff of the athletic department and maintains a close relationship with the student athletes, even traveling with teams through championships and attending as many home games as possible.
"My thing is making sure we make opportunities for our student athletes," Swinney says. "I am always trying to figure out how we can shine the best light on our student athletes and on the university."
To view more of photographer Katherine Clark's work, go to www.katherineclarkphotography.com.