Songs for the Season: Marva Robinson
Marva Robinson, Brunswick county singer, music teacher, and conductor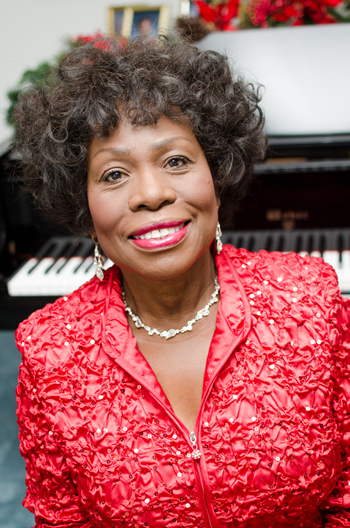 When she was younger, MARVA ROBINSON thought her musical journey might take her into the world of opera, but ultimately her path led back to her native Brunswick County. Here, as a singer, music teacher, and conductor, she has used her gifts to entertain and inspire.
Robinson's journey began in Navassa, where she sang in church and earned high marks in school."People said I was 'apt.' That's what they used to say – 'apt.' And they advised me to go to school in New Hanover County. So I went to live with my aunt and was able to attend Williston High School," she says.
Even in segregated Wilmington during the '60s, Robinson learned that music could break down barriers."When I was in high school, Williston Glee Club had quite a reputation," she says. "Once we had an opportunity for a musical exchange with New Hanover High School. Our director told us we had the 'opportunity to dispel the myth of (our) inferiority but also to dispel the myth of (their) superiority.' We were equal."
Robinson earned a bachelor's degree in voice at Knoxville College in Tennessee and planned to train her soprano voice further at Indiana University, but she met her future husband and moved back to Brunswick County.
Although she tentatively explored some connections to the larger musical world in New York, opportunities did not readily present themselves. Instead, Robinson taught music in the Brunswick schools for more than thirty years, was active in church music programs, and found time to perform as a soloist. She also, as a member of the Wilmington Symphony board, championed musical excellence and inclusiveness in the Cape Fear region.
"Sometimes I beat myself up over it, but I just didn't have the guts for (a high-powered career)," she says. "There are so many rejections. I prayed a lot. The peace came when it occurred to me the lives I've touched and comfort I've brought with my singing."
For the past two years, Robinson has directed the Williston Alumni Community Choir, an ensemble of about thirty-five singers whose oldest members are in their eighties. Although the initial choir was made up of former Williston High School glee club and Wilmington Community Choir members, anyone is welcome to audition.
"I love the Christmas holiday season," Robinson says, listing among her holiday favorites traditional carols, selections from Handel's "Messiah" and the gospel anthem "Now Behold the Lamb." "And then again, some people tell me it's not Christmas until they hear me sing 'Oh Holy Night' and 'Sweet Little Jesus Boy.'"
Williston Alumni Community Choir
(with Marva Robinson directing)
Christmas program, December 8
St. Stephen A.M.E Church, 501 Red Cross Street
A Change is Gonna to Come, February 8
Performance with the Wilmington Symphony Orchestra marking the 50th anniversary of the Civil Rights Act
8 p.m., UNCW Kenan Auditorium, Ticket info: 962-3500
Click here to read about ILM diva Sara Westermark.
Click here to read about ILM diva Laura McFayden.