Race Hurdles
Obstacle course training brings more than a workout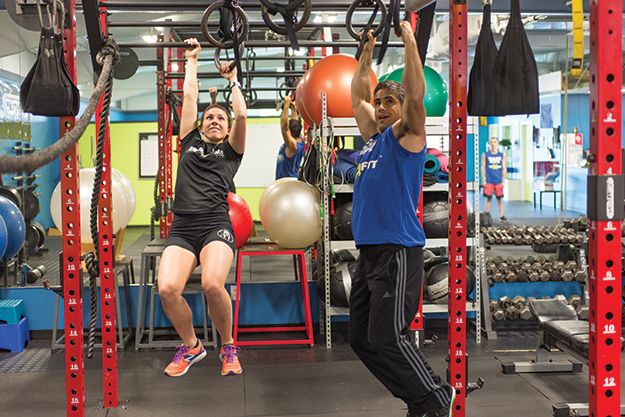 Give me three months, and I can make you a Spartan," says JEAN-PIERRE SAINTARD (above), personal trainer and owner of RipXFit Fitness Studio.
A Spartan is an obstacle course racer – one of those intrepid athletes who overcomes daunting obstacles while racing five- or even thirty-mile courses. They scale six-foot walls, leap over ditches, lug hefty sandbags, and climb ropes. And women are just as capable of finishing, and medaling, in these races as men.
"At every race I see more and more girls," Saintard says. "They can do it. They just have to train for it."
Obstacle course racing (OCR) isn't just for the young, either. Participants range from their twenties to fifty-plus.
OCR provides numerous benefits. Not only is it one of the best workouts around, it also creates camaraderie among participants, builds mental toughness, and, best of all, it's fun.
That said, preparing for an obstacle course race takes commitment and work. Saintard recommends training six days a week. Two workouts are dedicated to strengthening, two to obstacle course training, and one is a combination of the two. Sunday is for runs.
All that training, however, isn't drudgery. RipXFit, the only Wilmington indoor gym dedicated to the sport, resembles a playground. There are ropes to clamber up, bags to hoist, the multi-rig (also called monkey bars) to climb on or hang from, Bosu balls to balance on, and, of course, walls to climb. And the instructors make games for a lot of the training.
Through these workouts, participants become well-rounded athletes. They build aerobic capacity, muscle strength, and dexterity. "Obstacle course racers are not body builders or super skinny marathoners," says AMBER JOHNSON (left), a marine biologist who has been racing for about a year and a half. "They are healthy. They can run ten miles, but they lift a hefty amount of weight, too."
During the process, pounds come off, and physiques become defined. That's because these athletes stick with their workouts; a goal is in sight. That keeps them motivated, Saintard says.
While some just like the variety OCR workouts provide, most who do the training sign up for a race. Many compete in the Spartan Race, one of the more popular OCRs.
It has three main races: the Sprint, a three to five mile, twenty-obstacle course; the Super, an eight to ten mile, twenty-five obstacle course; and the Beast, a twelve-plus mile, thirty-plus obstacle course.
Each race has three levels. The open category, a casual race, is geared toward novices. The competitive category is more challenging, and the athletes earn points. The elite category, the most difficult course, is for the most skilled racers. They compete for prize money.
There's no question that those who are attracted to OCR like a challenge. They want to pit themselves against the unexpected and the difficult. They'll do that, and confront their personal demons, on the course. A racer may find herself fighting a fear of heights or the belief that an obstacle is impossible for her.
What the racers may not expect is the camaraderie the sport engenders, and many say that is what they like best about OCR. When a participant is having difficulty overcoming an obstacle, another racer always lends a hand. "There's a sense of community with all the racers," says Audra Heins, a paralegal who has been racing about three years.
"Everyone is so helpful and cheers you on. If you have a weakness, someone will be there to help you," says racer Audra Heins.
The lessons these do-or-die athletes learn on the course carry over into their personal and business lives. During a race, there'll be times they want to quit, times they are afraid. Heins has seen participants break down in tears.
It's during those difficult moments the racers find their strengths, what they're made of, and what really matters, Johnson says. Then they apply those lessons to life's challenges.
"That is a big benefit I noticed right off the bat," she says. "Doing things I thought I could never do makes everyday problems not so big – I just climbed a twelve-foot wall. I can handle annoying coworkers or whatnot. It teaches you to persevere and to keep trying, and that carries over into your everyday life."
Despite all its benefits, potential racers must be warned: OCR is addictive.
"I'm hooked," says Johnson, who plans to continue racing as long as she can. "I want to continue to grow and see where it (OCR) can take me."
To view more of photographer Katherine Clark's work, go to www.katherineclarkphotography.com.