Original Sound
Local musicians showcase their work at weekly events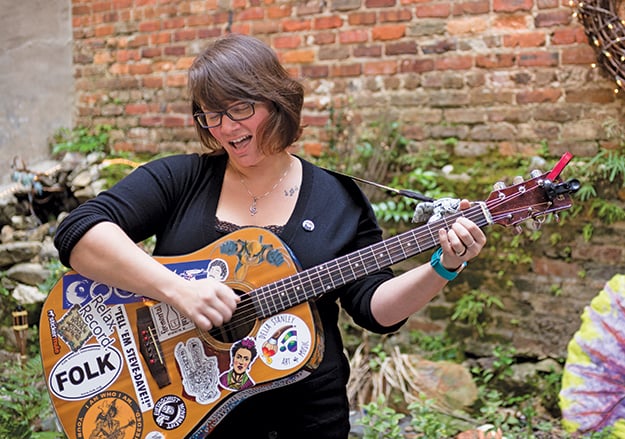 Some music fans have to go out of their way with money and miles to hear quality live music. But not Wilmingtonians. Every week, there are affordable events offered in the Port City, providing the chance to hear exciting, new sounds from local singers and musicians.
These events boast both well-established artists and promising new performers. No matter their level of onstage experience, "the talent in this city is nothing short of astounding," says Richard Leder, executive director of the Brooklyn Arts Center.
The second Wednesday of each month, the Brooklyn Arts Center hosts its next installment of THE ANNEX SONGWRITER SESSIONS. The sessions feature six local songwriters performing all-original material ranging in style from bluegrass to folk to Americana.
Some artists accompany themselves with keyboards or banjos, but most play acoustic guitar. In the two-story, renovated brick schoolhouse building that is The Annex, you can hear a pin drop. "People are riveted (by the music)," Leder says. "They're so focused in, and when it's finished, they cheer and scream."
Delia Stanley (above) also speaks to the attentive nature of the crowds at the OPEN MIC NIGHTS she hosts every Thursday night, with her husband, Michael Arrigo, at the Wilmington Tasting Room. Seated around fire pits and a garden area by the outdoor stage, patrons sip wine and snack while enjoying original music and requesting their favorite cover songs. People who just happen to be walking by the venue on South Second Street are often drawn in by the folky rock music and welcoming environment.
Stanley describes how important it is for independent artists to create original content and have an avenue to share it.
"It's the only way to preserve the diversity of music, the only way for music to evolve," says Delia Stanley of open mic night venues.
Julia Walker Jewell, co-owner of Ted's Fun on the River, shares this sentiment. Jewell explains that TED'S SONGWRITER SHOWCASES, led by Laura McLean, transform their space, with a coffee house, living room feel into a true listening room, where the "music is in the forefront."
If going out on the weekends is more your jam, check out Burnt Mill Creek's OPEN JAM on Sunday nights. Led by local jazz legend, Benny Hill, musicians are invited to hit the fully-lit stage and entertain the crowd with the smooth sounds of jazz in this comfortable space with a penny-topped bar.
Hunter Ford, Burnt Mill Creek's owner, says he's tried to create a place conducive to people finding their voices. Gaining stage presence is essential, he says, and it requires lots of practice.
It's one of the reasons his billiards and wine bar has a PA system and a few guitars hanging on the wall, so that on any given night, if there's no music lined up, artists can come in and play and sing a few songs, making for a lively night of soulful, eclectic music.
"Spontaneity is part of what we do," Ford says.
The Annex Songwriter Sessions
Second Wednesday of each month, 7-10 p.m.
The Annex at Brooklyn Arts Center, 516 North Fourth Street
Admission: $5
Click here for more info.
Open Mic at Wilmington Tasting Room
Thursdays, 6-9 p.m.
Wilmington Tasting Room, 19 South Second Street
Admission: Free (Item drives are held and donations accepted at each open mic to raise money for community organizations. Past recipients have included Domestic Violence Shelter and Services)
Click here for more info.
Open Jam at Burnt Mill Creek
Sundays, 4-11 p.m.
Burnt Mill Creek–Billiards and Wine Bar, 2101 Market Street
Admission: Free
Click here for more info.
Laura McLean's Songwriter Showcase at Ted's Fun on the River
Third Wednesday of each month, 7-9 p.m.
(open mic nights also held most Sunday nights)
Ted's Fun on the River, 2 Castle Street
Admission: $3
Click here for more info.
To view more of photographer Katherine Clark's work, go to www.katherineclarkphotography.com.