Open Air Eats
Dining al fresco in ILM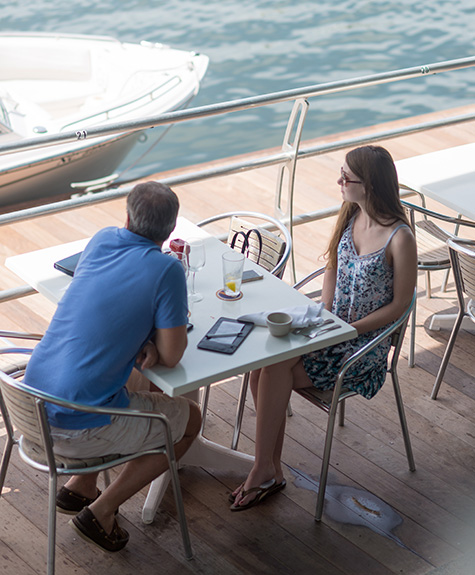 It's inviting to enjoy a meal outside on a sunny day in the Port City. Many local eateries offer some type of outdoor seating, and thankfully many of them have a good amount of shade or ceiling fans to help keep diners cool during the steamy summer months. Here is a list of some al fresco spots around the area to catch a view with your meal.
Food photos by Erik Maasch
Aubriana's
115 South Front Street | Steaks/Seafood
Aubriana's has arguably the most charming courtyard in historic downtown Wilmington. Window frames covered in wrought-iron bars and herb-filled window boxes allow passersby a peek into this inviting space. Exposed brick, natural light, and cascading branches from the surrounding trees create an atmosphere of casual elegance. With a focus on prime steaks and seafood, as well as specialty cocktails, this is fine outdoor dining with true Southern charm.
Beer Barrio
34 North Front Street | Mexican
There may be no better spot for people watching than Beer Barrio's sidewalk seating at the corner of Front and Princess streets in downtown Wilmington. Beer sommelier Hayley Jensen and her husband, chef Stephen Durley, deliver both flavor and fun at this funky Mexican joint with a great selection of brews and margaritas.
Bluewater Waterfront Grill
4 Marina Street, Wrightsville Beach | American/Seafood
The covered deck and bar at Bluewater (above) offer up close views of all the activity on the Intracoastal, from yachts and sailboats to paddle boarders and kayaks. With seating for 130, Bluewater has perhaps the largest outdoor patio in the area. Stop by on Sundays 4-8 p.m. for live music from April through October.
Brasserie Du Soleil
1908 Eastwood Road | French
This charming French bistro in the heart of Lumina Station offers waterside seating under a canopy of twinkling lights, providing the perfect setting for romance. On summer evenings, the outdoor fountains are flowing, and tiki torches illuminate the grounds. From classic French fare to a full raw bar and extensive wine list, Brasserie du Soleil is a feast for the senses.
East Oceanfront Dining At The Blockade Runner
275 Waynick Boulevard, Wrightsville Beach | Global/Seafood
As soon as you enter the outdoor dining space at East, you'll feel as though you've traveled to the tropics. This is truly resort-style dining in a lush garden setting, with the sound of the surf in the distance. Stroll the grounds, walk down to the beach, or have a drink at the pool bar while taking in the sweet smell of fresh flowers and herbs on this exquisitely landscaped oceanfront property.
Indochine
7 Wayne Drive | Thai/Vietnamese
The outdoor space at Indochine is nothing short of a work of art. Beautifully landscaped paths lined with bamboo and Japanese maples lead you past waterfalls and koi ponds to a collection of small huts that house individual tables. Outdoor seating is so popular that it was expanded several years ago to include "The Chapel," an area that was previously reserved for private parties, as well as a tiki bar. Owner Solange Thompson travels regularly to Thailand and Vietnam to collect antiques and decorative pieces for the gardens, ensuring there's always something new to discover in this Far East oasis.
Ocean Grill And Tiki Bar
1211 South Lake Park Boulevard, Carolina Beach | American/Seafood
With a combination of covered patio seating, a large outdoor deck, and a pier, Ocean Grill and Tiki Bar offers prime oceanfront dining on Carolina Beach. The menu features typical seaside fare: sandwiches, salads, tacos, and Calabash seafood platters, with plenty of beachy cocktails. Walk up from the beach and pull up a seat at the tiki bar, and you may feel as though you've escaped to Key West. Shirts, pants, and shoes are required!
Smoke On The Water
3704 Watercraft Ferry Drive | American/Seafood
Smoke on the Water, the second restaurant for Fork N' Cork owner James Smith, offers a mix of Southern-style smoked meats and low-country seafood (right), with picturesque views of the Cape Fear River and marshes. Outdoor seating is limited, but guests can grab a drink and stroll the boardwalk or watch the sunset while relaxing by one of the large stone firepots.
Sweet N Savory Café And The Pub
1611 Pavilion Place and 2012 Eastwood Road | American
Sweet n Savory Café, and its sister restaurant The Pub located next door, both have extensive outdoor seating and menus that will not disappoint. Behind the café, which serves breakfast, lunch, and dinner, is a relaxing garden sanctuary surrounded by fences draped in honeysuckle. The large deck at The Pub offers plenty of shaded seating and is a perfect stop off for burgers and beer on the way home from Wrightsville Beach. Enjoy live music Friday and Saturday evenings and from 3-6 p.m. on Sundays.
The George On The Riverwalk
128 South Water Street | American/Seafood
The spacious covered deck at The George provides sweeping views of the Cape Fear River. Large fans line the sunny yellow awning, providing a cool breeze and plenty of shade to make outdoor dining comfortable even on the warmest days. With a menu that provides something for everyone, this is a great spot for tourists and locals to enjoy riverfront dining.
To view more of photographer Katherine Clark's work, go to katherineclarkphotography.com.
To view more of photographer Erik Maasch's work, go to ejmphotography.com.