Lessons in Leadership: Mentoring from all sides
The scoop with mentors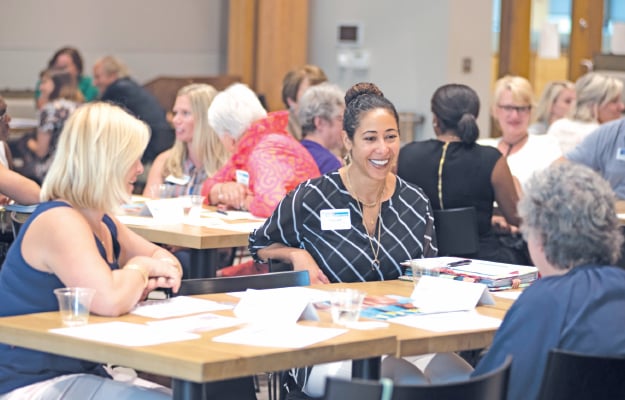 Research shows that people who are mentored make more money and advance more quickly than those who are not, according to KIM NELSON.
Nelson, an adviser to WILMA's Women to Watch Leadership Initiative mentoring program, points to a study that found while a large portion of women believe mentoring is important, only one out of five actually has a mentor.
Women are less likely to seek out a mentor than men, she adds.
While there are a variety of mentoring structures, Nelson suggests considering these formats: traditional, peer, reverse, senior, and situational.
A TRADITIONAL MENTOR would likely be from within the mentee's line management or from a similar company.
PEER MENTORS can motivate, encourage, and hold each other accountable.
REVERSE MENTORS are typically younger and current on innovation and trends. They might have fewer preconceived notions and question the established norm.
SENIOR MENTORS are well established in their careers and can assist with strategic career decisions. SITUATIONAL MENTORS help with a specific challenge or hurdle.
In an ideal world, an individual might have several mentors – a personal board of directors, Nelson suggests.
Virtual mentoring also is available through a variety of resources. It opens up a much broader world of experience.
"Think of a person getting global cultural advice from someone in another country," Nelson says.
Group mentoring and peer mentoring allow learning from each other.
"This is beneficial as we learn that everyone can be a mentor, and we should all continue to be mentees," Kim Nelson points out.
For example, in an unintentional but organic development, one group of friends and acquaintances has bonded as peer mentors.
From several North Carolina communities, the ten women call themselves the WACCAMAW SISTERHOOD. They range in age from twenty-seven to eighty-three and are of diverse ethnic backgrounds. Their years of friendship give them "a unique bond that allows us to share personal details in a safe environment," says group founder VENITA JENKINS.
While conversations may include personal experiences, they also discuss goal setting and their everyday lives.
"We've talked about blended families, forgiveness, healing, setting goals, identifying areas of importance in our lives and steps to integrate them," Jenkins says. "We basically meet to uplift, inspire, and hold each other accountable for the goals we've set for ourselves."
The women meet in person quarterly but have a private Facebook group that allows them constant contact.
Likewise, NORTH CAROLINA SOCIETY DAUGHTERS OF THE AMERICAN REVOLUTION recently announced an initiative to mentor each prospective and new member and each new officer and committee chair. The goal is to retain and build membership, according to Wilmington resident CAROLE NUNALEE WEISS, who heads the state chapter.
At a meeting in Raleigh last month, Weiss encouraged members to embrace mentoring to make chapters stronger.
Mentoring also can start at a young age.
An example is the ten-year-old mentoring program of WOMEN IN PHILANTHROPY & LEADERSHIP OF BRUNSWICK.
At three Brunswick County middle schools, these volunteers regularly meet in group settings with girls identified as at-risk by Communities in Schools (CIS). The volunteers begin with sixth grade, focusing on boosting self-confidence, building relationships, and goal setting, according to ELIZABETH WASSUM, assistant director of resource development for Brunswick Community College Foundation, which sponsors the program.
"They continue to mentor the students through seventh and eighth grade as they explore career paths and plan for success in high school and beyond. The volunteers serve as role models inspiring students to create achievable goals," she says.
CIS also coordinates a lunch buddies program that connects students with an adult volunteer, many from local service clubs. North Brunswick Kiwanis member TALULA GUNTNER lunches with a sixth-grader once a week.
"We talk about what they're doing or what they like and don't like. Anything," she says.
Relationships such as this result in at-risk students being 55 percent more likely to enroll in college, 78 percent more likely to volunteer regularly, and 130 percent more likely to hold leadership positions, according to The National Mentoring Partnership.
No matter what the structure, to get the most from mentoring, an individual should have a clear understanding of what they need from the mentoring relationship, Nelson says. Consider the potential mentor's strengths and weaknesses and how those relate to your need and your style.
"You want a person who is a good listener," Nelson recommends. She says the mentor should be someone who will challenge the mentee and be honest even if it's not something that's pleasant to hear.
It's not mandatory to follow the mentor's advice, Nelson says, but "listen to it, evaluate it, consider it, and know why you don't accept it."
To view more of photographer Michael Cline Spencer's work, go to michaelclinephoto.com.
Want more WILMA? Click here to sign up for our WILMA newsletters and announcements.