Laugh-In
Event features lineup of local, female comics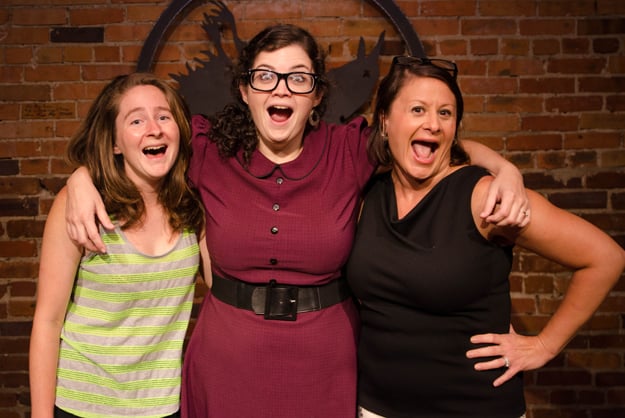 Comedy has long been a field made up of leading men, especially the arena of stand-up comedy. In the past few decades, however, there has been a major shift in the role and number of women in comedy, and this shift is apparent in the Wilmington area with its growing number of female comics.
On October 14 and November 11, Wilmington audiences can celebrate women in comedy by taking part in an evening of stand-up at the Dead Crow Comedy Room. The ILM's Witty Women event, organized by WILMA magazine's WILMA Connects, features an all-female lineup. The first night on October 14 spotlights local comedians Lydia Manning, Beth Raynor, and Blaire Postman.
Lydia Manning
Lydia Manning got her first taste of comedy about a year and a half ago when she did four minutes of stand-up at the Nutt Street Comedy Room – the former incarnation of Dead Crow – during an open-mic night.
"It was nerve-wracking," she says, "but it got less scary as soon as I had the mic in my hand."
Up until this point, Manning had toyed with the idea of trying her hand at stand-up but had never gotten up the courage to do it. She spent months writing down joke ideas, not sharing them with anyone save her mother, and when she finally worked up the nerve to perform, it was almost a relief.
"I think I felt some level of security with finally being in the spotlight and not thinking about it anymore," she says of her first time on stage.
Manning did not always plan to pursue a career in comedy. A recent graduate from University of North Carolina Wilmington with a degree in environmental science, Manning went to work for an environmental advocacy group after she graduated in May. She was employed for about a month before the group lost some of its funding, and she was laid off.
These days, Manning keeps busy performing improv with the local improv group 4-Prov as well as writing for a new live late night talk show Late Fear with Wills Maxwell.
Beth Raynor
Wilmington native Beth Raynor is comfortable with her role in the spotlight as a local stand-up comic. Her background in acting, coupled with her past experiences working in customer service, have given her both a comfort and ease performing in front of a crowd, and a thick skin to handle whatever may come her way.
Raynor was thrust in to the world of comedy a few years ago when her boyfriend, and now fiancé, local comedian Anthony Corvino signed her up for a stand-up comedy set at The Brown Coat Pub & Theatre in downtown Wilmington.
Since that night, Raynor tries to perform regularly as her schedule allows between working a full-time office job and performing in local theater productions.
"I have definitely become more interested in comedy in the past few years," Raynor says.
While at her day job, she listens to comedy to get a better idea of how other comedians craft their jokes.
"It's a good way to understand different comedians," she says, "I know, for me, it helps me figure out what types of jokes I enjoy."
Inspiration for her own set material often strikes at odd times, and Raynor has to record it when she can, even if she is at work.
"I end up writing down jokes on Post-it notes and sticking them in my purse all the time," she says.
Blaire Postman
Blaire Postman is a WECT account executive by day and active stand-up comic by night.
The former lawyer, talent agent, and comedy festival producer has a passion for comedy and for squashing the antiquated stereotype that women are not as funny as men.
"When I was an agent for public speakers at an agency based in D.C., I had the occasion once or twice to work with and hang out with author Christopher Hitchens, who went on to write a famous article about how women weren't funny," Postman says. "He was brilliant and funny … and wrong, which just goes to show that we are all human."
Postman does stand-up regularly in Wilmington, travels for shows throughout the Southeast, and performs for corporate events.
"I literally never think about the fact that I'm a woman when I'm performing or booking shows," she says. "I just think about the performance and like all comics male or female how desperately I want this room of strangers to like me and how, in that moment, their approval is more important than the love of my family – or maybe that's just me.
"It's like this," Blaire goes on to explain. "Some people are funny. Some of those people are women. It's just that simple."
ILM's Witty Women
Tuesday, October 14, 6-9 p.m. (doors open at 6 p.m., show at 7 p.m.)
Dead Crow Comedy Club, 265 North Front Street
Tickets: $35, includes show, appetizers and two drinks (Discount code for $5 off is good through end of October 7). Seating is limited.
For more info and tickets, go to www.WILMAconnects.com
To view more of photographer Katherine Clark's work, go to www.katherineclarkphotography.com.