Head Out on the Highway
This summer take a day trip off the beaten path in Brunswick County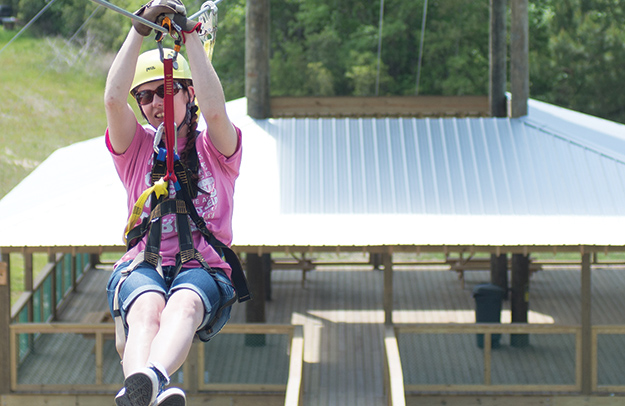 THERE IS A CRAVING that creeps into the heart of all city dwellers when the winter finally breaks and warm, sunny days come back. It's a desire to head out of familiar places, to stretch those muscles stiff with hibernation, and venture into the unknown.
For this particular adventure, let's head south from Wilmington, down U.S. 17. Just an hour down the highway, and you have left any semblance of big city behind. There are beautiful state parks, deep alligator ponds, and little towns growing up too fast – so it's best to find them now.
For the most exciting way to start the day, guaranteed to wake up the body and soul, try visiting SHALLOTTE RIVER SWAMP PARK. A relatively new addition to the Ocean Isle Beach area, this sprawling outdoor adventure center encompasses 65 acres of pristine cypress swamp. You can take an hour-long swamp boat tour and visit the alligators, climb through the fifty-three aerial obstacles in the adventure park, or spend two hours flying through the North Carolina backcountry canopy on 1.25 miles of zipline (the longest and tallest zipline course on the Eastern Seaboard.)
General Manager George Howard has over fifteen years' experience in the zipline industry, and even though the park has only been open a year, it is already gearing up for a busy year.
"Families of all shapes and sizes come out here and have a blast," George Howard says. "We get corporate groups, school groups, wedding parties, and they all have an amazing time."
This season, the park will open up a raised walking trail through the swamp and an alligator enclosure. It will light up the adventure course for nighttime fun, and zipline tours at night are available by reservation as well. Shallotte River Swamp Park also offers Local Love Sundays: 25 percent off for New Hanover and Brunswick County residents.
Kelly Dorman, one of the zipline guides, loves watching the excitement of people stepping out of their comfort zones. "Just trust your gear, trust your guides. Don't overthink it and enjoy yourself. Don't push yourself too much, but a little push will get you over your fear sometimes," she says.
Once you've raised your heart rate a little, it's time for some scenic sitting and a really good lunch.
Head into Shallotte, to the INLET VIEW BAR AND GRILL. Finding it requires careful attention. It sits back off the main strips in a quiet neighborhood, directly on the Intracoastal Waterway. The Hughes family owned a restaurant here since 1978, taken over by their daughters Samantha and Amy in 1992. In 2004, the original restaurant closed, but in 2009 Samantha and her fiancé, Timmy Millikin, reopened the restaurant as Inlet View, a three-story bar and grill with two decks and gorgeous views of the water and sky.
Once you've eaten some amazing crab cakes, honey-buttered hushpuppies, fried green tomatoes, stuffed Oysters Rockefeller, or deep-fried French toast (and they may try to feed you all of this at once), you'll understand why everyone who comes here is a regular, and why a summer night can sometimes mean a two-hour wait at the height of the season. But they've got alcohol, music, and ocean breezes to help you pass the time. And anyway, remember, you're just here for lunch.
Because you've got to stop by MARY'S GONE WILD FOLK ART GARDEN before the light goes away.
Mary's is one of those strange, magical places that exist because of a vision. Mary Paulsen (below) started her vision in 1980 with one yard sale table. Born, raised, and widowed in Sunset Harbor, she raised two children on her own. And when they were both leaving the nest, she remarried and began building the series of collected junk art, bottle houses, and galleries of painted glass that have attracted worldwide attention as folk art. She was inspired, she says, by God.
"Nineteen years ago, I was fixin' to wash my dishes in the house, and here comes this vision, right before my face. The Lord was showing me how to paint on glass. My husband and my mother-in-law were sitting on the front porch, and they started making fun of me. But sure enough, that first picture sold the next morning before ten o'clock," Paulsen says, sitting in a new chapel she just finished building this winter at the back of the property.
Now her glass painting can be seen in galleries and museums from Portugal to Finland, and she's built up a loyal fan base of people who come every summer to stay at the beach and buy another piece for their collections.
The proceeds from Paulsen's art all go to Feed the Children, a charity based in Oklahoma that she saw on TV years ago and was touched by.
Mary's is open to the public 9 a.m.-9 p.m., even if she's not around, though she usually is. But now the sun is going down, and it's time to head back up that dark highway home to Wilmington.
---
Take A Road Trip
SHALLOTTE RIVER SWAMP PARK 5550 Watts Road, Ocean Isle Beach 687-6100 shallotteriverswamppark.com
INLET VIEW BAR AND GRILL 1800 Village Point Road SW, Shallotte 754-8439 | inletview.com
MARY'S GONE WILD FOLK ART GARDEN 2431 Holden Beach Road SW, Holden Beach | marysgonewild.com
To view more of photographer Katherine Clark's work, go to www.katherineclarkphotography.com.