February Take 5
Going for the WIN with Donis Smith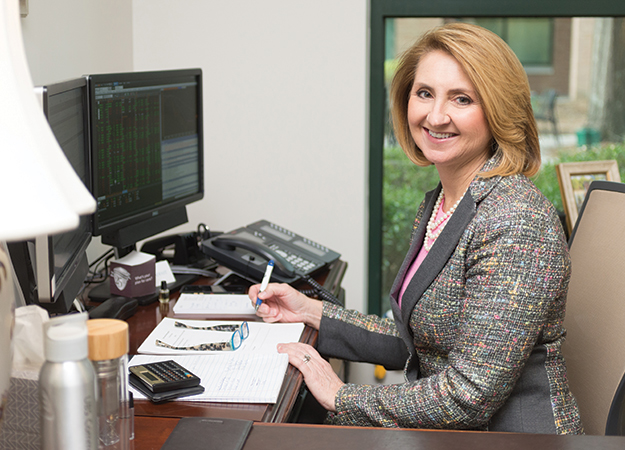 After other jobs, DONIS SMITH ultimately followed her mother into the financial services industry. Currently a vice president of wealth management for UBS Financial Services in Wilmington, she also worked with others to create the Women's Impact Network of New Hanover County through the North Carolina Community Foundation.
DESCRIBE WOMEN'S IMPACT NETWORK OF NEW HANOVER COUNTY.
"WIN was founded in 2011 to maximize women's leadership in philanthropy and help our community through the power of collective giving. Our members' annual contributions create the giving pool from which our annual grant award is made."
WHAT IS THE NORTH CAROLINA COMMUNITY FOUNDATION?
"The NCCF supports philanthropy in our state through its affiliates. The New Hanover County Community Foundation serves as a resource for donors and nonprofits alike."
WHAT COMMUNITY NEED HAVE YOU FOUND SURPRISING?
"We have found the biggest need is in the area of the health and education of our children."
ARE THERE UNMET COMMUNITY NEEDS THAT YOU FEEL THE NETWORK NEEDS TO ADDRESS?
"There will always be unmet needs until we become a perfect world. However, when we established our group we wanted to broaden our focus to encompass four areas: one, arts and culture; two, environment; three, health and wellness; and four, education. We rotate our grant focus each year."
HOW CAN WOMEN BECOME INVOLVED WITH THE GROUP, AND WHAT KIND OF COMMITMENT IS REQUIRED?
"We currently have over eighty members and are growing. Our members commit to making a $600 contribution annually for three years. We hold several social/education events throughout the year in addition to our grant award luncheon. Women can learn more by visiting the web at nccommunityfoundation.org and linking to us through 'Women's Giving' or they can call NHCCF at 202-6727.
To view more of photographer Katherine Clark's work, go to www.katherineclarkphotography.com.