Digital Art
Art you can touch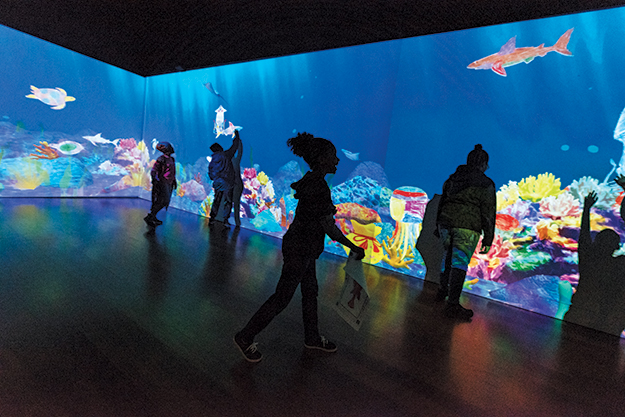 At the new teamLab exhibit at CAMERON ART MUSEUM you can touch the art. In fact, you are encouraged to do so and experience the sounds and moving imagery that is evoked by every physical contact.
teamLab is made up of artists, programmers, engineers, CG animators, mathematicians, and architects who create digital and interactive art.
Based in Japan, teamLab has exhibits all over the world including in Singapore, France, Dubai, and most recently, Wilmington.
Getting the exhibit to Wilmington required a team at Cameron Art Museum and four years of research, negotiations, and preparations.
The museum's chief curator, HOLLY FITZGERALD, says the desire to get an interactive and innovative exhibit like teamLab started in 2013 when she noticed museumgoers' reaction towards The Cadence of All Things, an exhibit by Canadian artist Diane Landry.
Landry is a kinetic sculpture and performance artist whose artwork is triggered by motion.
"Sometimes with contemporary art, you never know how people might feel or might respond to the artwork. But people loved it, which was so exciting for us because we loved her work," says Holly Fitzgerald, Cameron Art Museum's chief curator. "It just showed how intriguing the interactive and visitor participatory artwork can be. So, that was kind of the spark for it."
In 2015, the Cameron Art Museum had an interactive art exhibit called Response is the Medium, which was loved by both kids and adults, Fitzgerald says.
ANNE BRENNAN, executive director of the museum, saw a teamLab exhibition for the first time at the Japan Society Gallery in New York City.
Brennan spent two years negotiating with Pace Gallery, which represents teamLab.
Museum employees along with BOB UNCHESTER, the museum's curator of exhibitions, DAVID PETERS, fabrication manager, and two members from teamLab helped get the exhibit installed, Fitzgerald says.
The team was able to get the exhibit installed and open on August 25.
Having a teamLab exhibit in Wilmington is noteworthy Fitzgerald points out.
"They've been in more galleries or larger installations spaces in big cities all over the world, so to have them here in Wilmington in our museum is a big deal, and that's why we wanted to have it up for a year to be allow the majority of our community and the people that we have come in to visit see their work," Fitzgerald says.
The exhibit will be open until September 8.
The exhibit features three installations. One is the "Sketch Aquarium" where museum attendees can color a sea creature, scan the drawing, and watch as their drawing come to life as it plops into the digital aquarium that covers the gallery wall.
Attendees can watch their creations swim among other sea animals, feed the fish by tapping digital food bags and watch the creatures scatter when touched.
The aquarium was part of a collaboration with the North Carolina Aquarium at Fort Fisher, which helped the museum depict onto the digital aquarium how the real creatures would move in nature.
There is also the "Story of the Time when Gods were Everywhere" where moving symbols are displayed on walls and when touched they come to life with movement and sound. The more symbols are touched, the more they interact with each other.
The third installation is the "Flower and Corpse Glitch," a digital artwork of twelve depictions of a capital city as it goes through festivities, diseases, and battles.
Through these three interactive and digital installations, attendees can connect with the art, Fitzgerald says.
"
The artwork is not fully realized until the interaction with the public," she explains. "Your involvement with the artwork makes it be what it is supposed to be."
LUC TRAVERS, who is in charge of museum interpretation and engagement, says visitors are surprised and intrigued when they walk into the exhibit.
"Their eyes light up, and they're immediately attracted by Sketch Aquarium. They want to go to that and see the fish; they are really interested in all the movement," Travers says.
Another aspect of the museum is the atmosphere surrounding it and the connection it draws from traditional and interactive and digital art.
"There's noise in there you don't usually hear at a museum, which is laughter, giddiness, movement, and shouts of excitement going on, and that's wonderful to hear," Travers says. "The aspects of bringing something to life that you would normally do in imagination with traditional art, you do when it comes to life here."
With teamLab's interactive art, people can experience a deeper connection with art.
"We tend to compartmentalize things like 'This is art, this is science, and this is biology,' but they're really all interconnected," Fitzgerald says. "I really feel like teamLab helps show the connections between art, science, technology, history, and it all comes together in one exhibition."
To view more of photographer Michael Cline Spencer's work, go to michaelclinephoto.com.
Want more WILMA? Click here to sign up for our WILMA newsletters and announcements.
Comments
comments