Alternative Therapies
The Wilmington area draws alternative and complementary care practitioners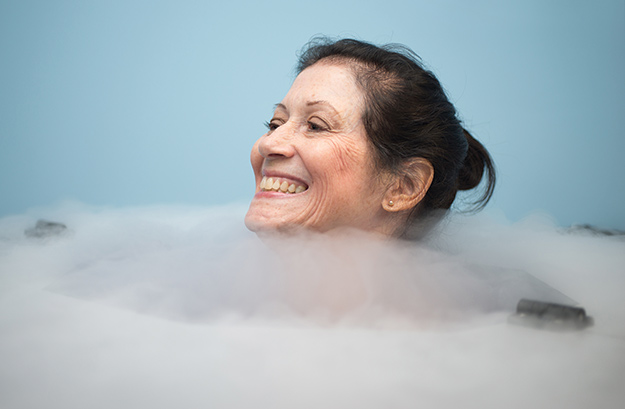 I hate the cold. Since I start whining any time the mercury drops below 70, I wasn't sure I could tolerate a sauna where the temperature plunges to minus 166 degrees Fahrenheit.
Nevertheless, I donned socks, diving boots, mittens, and my swimsuit and stepped into the round chamber at Well Below Zero to experience cryotherapy firsthand. (Writer Lynda Van Kuren shown above.)
Cryotherapy is the use of extremely cold temperatures to promote healing.
Was I cold? Yes. Was it unbearable? No. By lightly jogging and chatting with Well Below Zero's owner, Luke Sampson, I easily withstood the blasts of frigid air coming at me back to front, neck to ankles, for the recommended three minutes.
While I didn't feel any immediate difference, I realized later that the tightness in my calves had dissipated, and I had energy throughout the day – two results Sampson told me I would likely experience.
​Cryotherapy is one of many alternative health therapies Wilmington offers, which range from the new to the traditional. "There is definitely a call for alternative medicine here," says Susan Waterstone, owner of Waterstone Rolfing. "This is a health-conscious and fit community. There's a host of programs for people to participate in – Zumba, spinning, soccer, marathons, surfing, and a whole golfing community."
Others are drawn to alternative health therapies because they are disillusioned with Western medicine or want to try something less invasive to solve health issues.
"Most people would prefer a more a natural solution if that option is available," Sampson says. "If an alternative therapy allows them to feel good, produces results, and ultimately works for them, then in many cases that would be option number one before migrating to more traditional methods."
Also, in some cases, Wilmington's Western doctors recommend alternative therapies to their patients, says Alison Laramee Born, owner of Cape Fear Community Acupuncture.
Find the treatment that best fits your needs with some of these options, a small sampling of local practitioners:
Well Below Zero
113-D Military Cutoff Road
www.wellbz.com, 679-8049
Well Below Zero offers full-body and facial cryotherapy treatments. The full body treatments, which cost $35 a session, are said to reduce pain and inflammation from sports, fitness training, or other causes; enhance energy; and assist with weight loss. Facial cryotherapy treatments cost $40 a session. Package deals are available.
Cape Fear Community Acupuncture
3802 Park Avenue
capefearacupuncture.com, 352-4555
Cape Fear Community Acupuncture provides assistance with a variety of health issues, including relief from pain, allergies, stress, and digestive disorders. The clinic also specializes in pre- and post-natal support and gynecological issues. The first session costs $100, and follow-up sessions are $75. It also holds community clinics at which fees are $20- $45, and patients determine how much they can pay.
Waterstone Rolfing
​Address provided when appointments are scheduled
waterstonerolfing.com, 200-1490
Waterstone Rolfing offers rolfing and massage. Rolfing realigns the body's fascia, the tissue that connects the bones, organs, and nervous system. It is used to help restore flexibility and range of motion, improve balance, and decrease pain from injuries or repetitive motion. Sessions cost $120.
Seaside Wellness Center
1375 South 16th Street
seasidewellnesscenter.com, 352-2723
Seaside Wellness Center offers a variety of alternative therapies: chiropractic, which involves adjustments to the musculoskeletal system; reflexology, which applies pressure to the feet and hands to promote health; Reiki, which works with energy fields to enhance well-being; and essential oils and aromatherapy. The center also offers nutrition counseling. Initial reflexology and Reiki sessions cost $75 and $65 for follow-up sessions. Chiropractic sessions are often partially covered by insurance.
True Rest Float Spa (June opening)
3715 Patriot Lane, Unit 131
truerest.com, 216-9300
True Rest Float Spa offers a unique meditative experience. Clients enter a self-contained pod and float effortlessly on ten inches of a water and Epsom salt solution. Float spas promote relaxation and stress and pain relief. It is $79 for the first session, and $59 for follow-ups.
To view more of photographer Katherine Clark's work, go to www.katherineclarkphotography.com.