Youth Intervention
Jana Jones Halls moves Blue Ribbon Commission forward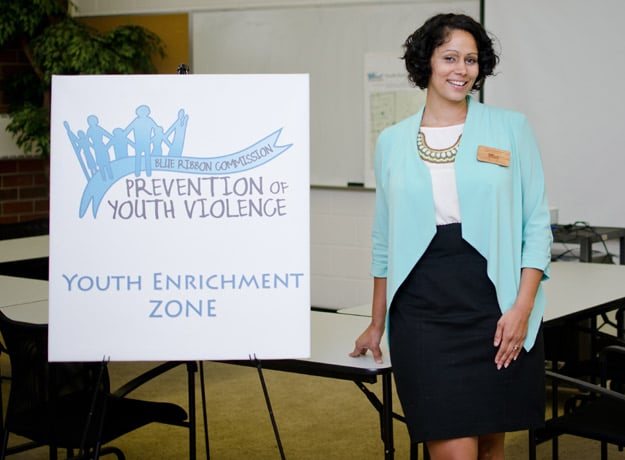 JANA JONES HALLS moved to Wilmington to get her teaching credentials at University of North Carolina Wilmington, but what she found was a passion that had developed as she watched her parents work years earlier.
While teaching language arts at Friends School of Wilmington, Halls volunteered in the Houston Moore public housing community teaching creative writing and poetry.
"As much as I loved teaching at Friends, my heart was drawn towards the kids I was working with," she says. "I understood how much need there was."
That need led her to change her career path to community outreach. Now, as the executive director of Blue Ribbon Commission on the Prevention of Youth Violence, or BRC, she seeks out community partners whose resources can assist at-risk youth.
The commission was formed in 2008. She took on the position in July and is charged with identifying and narrowing the focus and the impact the BRC hopes to make in a fourteen-block area north of downtown where violence and gang activity have been issues. By working with families, youths, schools, and neighborhoods to identify needs, the partners are trying to help fill those needs.
One example is an upcoming summer program for middle school students.
"We have created YEZ (Youth Enrichment Zone) Summer Initiative to bring in classes from Dreams, Kids Making It, Wilmington Health Access for Teens, Cape Fear Soccer Club. GE is partnering to do an engineering enrichment class," Halls says.
There's also a five-week program at D.C. Virgo Preparatory Academy, located in the neighborhood, for sixty rising seventh and eighth graders where they'll receive academic instruction through BELL (Building Educated Leaders for Life).
Halls came to the position after a year participating in the AmeriCorps VISTA program, working with at-risk students at the then-newly reopened DC Virgo, but she started preparing for it as a child.
"My father was a minister who worked in the inner city of D.C. and ran several homeless shelters. He was chaplain at a gospel rescue, and my mother was the overseer of WIC," Halls says. "My parents always had somebody at our home or were somewhere working with people. It wasn't a choice; it was a responsibility. It's your responsibility to invite them in and work with them. That was always in my heart."
She was also touched by trips to Kenya in 2007 and 2009.
"It changed my whole outlook. When I returned, my eyes were opened more to the community, and I realized how much I didn't know about Wilmington. I was enjoying the benefits of Wilmington as a beach town, but I didn't know the depth of a lot of issues," she says.
She enrolled in the Wilmington in Black and White course, a series that explored the city's history of race relations, and connected with volunteer groups.
"I made the decision I wanted to be invested here," she says.
Halls is grateful for the monetary and volunteer support the effort is receiving from individuals and businesses. She hopes to build upon this summer's programs to offer much more to many more children and eventually build a year-round enrichment program.
A new youth council for the YEZ includes seventh-grade students who have submitted a proposal to the city council for a teen center.
"They want to have a safe place to go in the evenings where they can hang out and be teenagers and be safe," Halls says.
That effort is moving forward through a partnership with the city for use of the Hemenway Community Center on McRae Street in the evenings.
"Our goal is to meet there one night a week in the summer for movies or games," Halls says. "We approach anything with quality first, before quantity."
To view more of photographer Katherine Clark's work, go to www.katherineclarkphotography.com.