Write Up
Athenian Press forms to support female writers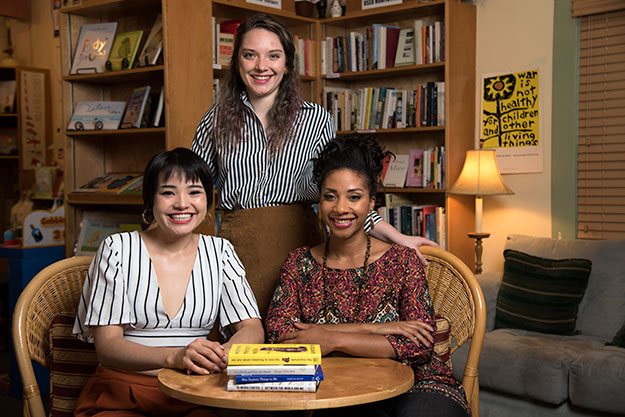 How do you make the world better for women? For women who are marginalized? For women from minority cultures? LORI WILSON believes it's by giving these individuals a voice through the written word.
To meet that goal, she and her co-founders KELLY RAE WILLIAMS and DAISUKE SHEN recently created Athenian Press & Workshops.
The soul of Athenian Press & Workshops will reside at the Athenian Gathering Place, a bookstore and bar in the planning stages intended to also serve as a haven for aspiring and professional female and femme-identified writers. The store will sell feminist-centered books that are written by female authors or published by female-run presses. It will also host community meetings, literary events, and workshops.
"I've wanted to open a bookstore from a young age, so I merged the idea of creating a community for female writers of color and a space to meet in," says Athenian Press & Workshops co-founder Lori Wilson.
Athenian Press & Workshops' cornucopia of services will all be provided by women and femme-identified professionals. Its monthly Athenian At-Large meetings are already underway. There, writers gather for a discussion, presentation, and networking.
Other programs Athenian Press & Workshops plans to offer include professional development, career counseling, manuscript consultation, copyediting and proofreading, book design, and creative coaching and counseling.
The idea is for Athenian Press & Workshops to also serve as a publishing house for books that address womanhood, femme-hood, and non-traditional subjects – books some agents don't want to take a risk on because there may not be a market for them, says Wilson. One of those books will be an Athenian Press & Workshops anthology.
"The anthology will give women a chance to be published on issues that others don't pay attention to," she says.
Athenian Press also hopes to publish one full-length book each year.
Another focus for the founders is community outreach. One program, offered to schools, will encourage children to use written language to express themselves.
Down the road, Athenian Press & Workshops intends to hold conferences, writers retreats, and writers festivals. It will also publish its writers' books and provide assistance with self-publishing. Athenian Press & Workshops is an idea whose time has come for the Wilmington area, Williams says.
"Wilmington is a small community, and it needs some work as it relates to feminine equality, gender equality, and racial equality," she says. "The tri-county area needs Athenian Press to validate and provide a platform for marginalized voices of color."
To view more of photographer Michael Cline Photography's work, visit www.michaelclinephoto.com.
Comments
comments