Work of Art
At CAM, Anne Brennan moved from volunteer to curator to museum director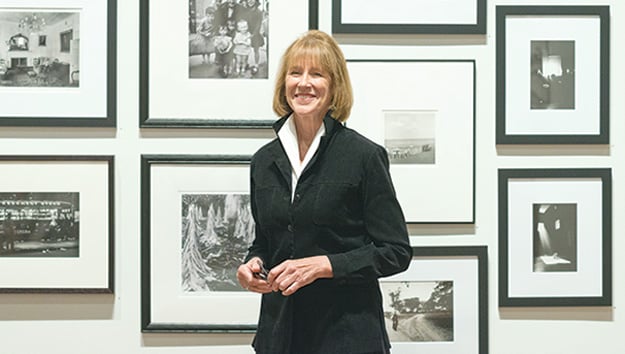 CAMERON ART MUSEUM looms in midtown Wilmington, a beautiful modernist building of stone and glass. Since 2011, ANNE BRENNAN, who has worked within its walls for twenty years and now serves as executive director, has guided its mission and focus.
"CAM is a curious creation," Brennan says. "There is no other museum in North Carolina like it, in that it truly belongs to the community. We are not affiliated with a university, the state, city, or county in any way. We are our own stakeholders, and we all need to feel it is 'our' museum." These ideas of accessibility and ownership are embodied in the museum's mission, as well as in Brennan's history with it.
"I had frequented and loved the museum since I was a child and was committed to work in the nonprofit sector," Brennan says. "St. John's Museum of Art (as the Cameron Art Museum was then known) provided my first experience of seeing artwork in a gallery and was the place I took my first art classes."
Brennan's first official role at the museum was as a volunteer, helping to update member files. She knew that when full-time positions were available, volunteers were often considered first. When the position of curator and registrar of collections opened, she applied and got the job – with a caveat.
"Having known me primarily as an artist, (then director Ren Brown) offered the job stating, 'I can teach you this work. What I can't teach you is having an eye.'"
She immediately left his office, walked to the library, and looked up word "curator." It was a rocky beginning, but a beginning nevertheless.
Over the past two decades, Brennan has become even more dedicated to and inspired by the Cameron Art Museum's mission. As the only art museum in Southeastern North Carolina, it serves not just Wilmington, but the surrounding eight-county region. Its mission is focused on education, which it fulfills by providing opportunities for lifelong learning in the arts, serving as a cultural gathering place for the community, and supporting artists by stewarding their work.
According to Brennan, "The life of CAM, in part, presents the identity and values of who our community is, who we are, not only to others but perhaps even more importantly, to ourselves."
Despite this admirable mission, the Cameron Art Museum faces challenges, especially in regard to how art and culture are valued – or not.
"The pursuit of art is often viewed publicly as entertainment or a leisure activity," Brennan says. "However, its impact on children's learning is immense and measurable."
Brennan is passionate about the idea that art education is a discipline that crosses socio-economic, religious, political, racial, and cultural borders, showing that we have more in common with one another than we might have thought.
"No matter how you look at all (the museum's) challenges, when you peel back all the layers, the crux resides with education," she says. "Funding both public and private, growth of the marketplace, employment for artists, growth of cultural values within the community – it all eventually follows."
Brennan addresses these challenge through six to eight in-house exhibitions, which served over 50,000 visitors last year. Educational programming also abounds within CAM's walls, including Kids @ CAM events, Connections tours for Alzheimer's patients and their caregivers, and the ArtReach program for under-resourced populations. Additionally, the museum offers over eighty-one public programs crossing the disciplines of music, dance, theater, and literature.
One unique CAM offering is its Museum School, which launched in fall of 2011. It's the only arts-based lifelong learning school of its kind in the region and was attended by more than 6,000 people last year – over 1,000 of which were youth.
"It not only serves to educate the students," Brennan says, "but our teaching artists conduct the classes, which helps the teachers learn the business of art and is income producing for these working artists."
Inside the museum, visitors find a mix of modern and classic art.
"We try to balance offerings of work by living contemporary artists with shows that highlight more historical content," Brennan says.
Brennan has also made the museum more accessible by rebooting CAM's volunteer corps program, launching the Museum School, restoring food service with the CAM Café, reassessing and growing membership opportunities, and developing educational outreach to fellow nonprofits and certified agencies such as the Wilmington Housing Authority.
This is all in addition to the more traditional work of a museum, such as acquiring over 800 works into its permanent collection, publishing six exhibition catalogs, and creating one documentary on the history of the Battle of Forks Road.
It's clear from this list that the Cameron Art Museum continues to adapt and grow, reaching new people and cementing itself as a cornerstone of the Wilmington's art community.
"CAM's future," Brennan says, "is intertwined with Wilmington's potential as a true destination city for the arts."
To view more of photographer Katherine Clark's work, visit katherineclarkphotography.com.