Women to Watch: Rising Star
Cicely Pringle, singer. *The Rising Star category is the only Women to Watch category with an age restriction and highlights a woman under 30 from any field.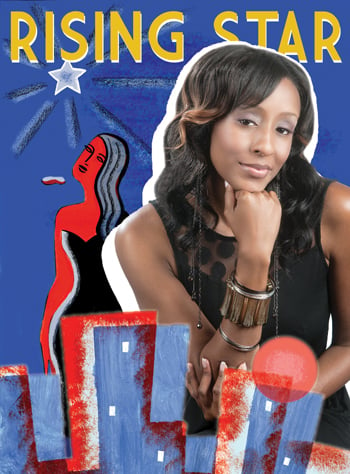 CICELY PRINGLE is a woman of many talents, and one who believes she should share them with the world.
She turned 26 in August, and already she's a budding entrepreneur, the mother of a 3-year-old girl, a singer and a kind-hearted volunteer.
"I really try to treat people the way I'd like to be treated," she said. "And if you need something, I'd like to see if I can help."
Those overtures can be simple, such as giving a sandwich to a hungry stranger or doing the hair of a woman who needs a boost. Or they might include larger efforts like volunteering time at a church to help with marketing and outreach or hosting teen empowerment workshops.
"I know how difficult it can be for teenage girls," she said. She remembers feeling picked on and gangly at that age. Her recent workshop invited more than 20 girls, ages 10 and up, for a self-esteem seminar. "So many girls have the wrong image of themselves," she said. "I was trying to tell them not to compromise themselves. God gave us all special gifts."
Pringle was also student at Cape Fear Community College (and continues her studies online) before opening her Beautifully Mended Events business.
At church, she overheard a woman talking about her wedding coming up in two weeks. Pringle introduced herself and offered to volunteer to help with the planning.
"She was doing it on her own," she said. "It was challenging to pull it together in that time."
But worth it.
The two women are friends now, and the wedding was a success.
Her company is also focused on assisting those in the entertainment industry, with press kits and image consulting. "I want to help people who are also trying to make it in the business," she said. "It's the whole 'teamwork makes the dream work' thing.
"I am one of those people who always has 10 things going on," she said.
It's one of the reasons she choose the entertainment industry. "It's so broad. It can include so many things. And I want to be able to do a little bit of everything."
Her own interest in show business has taken her to the fourth round of a nationwide competition for a $250,000 recording contract.
"That's my main focus now," she said.
She performs neo-soul and R&B under the name C. Serene. (You can check out her work on ReverbNation.) Pringle wrote and recorded a song called Speed, about a woman who falls in love fast, for the Making the Next Hit contest. Other steps have included performing at an artists' showcase and recording a song in Charlotte with 14 other people.
Pringle's support comes from her family – her mother, sister, fiancé and daughter, Ariah.
"My daughter is definitely my biggest motivation. And she's my biggest fan," Pringle said. She also gets encouragement from those she helps along the way.
"I just love making people feel good," she said.
To view more of photographer Jeff Janowski's work, click here.
To view more of illustrator Mark Weber's work, click here.