Women to Watch: Nonprofit
J.C. Skane: WARM executive director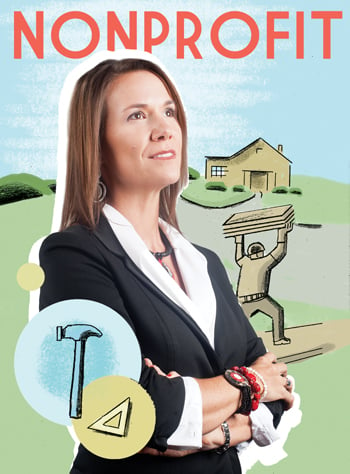 You could call JEANNIE CARIKER (J.C.) Skane a homebody.
After all, homes are her business. As executive director of Wilmington Area Rebuilding Ministry, or WARM, Skane marshals a growing pool of volunteers and resources to repair homes for owners who live in poverty. Replacing a roof or furnace; fixing structural, plumbing or wiring problems; or adding accessibility features, WARM aims to make houses safe and snug for people in need.
"We keep people out of emergency rooms and keep them in their homes. That's good for the entire community," she said. "Home is such a sacred place. When it's not in good shape, life is harder."
Skane herself comes from a very stable home situation, growing up in just one place before heading off to Fredericksburg, Va. to attend Mary Washington College. Her mother still lives in the same house. And it was her mother who imbued Skane with a commitment to service.
"My mother was very involved in the community and showed me the way," she explained. "I've always been a volunteer. It is important to me to give back to the community. My mom was a great model."
So, while Skane worked for McKim & Creed designing subdivisions and as a broker renting apartments, she spent her volunteer time helping create good housing for others.
"She worked just to pay for her volunteering habit!" said Shelly Holt, the president of WARM's board and the person who nominated Skane as a Woman to Watch.
Skane, who is very active in her church, participated in mission trips to Biloxi, Miss. to repair damage caused by Hurricane Katrina. She also spent several months in Eleuthera, Bahamas with Methodist Habitat, an organization that rebuilt homes there after hurricanes battered the islands.
Since taking the reins at WARM in January 2009, Skane has helped the organization grow significantly.
By attracting additional volunteers and board members and by boosting donations and securing more grants, she has increased WARM's budget by 75 percent, which totals $327,200 this calendar year. That revenue growth has enabled her organization to serve more households.
In 2011, WARM made improvements to 75 homes; it's on track to top 80 home improvements in 2012. With its new office in Hampstead opening this fall, WARM sees more growth ahead in an expanded geographic area.
The collaborative relationships Skane has built with area municipalities and with other agencies are key to this growth, Holt said. One such partner agency is Cape Fear Habitat for Humanity.
"I don't see us as competitors," Skane said of the two housing-centric groups. "We're working together to protect the most vulnerable homeowners in our community. Each organization has its own focus, but together we increase the impact on the community."
Skane's collaborative spirit takes a break during football season, however.
"My husband roots for the New York Giants; I root for the Dallas Cowboys," she said.
Homebody that she is, Skane enjoys getting out of the house – mentally and physically – to pursue a variety of active hobbies, from photography to boating and swimming. On a recent vacation in Costa Rica, she and her husband went rappelling, parasailing and ziplining.
"I love an adventure!" she said.
To view more of photographer Jeff Janowski's work, click here.
To view more of illustrator Mark Weber's work, click here.