Women to Watch Finalists-Rising Star Category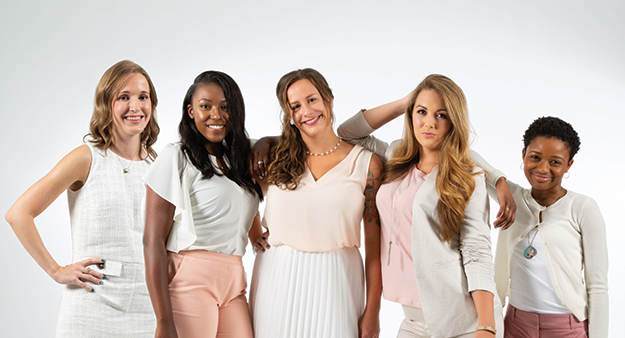 Note: The Rising Star category is for those under the age of thirty.
Jordan Duhe Willetts
Attorney and Owner
Duhe Willetts Law
Jordan Duhe Willetts graduated from Washington and Lee University's law school in 2013. She became acquainted with North Carolina while attending Guilford College for her undergraduate degree. After law school, she moved to Wilmington and began a volunteer position at the public defender's office. She opened her own criminal law practice at the age of twenty-four, and four years later has built it up in two locations – in Wilmington and Bolivia. She has been active with Lawyers for Literacy since it started in New Hanover County and headed up its expansion into Brunswick County. She runs the Brunswick program, in which lawyers, paralegals, and law students volunteer to read to and with at-risk elementary school students.
Marissa Bryant
Outreach Coordinator-Health Equity
New Hanover Regional Medical Center
Marissa Bryant is a Wilmington native and recent graduate of the University of North Carolina at Greensboro, where she earned a degree in public health education. As a Certified Health Education Specialist and New Hanover Regional Medical Center's Health Equity Outreach Coordinator, Bryant has worked tirelessly to develop partnerships and positive community relations throughout the city. Within her personal and professional life, Bryant is dedicated to providing access to resources and education to underserved, underrepresented, and under-resourced communities within the Wilmington area. Her overall goal is to eliminate structural disparities that plague the underprivileged areas of Wilmington and essentially provide these communities with resources to become self-sustaining. She continues to utilize her capacity as a leader to guide her network of community partners as they work towards the empowerment and life enhancement of Wilmington's underserved residents.
Maria Speaks
Taproom Manager and Events Coordinator
Waterline Brewing Co.
Maria Speaks has worked for over a year at Waterline Brewing Co., the brewery that opened in 2015 near the Cape Fear Memorial Bridge. In the role, she is responsible for scheduling the staff to run the taproom. In her time there, she also has organized and managed a number of events, including business promotions, charity fundraisers, music and arts gatherings, and family events. She is a contributing member to the Cape Fear Craft Beer Alliance, serving on the local advocacy group's education and marketing committees as well as its lead volunteer coordinator for the Craft & Cuisine event at Airlie Gardens that was held in March as part of Cape Fear Craft Beer Week.
Kathryn Bruner
Real Estate Broker/Realtor
Intracoastal Realty
Kathryn Bruner moved to North Carolina in 2010 when she was stationed with the Coast Guard to conduct search and rescue operations. After leaving the Coast Guard in 2017, she became heavily involved in the Wilmington community. Among her activities are graduating from this year's Leadership Wilmington, a program through the Wilmington Chamber of Commerce. She also volunteers with Cape Fear Equine Rescue, serves as an ambassador with the Port City Young Professionals networking group, and often co-hosts Housewives in the City events for the local chapter. A real estate agent with Intracoastal Realty, Bruner is also a fulltime student at CFCC.
Nydheri Brown
Artist
High school student Nydheri Brown might be young, but she is already pursuing her love of art and leading her peers. Brown, now fifteen, has been a participant in the DREAMS of Wilmington program since the age of nine. Her interest in the arts started in dance with ballet. While developing her skills in acting, jewelry making, sewing, ceramics, sculpture, and other mediums, Brown balances her work with studies as an early college student. She also has set up sales of pieces by DREAMS' student and teaching artists in area businesses such as Tickled Pink and Art in Bloom Gallery. Brown served as a student intern at Art in Bloom Gallery.
To view more of photographer Chris Brehmer's work, go to chrisbrehmerphotography.com
Want more WILMA? Sign up for our WILMA Weekly email and announcements at WILMAOnTheWeb.com.