Women to Watch Finalists-Public Service Category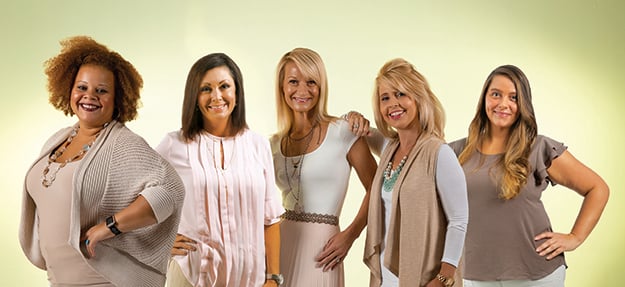 Lyana Hunter
Assistant Public Defender
State of North Carolina
Lyana Hunter says that as a public defender, she fights daily to represent her clients. Hunter, who practices primarily in juvenile law, is responsible for maintaining and running the court-appointed list for local attorneys who want to practice in DSS court. She is a member of the Criminal Justice Advisory Group, a city- and county-sponsored workgroup made up of local leaders in the criminal justice system in New Hanover County. The members work to address five identified issues, and Hunter's breakout group focuses on reducing sex offenses in the community. Hunter has been a member of the local Juvenile Crime Prevention Council since 2010.
Leslie Houston
Dental Assistant & Team Leader
NHC Health Department Mobile Dental Unit
Leslie Houston leads the New Hanover County Health Department's Mobile Dental Unit. The unit, Miles of Smiles, visits seventeen schools in New Hanover and Brunswick counties to reach youth age three to eighteen. The children either are covered under Medicaid or North Carolina Health Choice insurance or have no dental insurance and fall under an income-based, sliding-fee scale. Its purpose is to bring dental services for children who might not otherwise access dental care. The unit saw nearly 15,000 dental visits between 2006 and 2017. On top of dental assistant duties, Houston takes charge of the unit's upkeep, financial, administrative, and coordination with schools and school nurses.
Lisa Brooks
Founder
Wilmington Thrive Tribes
A clinical social worker, speaker and educator, Lisa Brooks founded Wilmington Thrive Tribes to help women in our area prioritize self-care. Over time her message has evolved as Brooks saw women struggling with work/life balance and professional burnout, especially those whose jobs included exposure to high levels of trauma, organizational stress, and compassion fatigue. She currently speaks, consults, and works one-on-one with women on burnout prevention, self-care in the workplace, the importance of speaking your truth, and the power of your story. Brooks is also an expert in child trauma and child advocacy, having worked in the field for over twenty years. She is a full-time lecturer in the School of Social Work at the University of North Carolina Wilmington where she received her bachelor's degree in social work. She received her Master of Social Work degree from the University of South Carolina.
Olivia Dawson
North Carolina Blueberry Festival Coordinator and
Tourism Assistant for Pender County Tourism
Under Oliva Dawson's leadership the past six years, the summertime North Carolina Blueberry Festival in Burgaw has grown into Pender County's largest festival, with an attendance of more than 40,000. Those coordinating responsibilities include directing more than one hundred volunteers to put on the multi-faceted event. The festival brings more than $3 million to the local economy. Dawson serves on the North Carolina Association of Festivals and Events' board of directors. Dawson, who works for Pender County the rest of the year in its tourism department, also has been involved in the Eastern North Carolina Events and Festivals Consortium.
Tonya Barber
Guardian ad Litem and
Housing Case Manager for Coastal Horizons Center
As a guardian ad litem, Tonya Barber has been an advocate for neglected and abused children in the region for more than five years. She and other volunteer guardians work with the more than 500 children in New Hanover and Pender counties who entered the court system as victims of abuse and neglect. The legislature created the North Carolina Guardian ad Litem program in 1983 as a division of the North Carolina Administrative Office of the Courts. Barber teaches new guardian classes and mentors other guardians during their first year in the program. For the past two years, Barber also has helped combat homelessness in the area in her role as housing case manager for Coastal Horizons Center.
To view more of photographer Chris Brehmer's work, go to chrisbrehmerphotography.com
Want more WILMA? Sign up for our WILMA Weekly email and announcements at WILMAOnTheWeb.com.