Women to Watch Finalists-Nonprofit Category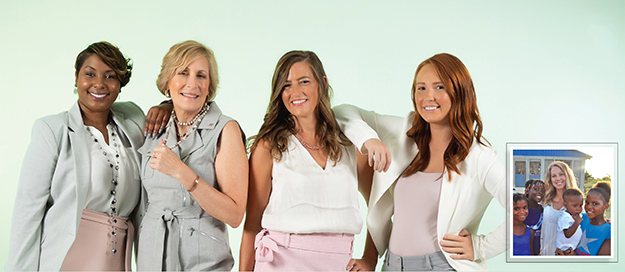 Charrise Hart
CEO
YWCA Lower Cape Fear
In over a year as head of YWCA Lower Cape Fear, Charrise Hart already has been making an impact on the Wilmington-based organization. The YWCA has won a national grant to improve its financial literacy program for domestic violence survivors; formed a partnership to create the Coastal Women's Ventures initiative that supports small business opportunities for female entrepreneurs; and more. In the community, she has served on the United Way Campaign Cabinet and been a member of the chamber's Leadership Wilmington program. A Greensboro native, Hart moved to Wilmington last year after serving as COO of the YWCA Greensboro.
Bonnie Monteleone
Executive Director
Plastic Ocean Project
Bonnie Monteleone is the executive director of the locally based nonprofit Plastic Ocean Project, which is focused on the issue of plastic pollution. She also serves as director of science, research, and academic partnerships for the organization. Monteleone, who works in the chemistry department at University of North Carolina Wilmington as an administrative assistant and plastic marine debris lab assistant, has collected plastic marine samples in most of the main ocean gyres. She is working to create a marine debris research center. An artist, Monteleone also has turned some of the plastic she has collected into a traveling exhibit to bring awareness to the issue.
Katie Ridd
Missions Mobilization Coordinator
Port City Community Church
Katie Ridd oversees Port City Community Church's relationships with local nonprofits including Communities in Schools, A Safe Place, and the Brigade Boys & Girls Club as well as with national and global ministries. Within the church, she volunteers with its addiction ministry called Refuge and was part of the brainstorming team for MVMT, an event the church put on last year that drew 1,000 people to address the opioid abuse epidemic. Kidd also volunteers with Fellowship of Christian Athletes, Vigilant Hope, and StepUp Wilmington. She serves on the local boards of Weekend Meals on Wheels and Foster Pantry. This summer, Ridd lead a team of ten on a mission trip to Kenya.
Frances Danner
Community Volunteer
Buck Creek Foundation/Girl Scouts/Paws-Ability
Frances Danner has devoted her off time to a number of local organizations and causes. A full-time student at the University of North Carolina Wilmington, Danner also works full time in the real estate field as a broker assistant with the goal of obtaining her real estate license. She plans to major in biology and attend veterinary school. Despite the full plate, Danner has served as a Girl Scout troop leader; volunteer for Buck Creek Foundation, a program for special needs children and adults; and volunteer for Paws-Ability. A former therapeutic riding instructor, she also volunteers at a similar program locally. Training to become an EMT, she also is working toward becoming a volunteer firefighter.
Jessica Jakaitis
Orphan Home Director
In His Hands Orphans Outreach
Jessica Jakaitis, who was working in Haiti and unable to attend the photo shoot, splits her time between Hampstead and Grand Savanne, Haiti, where she runs an orphanage. There, she manages a staff of more than thirty employees who help about forty orphaned children. Jakaitis, a former public school teacher, also teaches the children, who are homeschooled. In her role, she leads the child sponsorship program, handles paperwork, payroll for the employees, and more. A Hampstead native, Jakaitis is a graduate of University of North Carolina Wilmington. Each summer, youth and adults from the local community travel to Haiti to volunteer at the orphanage.
To view more of photographer Chris Brehmer's work, go to chrisbrehmerphotography.com
Want more WILMA? Sign up for our WILMA Weekly email and announcements at WILMAOnTheWeb.com.