Women to Watch Finalists-Education Category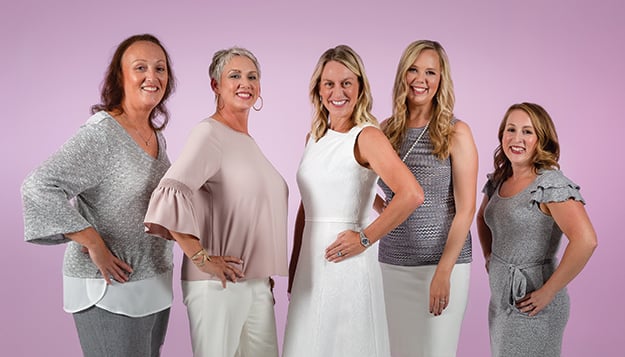 Valerie Melvin
CFCC Math Instructor and
Wilmington Blockchain & Cryptocurrency Meet Up Group Organizer
For over two decades, Valerie Melvin has taught math at Cape Fear Community College including seventeen years of online instruction. Melvin, past-president of CFCC's Faculty Association, has taught part time for the University of North Carolina Wilmington, the University of Mount Olive, Brunswick Community College, The Art Institute of Pittsburgh-Online Division, and Colorado Technical University. She has served on the board of the North Carolina Mathematics Association of Two Year Colleges, helping plan conferences and professional development opportunities across the state. She has also served on the local Girls Incorporated board. Melvin is a co-organizer of the Wilmington Blockchain & Cryptocurrency Meet Up group, focused on educating the community on the emerging technology.
Susan Sellers
Supervisor of Certified Talent Management
New Hanover County Schools
This summer, New Hanover County Schools appointed Susan Sellers as its supervisor of certified talent management, a position housed in the school system's human resources division. Sellers was previously the principal of Rachel Freeman Elementary School of Engineering, a position she started in 2015. Before that, she worked as a school transformation coach for the N.C. Department of Public Instruction and as a lead achievement coach, principal, and assistant principal in the Duplin County school system. Sellers, who holds a degree in secondary English education and a master's degree in school administration from the University of North Carolina Wilmington, has also spent part of her education career teaching in classrooms in Pender and Sampson counties.
Justine Reel
Associate Dean of Research & Innovation
UNCW College of Health & Human Services
Besides her work as an associate dean of research and innovation in University of North Carolina Wilmington's College of Health & Human Services, Justine Reel is a UNCW professor in exercise science and teaches in the School of Social Work. Last summer, she brought a group of UNCW students to Sweden to study health innovations. She holds four academic degrees, has published over one hundred articles in peer-reviewed journals, and authored six books about eating disorders. In her role as associate dean, she implements programs for faculty pursuing research, such as hosting a regular writing circle for faculty to work on articles and grant applications and hosting networking Coffee Hour events on different topics.
Elizabeth Felts
Honors Service Learning Course Instructor
New Hanover High School
Elizabeth Felts helped design New Hanover High School's two service-based curriculums. The honors course, an elective to which students apply, gives juniors and seniors opportunities for leadership development and volunteerism. In addition to classroom time, the students go into the community for a minimum of forty hours each semester and partner with area nonprofits and organizations. It's a first of its kind for a public school in North Carolina. Felts also has worked to incorporate a service learning class for freshman that started this school year called the Bridge Program. This is an interdisciplinary program she launched with Whitney Coonradt that integrates social studies, English, and service learning.
Rebecca Daneff
Associate Director for Employer Development
UNCW
Rebecca Daneff, a former corporate recruiter for BB&T, joined the University of North Carolina Wilmington's Career Center in 2016. In her role, her goal has been to bring more than sixty Fortune 500 companies to recruit UNCW graduates, including military-affiliated students. Daneff also helped form the Military Spouse Professional Network at UNCW, a global initiative managed by the U.S. Chamber of Commerce Foundation's Hiring Our Heroes program that was the first chapter managed by a higher education institution. Daneff, who holds an economics degree from Michigan State University and master's in human resources administration from Central Michigan University, is a doctoral candidate for UNCW's Educational Leadership program.
To view more of photographer Chris Brehmer's work, go to chrisbrehmerphotography.com
Want more WILMA? Sign up for our WILMA Weekly email and announcements at WILMAOnTheWeb.com.