Women to Watch Finalists – Business Category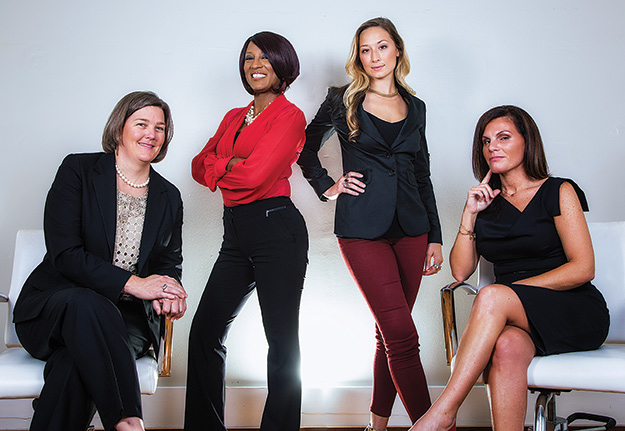 (left to right) Charlotte Noel Fox, Kelli Williams, Audrey Speicher, LeeAnne Quattrucci, Meg Caswell Holladay (headshot middle, top row below)


Charlotte Noel Fox, Partner at Craige & Fox PLLC
Charlotte Noel Fox has been practicing law for 11 years, and in 2007, she and Lawrence Craige started their own firm, which has steadily grown since.
"I would say that I have been extremely fortunate," she says. "It's all sort of been managed growth. It's been a wild ride."
The firm has six attorneys and seven support staff.
At the same time, Fox, a member of the New Hanover County and North Carolina bar associations in the real property and litigation sections, has been active on several community boards and projects related to the justice system.
She just finished a term on the AMI Kids North Carolina Family Services Inc., has been on the local Juvenile Crime Prevention Council, and served as the attorney of record for undisciplined and delinquent juveniles in New Hanover County at no charge.
She also has been on the board for the Z. Smith Reynolds Foundation's Leadership Council since 2012.
"It's been an unbelievable experience in terms of meeting leaders across the state and becoming more aware of the good things being done," she says. "I am more energetic and optimistic about the state of North Carolina after being part of that leadership council."
Fox was appointed this year as the attorney for the Cape Fear Public Transportation Authority and also serves as the town attorney for Carolina Beach.
"I really like the diversity that comes with assisting a town with its legal needs," says Fox, adding that issues can run the gamut from civil litigation to property law.
In the coming year, she says, Fox wants to get involved at the state level to make even more of an impact, perhaps a governor-appointed commission.
Meg Caswell Holladay, Owner of Fifth & Castle
Earlier this year, interior designer Meg Caswell Holladay set up shop in the Castle Street neighborhood, converting a historic fire station on Fifth Avenue into her home store and design center.
Besides being a retail post for goods from furniture to throw pillows, Fifth & Castle also serves as a base for Caswell Holladay's interior design services for clients.
"The reception from the town has been wonderful. We've been very busy. We didn't really know what to expect," says Caswell Holladay, who also holds decorating classes and workshops at the space.
The Chicago native – she also owned a design firm and home décor store there – moved to Wilmington three years ago with her husband. Now in the Port City, she says she is thinking up concepts for highlighting the Cape Fear region on the small screen and talking to production companies.
Caswell Holladay is no stranger to national television projects. After winning HGTV's Design Star competition show, she went on to host her own program on the cable network. For 18 episodes, she did Meg's Great Rooms. She also worked on more than a dozen specials for the channel.
Since moving to Wilmington, she has incorporated her background into work with local nonprofits. She chaired The Arts Council of Wilmington and NHC's first Designer Showcase event last year, and she has been active with Welcome Home Angel, which gives bedroom makeovers to children who have gone through serious illness and injury as a way to give them comfort.
"These children, they're fighting for their lives and trying to get healthy," she says. "The best reveal I ever did was to a little boy through Welcome Home Angel. It meant more to me than any of the TV shows."
LeeAnne Quattrucci, Attorney at LeeAnne Quattrucci PA
LeeAnne Quattrucci opened her law firm with a focus on family law.
"I really love adoptions and department of social services cases," says Quattrucci, who is a member of the family law sections of the American Bar Association and the North Carolina Bar Association.
It was working while doing pro bono work for the court system that she crossed paths with two girls who would ultimately become part of her family. That type of dedication is what compelled Quattrucci to go out on her own in the first place and start a firm.
"Part of wanting to be my own business owner, it was actually to make changes in the community and practice law the way I want to practice law," says Quattrucci, who practices family law, juvenile law, and immigration law. "Law is a business, but it's also a service."
She also has provided pro bono counsel through the Battered Immigrant Project.
Quattrucci, who went to Wake Forest University at 17, finished her undergraduate in two years, studying political science and education. Before deciding on law school, she spent time teaching elementary school students and traveled overseas.
In her career locally, Quattrucci has received the Pro Bono Publico Award for Legal Aid of North Carolina for several years and was a former co-chair of the criminal justice/paralegal department at Miller-Motte College, where she teaches classes as well as at CFCC.
The firm has four employees, and Quattrucci says the size of the operation allows her to take on the cases she wants.
Audrey Speicher, Partnerships Manager for CastleBranch Corp.
Audrey Speicher is right in the thick of Wilmington's growing startup culture.
As partnerships manager for CastleBranch Corp., she has been working with education technology products, finding ways for CastleBranch to expand its business while helping tech companies roll out new projects.
One example is this summer's announcement that CastleBranch, a Wilmington-based screening company, was partnering with the college-focused app OOHLALA on a mobile engagement platform for students studying health fields.
"I manage the process from when we decide we're going to work with a company," she says about her new position. "I mange the roll-out process."
Before becoming partnerships manager, Speicher was the company's first director of tekMountain, CastleBranch's incubator/accelerator space.
As CastleBranch grows, so has newly created job titles and experiences for Speicher, who started with the company in 2012 as a corporate development manager and then moved into business development.
"As of late, I've found a true passion for the work I do, which is my primary motivating factor," she says. "I'm a driven person prone to dogged hard work especially for an effort I believe in."
In the community, those efforts include volunteering with Vintage Values, The Full Belly Project, Life Rolls On, and the American Red Cross.
While Speicher didn't necessarily think years ago she would end up working in the tech world – she also this year helped start the Cape Fear Women in Tech group – taking on new challenges has been fulfilling, she says.
"I went to school for psychology, to be therapist," she points out. "I'm fascinated by human interaction, which is perfect for business."
Kelli Williams, Founder and CEO of Ladies We've Got Option$!
Kelli Williams got into trading options for her own personal finance several years ago and decided to parlay that into teaching other women the concepts of options trading.
Williams, founder and CEO of her company around that idea, has written a book about it that also encourages women to become financially self sufficient. She also does talks to groups of women on the subject.
"I think it's important for women to be in charge of their money," Williams says. "If we can have a financially empowered woman at home, it can change the structure of our homes. It can also change our communities."
Getting women interested in learning more about investing at an earlier point in their lives is one of her goals.
Her book was released last summer by Action Wealth Publishing Workbook, and she holds four-day workshops that cover topics from getting yourself together financially to strategies on option trading.
Williams got turned off of stocks personally when she got burned on a particularly large loss from a single trade. She started instead learning more about options trading, which is a more complex type of security than stocks.
"I'd always been interested in learning about the stock market. I knew there was something that was missing when it came to that," she recalls. "I love numbers, and I've always loved math. I kept going back to it."
Williams, who also is in sales at Capital Nissan of Wilmington, says her ultimate goal with Ladies We've Got Options$ is to take the program to the national level.