Women to Watch Finalists-Arts Category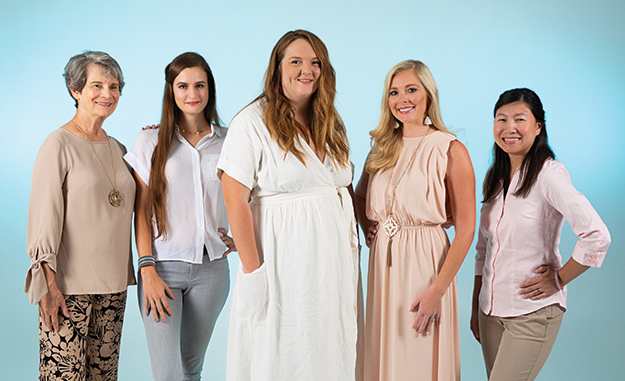 Nancy McCurtin
Artist & Author
Topsey and Friends
Local artist Nancy McCurtin paints and has written a children's book about one determined sea turtle named Topsey. Like Topsey, McCurtin has learned how to navigate daily life after losing her vision. She became blind in 2016, but before then had taken art classes with Cheryl Crane-Hunter. Crane-Hunter helped McCurtin continue her love of painting with the help of adapted materials. The two launched Topsail Island Visions (paintfortheblind.com ), which offers products to help others with differing abilities also pursue their art. McCurtin published the first of a three-book series about Topsey called How Topsey Lost His Vision, published by the local imprint SlapDash Publishing. Others books are expected to follow.
Caroline Fisher
Co-Founder & Creative Director
Swahili Coast
Through her brand Swahili Coast, Caroline Fisher designs items and works with three artisan groups in Kenya and Tanzania to make them. "Our sandals and beaded jewelry is made by the co-op we founded, and our towels are made in a workshop in Kenya we met through USAID," Fisher says. "Our recycled brass jewelry is made in another worker-owned co-op in Nairobi as well." She co-founded Swahili Coast in 2013 while living in Tanzania. The finished products are sold in stores in the U.S., Europe, the Caribbean, and South America. Anthropologie has picked up the line, and Swahili Coast also has two retail stores in downtown Wilmington. Fisher also co-founded the East Africa Cooperative Development Group.
Catherine Hawksworth
Owner & Founder
Modern Legend and Blank Agency
Local business owner and music supporter Catherine Hawksworth has been busy recently. Two years ago, she opened her retail store Modern Legend in The Cotton Exchange. In March 2017, Hawksworth moved it to a larger space on North Front Street. An eclectic mix of home décor, beauty products, men's shirts, jewelry, accessories, and more, the store also reflects Hawksworth's passion for music. Hawksworth, who holds a degree in music business from Berklee College of Music, incorporates a vinyl record section and hosts live music. This year, she also founded Blank Agency to provide management, photo and video, promotion, booking, and other services for bands and musicians.
Brooklyne Williamson Moore
Owner & Artistic Director
Evolution Dance Complex
Brooklyne Williamson Moore owns the Wilmington dance studio Evolution Dance Complex on Fountain Drive. A dancer since the age of two, she has danced competitively and earned awards at national dance championships. The honors continued as she focused on a career in dance education, in which she has won teaching awards and encourages her students. The studio's students range from toddlers in creative movement to older dancers who practice several times a week and have the opportunity to work with professional choreographers from around the country. Williamson Moore also holds an annual event to raise money to benefit The Make-A-Wish Foundation. The University of North Carolina Wilmington graduate, who holds a degree in communications studies and minor in theater, also works with Opera House Theatre Company, such when she performed as lead dancer in its production of Kiss Me, Kate as well as in Chicago, Priscilla, Queen of the Desert, and many other musicals under the direction of Ray Kennedy.
Shirley Lebo​
Orchestra Manager, Music Librarian, & Violinist
Wilmington Symphony Orchestra
Violinist Shirley Lebo auditioned for the Wilmington Symphony Orchestra soon after moving to the area. Besides performing with the symphony orchestra, Lebo also serves as the group's orchestra manager and music librarian. As a manager, she helps keep the organization on track, while as a musician she expresses her artistic side. Around the area, Lebo also performs at private and public receptions as well as for local fundraisers and alternative country group Mark Sinnis & 825 and has served on Chords for a Cause's for its five years. A meteorologist who holds a degree in atmospheric science, Lebo previously worked for the Air Force to give weather briefings to pilots.
To view more of photographer Chris Brehmer's work, go to chrisbrehmerphotography.com
Want more WILMA? Sign up for our WILMA Weekly email and announcements at WILMAOnTheWeb.com.