Women to Watch Awards Finalists-Rising Star
Meet the 2021 finalists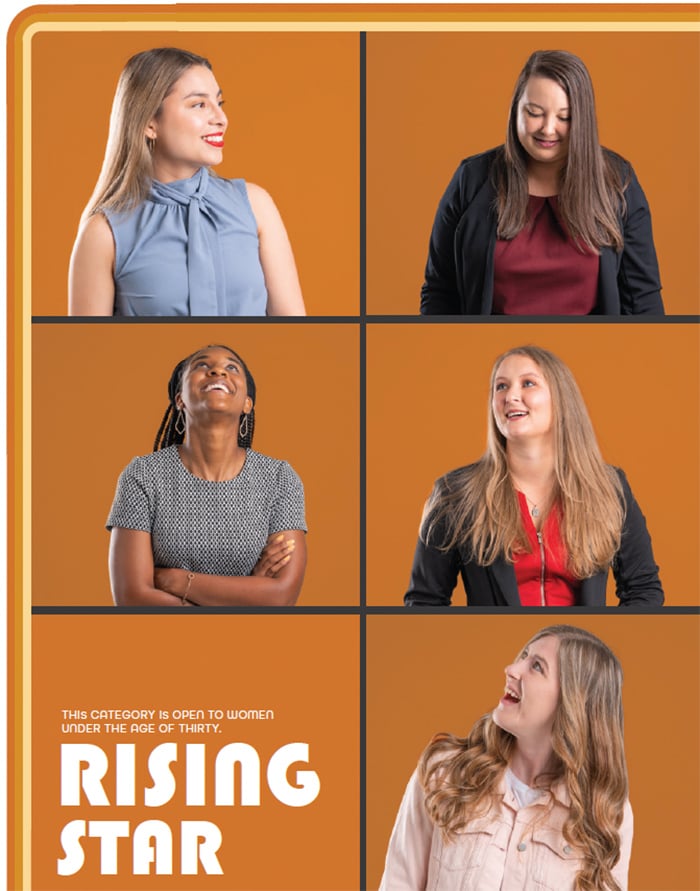 ---
Brianna Drennan
Laboratory Manager,
Wilmington Health
Brianna Drennan oversees all of Wilmington Health's lab staff, supervising about forty people. When COVID-19 emerged locally, she had only been in the position a few months. Drennan quickly had to staff the department to ensure the practice's COVID testing capabilities could keep up with the demand. Each time tests changed, she ensured that Wilmington Health had the highest standard of testing and that testing was implemented safely. "I consider my main career highlight at this point to include earning a lab management title at the age of twenty-four," she says. "I had only been working on a bench for between three and four years when the opportunity arose. I took on the position two years ago, not for the title but for the seat it allowed me to sit in within my organization. The laboratory field is one that is often overlooked because its workings are not widely understood, and I wanted to help be a voice and an advocate for the important work that goes on 'behind the scenes' of medical diagnoses and treatments." Drennan earned a degree in laboratory science from the University of North Carolina at Chapel Hill because she is fascinated by medicine and the impact labs have on overall health. "My goal for the coming years is to serve my community by continually helping to advance the quality and efficiency of the lab," she says. "I also want to encourage students to consider becoming a medical/clinical laboratory scientist. There are not enough people who go into lab, stay in lab, or even know about lab, due to the overlooking of the career-field and being an 'unseen hero,' but the work is so, so rewarding as you would play a vital role in patients' diagnoses, treatments, and in their lives."
---
Hayley Luckadoo
Motivational Speaker & Marketing Coach,
Luckadoo Media
Hayley Luckadoo is no stranger to conferences, workshops, and even podcasts where her focus is to empower women. "I've motivated and inspired women to leverage their failures, chase their audacious dreams, and step into who they want to be," says Luckadoo, whose podcast is called Females on Fire (femalesonfirepodcast.com). "There are millions of small business owners and marketing coaches in the world, and there are thousands of motivational speakers and women trying to elevate other women. I think what sets me apart is the work I'm doing to bridge the gap between those things." Through her Females on Fire podcast, Luckadoo has built a community and an all-in-one platform for educational training and inspiration in both business and personal development.
---
In her time at the North Carolina Maritime Museum at Southport, Katy Menne has expanded the museum's vision through community collaborations that take the museum outside the facility's walls and creating a more inclusive environment within the building. In addition to teaching programs, she has also written two major exhibits, numerous digital, and one mini temporary exhibit. She is actively involved with the Brunswick County Local Interagency Coordinating Council, the Southeastern Museum's Conference Equity and Inclusion Action Team, and the North Carolina Museums Council, among other organizations. She is a National Geographic-certified educator and is currently pursuing the environmental educator certification through the state. "There are so many things I have been fortunate enough to be a part of or facilitate that is it hard to pick a few," she says. "Topping the list would be making the NC Maritime Museum at Southport the first Certified Autism Center in North Carolina (in 2020), winning the Emerging Museum Professional Award from Southeastern Museum Conference, and having American Alliance of Museums published my article about starting an accessibility movement."
---
Arely Ramirez-Diaz
Immigration Paralegal,
Helen Tarokic Law
Arely Ramirez-Diaz is an immigration paralegal at Tarokic Law PLLC where she assists the firm with employment-based, naturalization, and removal defense immigration cases. The law office is known for its humanitarian work with victims of violence- and trafficking-based visas. Ramirez-Diaz's bilingual abilities and cultural competency give her the skills needed to help Spanish-speaking and Latinx families who seek immigration services at the firm. She has experience in private and public sectors working to aid and advance individuals and their families. In 2019, she received a sponsorship to attend the Congressional Hispanic Caucus Institute. In 2018, she was selected to attend the United Nations Association Leadership Summit. Since her time as an undergraduate student at the University of North Carolina Wilmington, Ramirez-Diaz has been a mentor to Latinx youth through UNCW's Centro Hispano and other organizations. She has supported several students through their transition from high school to college and then from college to career.
---
Cierra Washington
Strategic Partnership Coordinator,
Northside Food Cooperative
Cierra Washington has been involved in several initiatives that involve and support community members in creating solutions to combat health disparities in collaboration with local agencies. Those initiatives have included the creation of a community garden next to the Hemenway Community Center where Voyage youth participants can learn about growing their own food; the facilitation of the Southeastern NC Health Educators Network; piloting a Bonner Pipeline Project, which provides funding and applied learning opportunities for students seeking a degree in a health-related field; and establishing several programs to increase engagement and grow memberships within the Northside Food Cooperative (see more about the co-op on page 55). She has been recognized several times for her achievements. Washington also is a committee member of the Northside Health and Wellbeing Improvement Team.
---
To view the Women to Watch Awards Finalists main page, click here.
Photos by: Chris Brehmer