Women to Watch Awards Finalists-Public Service
Meet the 2021 finalists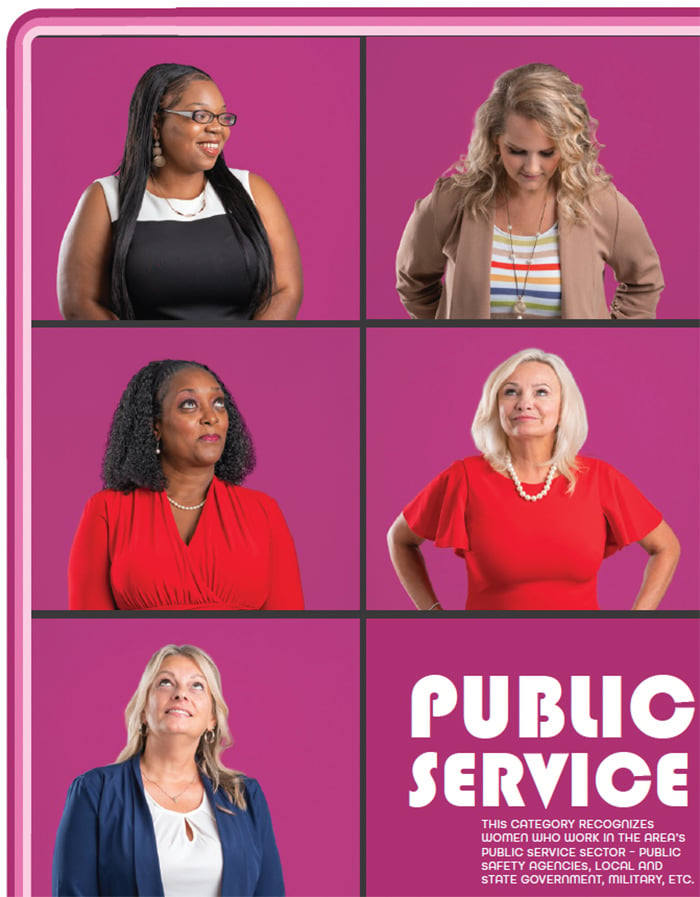 This category recognizes women who work in the area's public service sector – public safety agencies, local and state government, military, etc.
---
Tufanna Bradley
Assistant County Manager,
New Hanover County
Tufanna Bradley began as assistant county manager in August 2019 and previously served as the county's community affairs coordinator. Before joining the county, she worked for New Hanover County Schools and as a director for several nonprofit organizations – working in public service for more than 20 years in the nonprofit, education, and government sectors.
As assistant county manager, she has initially led New Hanover County's Parks & Gardens Department, North Carolina Cooperative Extension & Arboretum, Public Library, Cape Fear Museum, Soil & Water Conservation District, and Board of Elections. Last summer, she transitioned into overseeing the county's health and human services departments, including the consolidated Health and Human Services agency, Senior Resource Center, Community Justice Services, and Veteran Services. She also serves as a liaison with the court system and Trillium Health Resources, both of which receive funding from the county. Bradley played an integral part in the county's COVID-19 response.
---
Kayla Ceasar holds a bachelor's degree in criminal justice. She is currently completing a social work internship rotation with Novant Health while pursuing her MSW and LCSW to tap into her desire to help children and the community. Ceasar also serves as project lead for the Healthy Literacy Campaign, a grant-funded initiative aimed to increase health literacy within underserved communities that is under the umbrella of the YWCA Lower Cape Fear. In addition to Ceasar's advocacy efforts, she works for New Hanover County's Health & Human Services, where she has developed a mentorship program scheduled to be implemented in the organization in the next several months. Ceasar's mentorship program is based on the concept of Career Mentoring, a process that refers to the instrumental assistance of career advancement. After developing the model and the framework of the program, Ceasar presented her concept to New Hanover County's executive leadership team. The project was sponsored by Assistant County Manager Tufanna Bradley. County officials announced their plan to move forward with Ceasar's initiative at the county's town hall meeting in April. The long-term goal is to bridge the gap in the workplace and provide opportunities for employees to improve themselves. "The opportunity of being able to gain approval to implement a program that will assist my fellow employees in career advancement is an achievement that will forever be dear to my heart," she says. "Although I am just in the beginning stages in my career, it is my hope that when I look back on my career highlights it will be filled with results of helping others and making a positive impact for all persons of my community." Ceasar also owns and operates Precise Consulting LLC and is launching a six-part master class series in November aimed at assisting up-and-coming professionals to find their voice. "These master classes will assist professionals with tapping in and excelling within the workplace culture," Ceasar says. "I would be honored to walk hand in hand with fellow professionals on their journey to achieving their goals and success."
---
Carly Hagg
Finance Director,
Leland
Carly Hagg began working in the public sector a few years ago when she started as deputy finance officer in August 2017 while simultaneously finishing up her MBA. She previously was the accounting manager at the Wilmington Convention Center. Hagg was promoted to the role of Leland's finance director in February 2018 when the previous finance director, Missy Rhodes, was promoted to assistant town manager. Hagg graduated from UNCW with her MBA in May 2018. In her role, Hagg is responsible for administering and monitoring all aspects of the town's finances to ensure compliance with state law and the Local Government Commission guidelines, overseeing the town's purchasing division and grant execution, preparing the town's budget, and reporting Leland's financial condition monthly to the town council and annually to the external auditors and other state and federal agencies that monitor municipal finance conditions. "Currently I am working to revise the town's budget process and budget manual for FY22-23 in hopes the town will earn the GFOA (Government Finance Officers Association) Distinguished Budget Presentation Award," Hagg says. "The program was set up by GFOA to encourage and assist state and local governments to prepare budget documents of the very highest quality that reflect both the guidelines established by the National Advisory Council on State and Local Budgeting and the GFOA's best practices on budgeting and then recognize individual governments that succeed in achieving that goal. The town has not earned this award in the past, and if achieved, this will be the highlight of my career."
Correction: The print version of the Public Service category incorrectly stated why Hagg's predecessor left the finance director position and in describing some of her roles as finance director. This version has been updated with the corrections.
---
Marie Parker came on as Wave Transit's executive director in December. "Wave Transit was months away from cutting routes over 20% in a community where a need exists … We have an insufficient technology and a lack of data collection that is imperative for planning and decision-making in transit," Parker says about the agency's previous status. Parker, who most previously was general manager of GoRaleigh, has this year worked with Wave Transit board members and city and county officials to pause the service reductions until July 2022. A joint committee formed and has been discussing the possibility of a referendum for a quarter-cent sales tax increase to be a dedicated funding source for public transportation. Parker also has entered into a tri-county pilot agreement to be fully funded by the state to develop and lead a new microtransit initiative that starts this month for serving and connecting the three counties. "It is the first project of its kind in the entire state of North Carolina," Parker says. "It will offer an affordable, responsive transit option to residents and visitors in the tri-county Cape Fear region, including Brunswick, New Hanover, and Pender counties. Customers will be able to access the entire regional area without the need for a car. In its final phase, the service, combined with Wave Transit's existing service, will cover most of the inhabited parts of the county, all the way south to Carolina Beach, as well as extend as far north as Hampstead and as far west as Leland. This is going to be very exciting for residents in the area." Her upcoming focuses include tech projects such as a full-service mobile app that users can use to book rides, locate their buses, or purchase passes. "Customers will also be able to use their phone as mobile payment when boarding the bus by scanning or tapping their ticket, which will be safe and much faster," Parker says. "We will also be adding passenger Wi-Fi in the future, allowing for a seamless wireless internet connection allowing for riders to be productive or just enjoy their trip while browsing the web." The organization has a goal to double the number of benches and shelters for passenger use over the next two years, "as well as upgrading existing sites to increase attractiveness, comfort, and safety." "Finally, we are working on redesigning our entire transit network," Parker says. "Our focus will be to make it more efficient, more available, and more reliable. Long term, we would like to be an adaptive, robust system, and this is just the first step in that process."
---
LeAnn Pierce made history by being elected the first female mayor of Carolina Beach in November 2019. As she began her term in 2020, which also marked 100 years of women's suffrage and the passage of the 19th Amendment, Pierce faced the impacts of the COVID-19 pandemic and civil unrest. Her passion to serve was soon realized as she led the town through unchartered waters in her first year as mayor. Pierce has served as an elected official for the past eight years. She also serves on the Wilmington Metropolitan Planning Organization (WMPO) and New Hanover County Tourism Development Authority boards.
---
To view the Women to Watch Awards Finalists main page, click here.
Photos by: Chris Brehmer