Women to Watch Awards Finalists-Nonprofit/Volunteer
Meet the 2021 finalists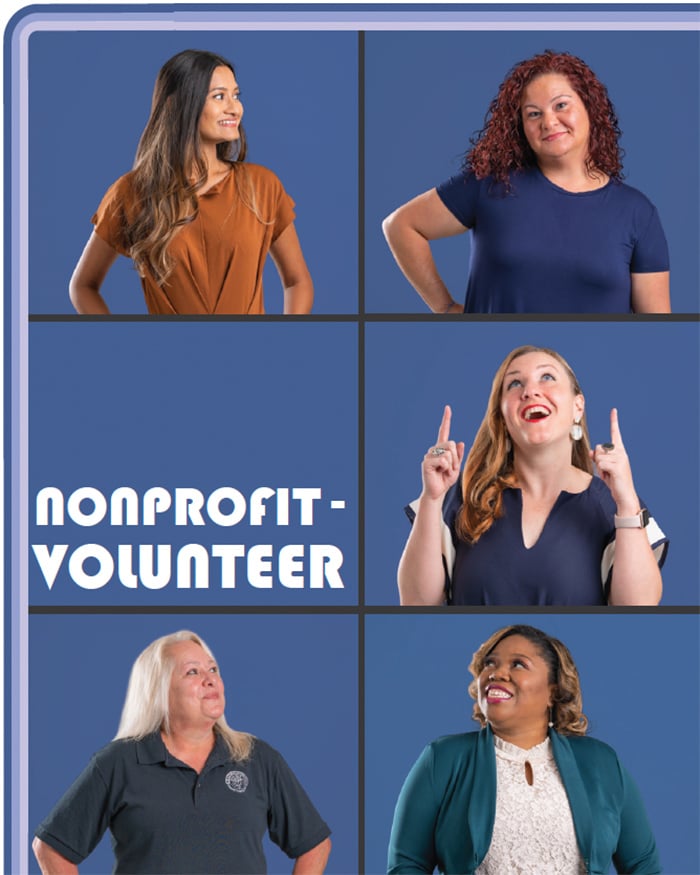 ---
In 1994, Monica Caison founded the nonprofit Community United Effort, also known as (CUE) Center for Missing Persons. The nonprofit organization is focused on finding the missing, advocating for the cause, and supporting the families left behind. Based in Wilmington, the organization works nationally and has helped over 12,000 families.
"My (work) highlights of course are when we bring a missing person home and you see that your mission was honored and followed," Caison says. "I have met so many people from all over the world and at every level in society, wonderful and interesting – stars, experts, and people who are in leadership roles have all inspired my journey. I am most proud of seeing this organization grow from a seedling to a nationally needed resource, able to stand through all of the world's crises and life's setbacks." CUE is entirely funded by donations and staffed by volunteers nationwide. Caison takes no salary, and families are never charged for services. "In cases of the missing there is an overwhelming silence; absent is the voice of the victim and the silent cry for help of those left behind," Caison says.
CUE Center's national programs include the On the Road to Remember Tour, the National Missing Persons Conference, State Outreach Coordinators, and Safe and Found safety program as well as college internships and youth mentoring programs. As CUE continues to grow, Caison's vision of its future remains the same; "A Community that will be United in one Effort concerning missing persons and the cause," she says.
A podcast called Exposé the Vacancy is planned to launch before the end of the year that Caison says will "feature the real pain and challenges of a missing loved one and real families, in addition to bring to light the ways people become missing and how the search for them is vital to afford a resolution."
---
Katelyn Mattox
Program Director,
NourishNC
Through her work with NourishNC, Katelyn Mattox makes an impact on the community by helping provide food to children who are underserved and food insecure, every week and during challenging times. When schools closed last year because of the pandemic, Mattox, the NourishNC team, and the nonprofit's small army of volunteers worked to ensure kids who depend on food while in school still had access to meals. She collaborated with other companies and agencies to get free learning kits, community resources, books, and games to families stuck at home during the shutdowns. Mattox was a leader last year in the nonprofit community as groups looked to move their fundraising events online as she did with NourishNC's Gala-To-Go. Last year, NourishNC fed 1,600 kids a week through its BackPack Program, distributed over 231,000 pounds of fresh food, and served more than 628,000 meals to children in New Hanover County.
---
Jhaniqua Palmer
Director of Outreach Programs,
YWCA Lower Cape Fear
The YWCA Lower Cape Fear recently promoted Jhaniqua Palmer to be the organization's director of outreach. She had led the YWCA's Grandparent Support Network since August 2019, coordinating the continuum of support for fifty families and over one hundred grandchildren. Palmer last year also took on the role of advocacy and racial justice coordinator. She hosts the YWCA's monthly Talk On Race series where she speaks with experts about disparities, implicit and explicit bias, and how racism shows up in their work. "I developed and facilitated a diversity training. It was such an amazing experience to research and lead people in a discussion around race, having healthy habits when discussing race, and how to notice when you are being triggered around the trauma of race," Palmer says. "Racism is systematic in our country and will not change until we take the necessary steps personally and collectively to do better! Executing this endeavor was a dream come true, and I look forward to doing more trainings." Palmer also co-created the YWCA's 21-Day Racial Equity and Social Justice Challenge. In her new role, Palmer oversees YWCA's advocacy and racial justice programming, the Grandparent Support Network, and YWCA's New Choices Economic Empowerment program, which has three programs to empower women in entrepreneurship, job skills, and financial literacy. "We want to impact as many women as we can in our community to help them be the women they have dreamt of," she says. Another highlight in Palmer's work has been to see the children at the Grandparent Support Network grow – "to call me when they have questions and know they can depend on us for support," she says. "Evie Nicolas writes many of our grants, but last year I had the opportunity to write a proposal for the Area Agency on Aging with her help, and we secured $25,000 that went directly to families in support of technology, respite, and supplies. I was very proud of that moment." The Grandparent Support Network next will implement an apprenticeship program and life-skills training for teens. Palmer received her bachelor's degree from Bennett College for women and master's degree from Duke University. She is a member of Alpha Kappa Alpha Sorority Inc.
---
Rakhee Patel
Adult Substance Use Disorder Services Director,
Coastal Horizons Center
In her role with Coastal Horizons Center, Rakhee Patel has allowed for an increase in substance use programming of more than 130 new hours a week and reaching an additional one hundred people a week who need early recovery support. Patel has been with Coastal Horizons, a nonprofit provider of services that range from substance abuse and mental health to crisis intervention and more, for over a decade. "Working at a nonprofit organization for over ten years has allowed me to work with a higher risk population – people who have been through some major suffering in their lives – and then seeing hope instilled in them and then change has been the greatest gift," she says. "Another highlight for me has been starting a training collaborative for clinicians focused on acceptance, mindfulness, and values driven work, which has been the basis of the work I do with my clients." Patel is a licensed psychological associate, licensed clinical addictions specialist, and certified clinical supervisor. She oversees programming in the tri-county area and over twenty substance use professionals. Patel partnered with UNCW to create a learning collaborative for new graduates to be trained in an evidence-based model. "I am hoping to focus more of my efforts now on leadership and assisting newly licensed clinicians and supervisors on their goals," she says. "I think putting in energy into this will authentically impact clients we serve as well."
---
Franchesca Ramirez
MDT Coordinator & Advocate Supervisor,
The Carousel Center
As the daughter of Cuban immigrants, Franchesca Ramirez is not a stranger to hard work, dedication, and advocacy. She graduated with her master's degree while working full time at The Carousel Center and is currently enrolled in a doctorate program. As the nonprofit's MDT supervisor, Ramirez leads the multi-disciplinary team, which includes multiple community agencies. She strives to strengthen community relationships to best serve the children, families, and communities within New Hanover, Pender, and Brunswick counties. As the organization's advocacy supervisor, she leads and supports a team that facilitates healing, promotes justice, and fosters resilience in children victimized by abuse and or neglect. She works with child therapists at the organization to ensure that families who are receiving therapy services have strong advocates to support them as well. Ramirez also provides bilingual advocacy, support, and translation services for Latinx families. "Some of my career highlights would be growing our advocacy department and increasing the number of Latinx families we are able to serve at The Carousel Center, as well as finishing my master's degree and becoming a doctoral candidate while accomplishing these things," she says, adding that her goals include helping to increase services the center is able to provide the Latinx community.
---
To view the Women to Watch Awards Finalists main page, click here.
Photos by: Chris Brehmer