Women to Watch Awards Finalists-Education
Meet the 2021 finalists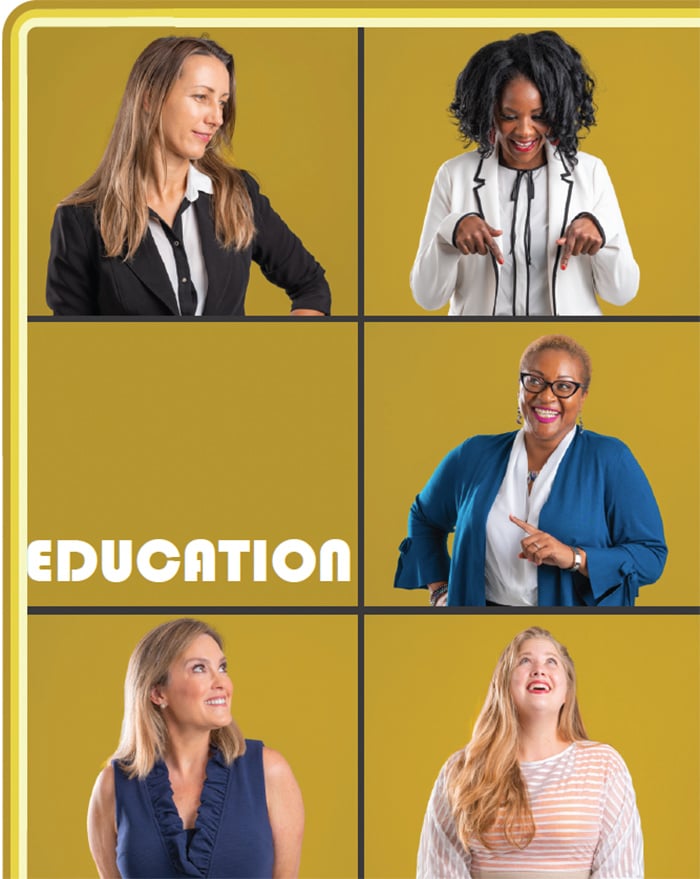 ---
Onya Gardner
Dean of Continuing Education & Workforce Development,
Brunswick Community College
A Brunswick County native, Onya Gardner sees her work in the context of breaking generational poverty through education, credentials, and real-world skills. She helps students with education, tutoring, workforce development, and certifications and has an eye toward recruiting potential students who have barriers to employment. Some of those ways include reaching rural communities to share scholarships information through publications and social media or connecting students to employers at the Brunswick County Home Builders Association meetings. Gardner has helped the Brunswick Community College Foundation apply for local grants. Through her efforts, workforce development students have access to more than $200,000 in scholarship funding. Gardner also serves as an assistant coach with BCC's women's basketball team, mentoring student-athletes in that role as well.
---
Angela Pollock
Director of Development & Head of School,
OASIS NC
Angela Pollock graduated from the University of North Carolina Wilmington in 2014 with a bachelor's degree in adapted special education and then worked as a classroom teacher for the New Hanover County school system. Pollock also received a graduate degree in public administration from UNCW. She is a founding member of the Cape Fear Enrichment Program, a nonprofit that provides real-life opportunities for adults with disabilities and is the social spoke leader for the organization. In 2013, Pollock started the annual I Am Beautiful Fashion Show, a fashion show fundraiser featuring individuals with disabilities. At OASIS NC, Pollock is an administrator but interacts with students on a personal level daily.
"Every highlight of my career lies within the small victories we have had with students. I say 'we' because it is always a team effort," Pollock says. "Whether the team is within the school walls, or with therapists, family members, etc., the small victories are what mean the most: a student has learned to communicate for the first time, a student who has found the power in asking for help when it is needed, a student who has used what they have learned to make a friend for the first time ever – these are the greatest highlights of my career!" She has created outlets to let students find their niches and grow their confidence, including a film festival where students' films are shown at the movie theater. Future goals include plans to expand services to adults to offer classes and social opportunities for growth, in addition to other after-school programming. But right now, Pollock says, her focus is on addressing the impacts of the pandemic. "If you ask most people in education right now, this has been the most challenging of times. There are many unknowns, many additional factors that play into every small decision made in the educational environment," Pollock says. "My immediate goals are to continue to work as a team with the staff at OASIS NC/SEA Academy to support the safety and mental health of our students and teachers. This may seem like a simple goal, but it is what is most important at the moment."
---
Narcisa Pricope
Professor,
UNCW
Narcisa Pricope is a professor of geography and geospatial sciences at UNCW. Pricope founded UNCW's Geospatial Intelligence program, making it one of fewer than twenty schools nationally to receive accreditation from the United States Geospatial Intelligence Foundation. Along with USGIF and colleagues at nine other U.S. institutions of higher learning, she was awarded a $5 million contract from the National Geospatial-Intelligence Agency to supply training and career development courses. One of only a few Fulbright scholars to hold tenure at UNCW, Pricope has led the awarding of numerous grant and research projects supporting climate change and social impacts globally. The author of over forty peer-reviewed publications, Pricope's expertise focuses on land change science, water resources, and climate change. "In regards to my career highlights, honestly I think the greatest accomplishment has been seeing the success of some of my students, both undergraduate and graduate, in pursuing their dream career or dream Ph.D. program upon finishing their degree at a UNCW," Pricope says. "Several of my students have absolutely already exceeded any expectations or any position I had at their age and career stage." Another professional highlight, she says, has been the recognition of her research work in Africa, specifically Namibia, Botswana, and Zambia through an American Association of Geographers inaugural African scholar award as well as through a competitive Fulbright scholar award that she received in 2019 and was slated to complete in 2020 until the pandemic upended plans. "Even though I didn't get to go and spend several months working on the ground in Africa with stakeholders and local collaborators – and teaching at the University of Namibia – and showing my daughter all the places I love and have worked in since 2006," Pricope says, "it was nonetheless a wonderful feeling and personal accomplishment to have been selected for that prestigious program."
---
Sheri Shaw is a bridge builder to both the students she works with and the community at large. In her UNCW role, she is responsible for translating the mission of student success programs and services to enhance the educational experience of students enrolled or interested in majors under the UNCW College of Health and Human Services. Shaw was also appointed the interim coordinator for the BRIDGE program, a campus-wide initiative to launch next summer to recruit, retain, and support minority students pursuing undergraduate degrees. Recently, Shaw and her colleague, Ashley Wells, received financial support to launch an on-campus summer camp for rising ninth-graders interested in the health fields at UNCW out of CHHS. Shaw's passion for helping students spans her career. "My highlights are centered around the programming creation and support for students, especially students of color," Shaw says. "Creating the Mannie L. Jackson Illinois Academic Leadership and Enrichment Program (I-LEAP) – it was my first program implementation as a professional out of college. I was in my early twenties and charged with managing the student experience at a Big 10 university for my alma mater. To not only create a program, but for it to receive a $2 million dollar endowment, honors, and recognition within its first year of execution was just a dream." Fourteen years later, that program is still thriving and has supported over 1,000 students. "It's my legacy, and any time I feel overwhelmed, I reflect on I-LEAP and I get back to work," she says. Shaw also is an entrepreneur and motivator. She co-founded Three Ladies in Wilmington, a group to help connect Black professionals in the area. In addition, recently launched sherinicole.co, which she describes as "a brave, safe space to support and provide a voice for Black women as we navigate the world." Shaw plans to use the platform to engage with others through keynote and conference presentations, academic consulting, professional coaching, and her existing syndicated podcast Black Woman Working. Another goal is developing a one-day women's conference in Wilmington for Black women focused on health and wellness. Shaw is a member of The Inspiration Lab, Wilmington chapter of The Links Inc., and Sigma Gamma Rho Sorority Inc. Additionally, Shaw serves on several community committees and as the co-chair for the Wilmington Chamber of Commerce African American Business Council. She will move into the council's chair position in January. Shaw is also a board member of the North Carolina Community College Foundation, YWCA Lower Cape Fear, Willie Stargell Foundation, Leadership North Carolina, and WILMA's Women to Watch Advisory Board.
---
Like most performance venues, Thalian Hall had a challenging time last year navigating closures during the pandemic. Despite the tumultuous time, Melissa White increased the advocacy and membership for Thalian Hall to its highest level ever. "Melissa has been so integral to the outreach of Thalian Hall," says Shannon Sandlin, immediate past president of Thalian's board. "She is a recognizable face at Thalian Hall, welcoming all volunteers, donors, and theater partners with enthusiasm and always a hand to lend and support." White is an advocate for arts education, fundraising for the Pied Piper Theatre children's programming for first- and second-grade New Hanover County students. "Providing the opportunity for kids to experience the performing arts within the historic setting of Thalian Hall excites me," White says. "Research has shown impressive benefits of arts education, yet not every child has access to quality learning experiences. I am proud to be a small part of the solution through Thalian Hall's Pied Piper Theatre program and our other educational workshops and programs for area youth." White, a fundraising professional, says she is passionate about connecting with the community and sharing the history and significance of Thalian Hall. "Thanks to a generous and supportive community," she says, "Thalian Hall thrives today at 163 years old."
---
To view the Women to Watch Awards Finalists main page, click here.
Photos by: Chris Brehmer