Women to Watch Awards Finalists-Business
Meet the 2021 finalists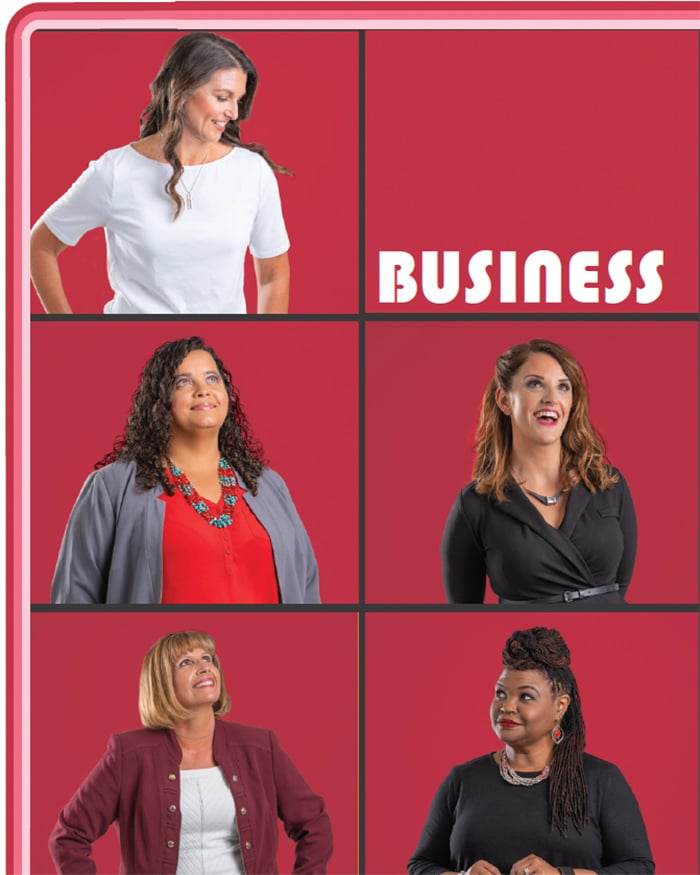 ---
Michelle Patricia Catts
Senior Vice President of Nuclear Programs,
GE Hitachi
Michelle Catts, senior vice president of Nuclear Programs at GE Hitachi, has over eighteen years of managerial and technical expertise in nuclear regulatory affairs. She currently provides overall direction for oversight at GEH including quality, regulatory affairs, organizational effectiveness, and oversight of environmental health and safety. She manages a multimillion-dollar budget and a twenty-eight-member organization.
Catts provides licensing and quality leadership and guidance to support nuclear fuel facility licensing, current nuclear fleet fuel reload/outage licensing activities, new reactor and new fuel opportunities, technical regulations and standards, and GE Hitachi's Vallecitos and Morris sites. Catts previously worked for the U.S. Nuclear Regulatory Commission, where she held positions including as a nuclear reactor inspector stationed at nuclear power plants, working up to policy adviser to the presidential-appointed NRC chairman.
"As a nuclear engineer, I am really looking forward to launching the GE Hitachi BWRX-300 small modular reactor in the United States, Canada, and around the world," she says about her work now. Catts holds a B.S. in nuclear engineering from North Carolina State University and is working on her MBA at the University of North Carolina Wilmington. She is a board member for Smart Start New Hanover County.
---
Chakema Clinton-Quintana
VP of Inclusive Small Business,
Live Oak Bank
Chakema Clinton-Quintana is vice president of Inclusive Small Business at Live Oak Bank, where she leads the inclusive small business center. She focuses on strengthening and supporting inclusive small business growth in communities and verticals through research, job creation programs, capital allocation, mentorship, and programming. Clinton-Quintana has nineteen years of banking experience and has a degree in business management from Strayer University in Herndon, Virginia. Her background includes work in the areas of foreclosure, real estate short sales, loss mitigation, relationship management, and compliance. Clinton-Quintana currently serves on the board of directors for three nonprofit organizations, including treasurer of Voyage Wilmington; treasurer of Red, Black, & Love Inc.; and board chair for The OOPS Foundation.
---
Christi Ferretti
Owner/Executive Chef
Pine Valley Market
Christi Ferretti and her wife, Kathy Webb-Ferretti, moved to Wilmington in 2003 to buy Pine Valley Market, a café, gourmet market, and catering business off South College Road. Over the years, it has grown its business footprint substantially while also making an impact on the community.
"Looking back over the last nineteen years, I am both humbled and in awe," Ferretti says. "When we moved here, I never dreamed that life would lead me down the road that it has. All I wanted to do was feed people and spend my days doing what I loved. As a self-taught chef, I grew up watching cooking shows on TV after school long before the Food Network ever existed." When she was in college the genre of food television grew and ignited a passion for Ferretti. "I could not have dreamed at that time that I would one day be working alongside some of the very chefs that I idolized at a young age," she says. Ferretti has been an advocate of the Food Bank of Central & Eastern North Carolina. She worked with chef José Andrés' World Central Kitchen to help serve over 20,000 meals a day in Wilmington in the days after Hurricane Florence hit and turned Pine Valley Market into a satellite disaster relief kitchen. At Girls Leadership Academy of Wilmington, she not only donates her time on the charter school's chef fundraising events but also works with students in its culinary arts lab.
"By far, the highlights of the last two decades are all a byproduct of being involved in the community and putting myself out there," Ferretti says. "I have had the pleasure of working on committees and with organizations that bring good to our world and the people around us. While I have had the honor and privilege to work alongside some pretty well-known people, the majority of my highlights are working alongside the people I stand beside daily. Whether it's a surprise birthday party, a camp at BHI, or a thousand-person grand opening of a theater – when it all comes together, it feels good."
Last year's tamping down on events impacted Pine Valley's catering department, but that is now thriving, Ferretti says, as the wedding and event industry rebounds in the region. "As we continue to navigate the changes and challenges of our industry during these times, we are focusing on adapting and growing," she says. "New partners will bring new life to PVM (Pine Valley Market) and allow us to offer more convenience and variety to our customers. 2022 will bring the addition of the area's newest wedding and event venue, Seven Meadows."
---
A registered nurse, Wendy Fletcher-Hardee switched careers from health care to help care for her grandmother who had cancer and help her grandfather in the trucking business. She started her own business with Atlantic Truck Brokers Inc in 2004 and Atlantic Coast Trucking Inc. in 2006. Expanding in the traditionally male-dominated industry, Fletcher-Hardee added a tenth dump truck in less than eighteen months and grew her long-haul fleet during the pandemic. She opened her third woman-owned business – Atlantic Mulch & Stone in 2019 – and within a year producing over a million dollars in sales. Fletcher-Hardee graduated from North Carolina State University through a partnership with the North Carolina Department of Transportation. She has served on the North Carolina Defense Business Association board, been nominated for Small Business of the Year in 2017 and 2019, was inducted into the North Carolina Women's Business Owners Hall of Fame in 2021, and received the 2021 Minority Business Advocate of the Year award, among other honors. She is vice chair of the Greater Topsail Island Chamber of Commerce and sits on the Jacksonville Onslow Economic Development board. Her upcoming projects are a mix of personal and business such as continuing to work with major contractors including a paving project on Interstate 40 and construction projects in the region. Her focus also is "to beat my recent diagnosis of Cancer – the dreaded C," she says, and to continue to advocate for women in non-traditional roles and help them accomplish their goals.
---
Ashley Lomboy is the global information security manager at Corning Optical Fiber and Cable, leader of the Corning Native American Council, and member of the Corning Optical Communications Diversity Council. An Army veteran who served in Operation Iraqi Freedom, Lomboy is a member of the YWCA Lower Cape Fear's executive board of directors. She is a member of the Waccamaw Siouan Tribe and works closely with her tribe and community to improve access by developing educational programming and other initiatives. She founded the Waccamaw Siouan STEM Studio and recently worked with the YWCA to spearhead the Red Dress Project, a public exhibit in New York and North Carolina to bring awareness to missing and murdered Indigenous women. She has been a leader in the information security profession for twenty years, working with multiple Fortune 500 companies. She holds a bachelor's degree in computer science from St. Martin's University, is a graduate of the North Carolina Native Leadership Institute through the UNC American Indian Center, and works as an advocate for Indigenous rights.
---
To view the Women to Watch Awards Finalists main page, click here.
Photos by: Chris Brehmer