Women to Watch Awards Finalists-Arts
Meet the 2021 finalists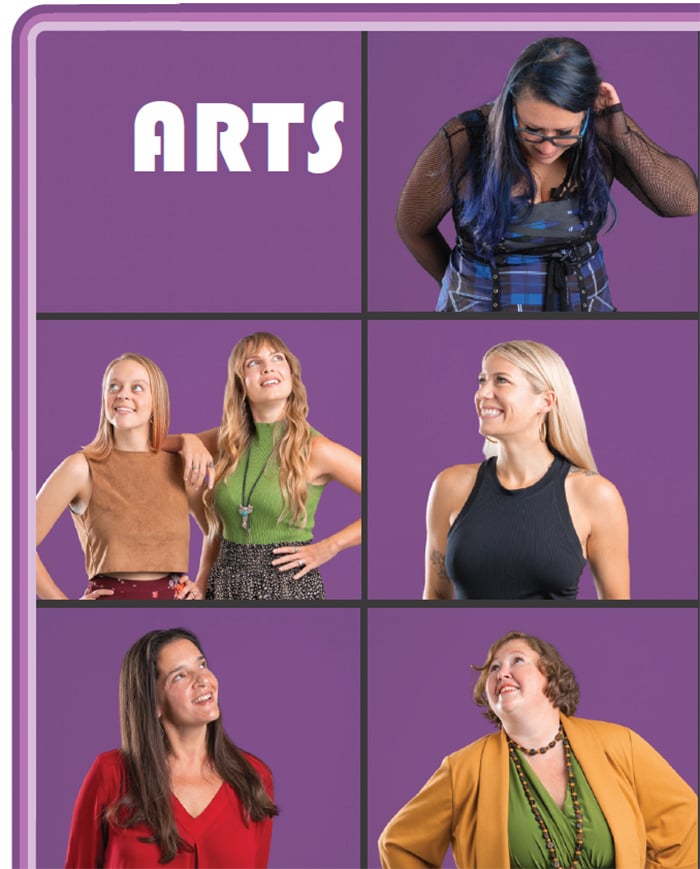 ---
Trista Banfield
Technical Project Manager,
Apiture
Trista Banfield recently started a new role at Apiture where she plans to translate her talents throughout Apiture's processes and fostering teamwork between the departments. Previously at Morvil Advertising + Design, Banfield had been leading the Morvil digital department and growing the company's presence in the digital advertising industry locally and regionally since 2013. Utilizing her skill set in the creative arts as well as her technical expertise, Banfield helped bring a new level of quality to the Southeastern region's technical talent pool. Banfield graduated from the University of Tennessee with a BFA in graphic design and has been featured in the Ewing Gallery, The Emporium, and the Smithsonian in Washington, D.C. She has been part of the leadership for Cape Fear Women in Technology (CFWIT) for over five years and has organized the first ILM Tech-Con event in 2020 and the Cape Fear Region Women's Summit in 2021.
---
Kristi Ray & Erika Edwards
Co-Founders & Executive Producers,
Honey Head Films
In 2016, Kristi Ray and Erika Edwards started Honey Head Films, an award-winning, boutique production company "on a mission to level the playing field for underrepresented cast, crew, and characters in the film industry," according to the duo.
"Honey Head is a social enterprise founded to address the lack of diversity in media – both in front of and behind the lens," Ray says. "Our work locally continues to highlight minorities, creating access, and exposure through the stories we tell and the people we work with. This is truly our mission, and we're honored to live it daily." Asked where she draw inspiration from, Edwards says, "my personal life experiences, nature and music. Whenever I'm searching for a creative idea I always delve into one of these three avenues." They created a Honey Head Mentorship Program for aspiring middle-school female filmmakers and are launching an all-girls summer camp called Shoot Like a Girl to prepare female-identifying teens for careers in film production "in an effort to close the gender gap in our industry." This year, they are participating in Genesis Block's accelerator program for minority- and women-owned companies, during which they have worked on the newest branch of their company, Honey Head Studios, which will be the region's first female-led independent film studio and will be committed to bolstering unique voices and stories emerging from the South. Honey Head projects have picked up honors at the Hollywood Verge Film Awards and Tryon International Film Festival. They currently are working on a new feature film, A Song for Imogene, set for production in the spring. "Over the next two years, we aim to produce and release three narrative features spanning various genres," Ray says. "These films will highlight a female-centric cast, with women in a variety of key roles including writer, director, cinematographer, and producer."
---
Heather Freeman started her business in 2019 after working for multiple startups, tapping instead into her passion to give back to animals in need by creating functional pieces of art and other designs. She uses an eco-friendly material as her main medium and locally sourced materials from the earth including handpicked shells from surrounding beaches. She started the company in her garage and joined a few markets while living in Charleston, South Carolina, where she was soon recognized in Charleston Weddings magazine and selected to create custom pieces for the Gibbes Museum of Art. She brought her work to Wilmington after moving to the Port City in 2020, a few weeks before the pandemic hit due to her husband's job. They also found out they would be expecting their first child. With markets temporarily closed, pregnant, and in a new city, Freeman focused on her website and social media – launching an online shop for her handmade modern-designed surface art. This spring, she started back as a vendor at area markets and regional events. Freeman donates a portion of sales to animal rescue organizations including The Big Paw Project based in Wilmington. Her upcoming projects will be creating larger pieces and working with different mediums as well as partnering with more local oyster restoration groups and animal rescues.
---
Tiffany Machler
Founder, Art by Nugget
Owner/Curator, 11oh9
Tiffany Machler, who also goes by Nugget, has made a mark around town in various ways: on colorful murals on the sides of buildings, with a piece in the "Black Lives Do Matter" public art installation, and through her gallery 11oh9 Gallery. The gallery, at 1109 South Third Street, is intended to be a community art hub with classes and event space. "11oh9 is a place where people can see and create art that's different from the norm," Machler says. Through her work in Genesis Block's accelerator program, she plans to soon launch Sip n Spray, pairing drinks and spray paint practice and techniques. "The thing that I am most proud of … is that I'm helping bring recognition and access to street art," she says. "Sip n Spray will be an efficient vehicle to do that, and I'm especially conscious of how I can get women and minorities involved." Machler calls spray paint "empowering, not only to the artists but the community as well." "It gives them a sense of pride and vested ownership, it illustrates the unique character in specific culture, it provides honest work for local talent, drives tourism dollars, which helps local economies as a whole," she says. "At 11oh9, we retail aerosol paint and supplies, have a 40-foot graffiti wall, and knowledgeable approachable staff. We provide affordable access to street art, and this is a pathway to these benefits." Machler also serves as a board member for the Carolina Beach Mural Project. She believes in mentoring young artists. "Mentorship is particularly important to me," she says. "I had to carve out my own path to make a living at art, and I am hopefully blazing a trail that other young women can follow."
---
Georgia Mastroieni
Director of Outreach & Family Engagement,
Cameron Art Museum
Georgia Mastroieni, who is in charge of outreach and family engagement at the Cameron Art Museum, strengthens the ties between the art museum and the community. She leads CAM's education committee and connects to the Wilmington Housing Authority, The Harrelson Center, New Hanover County Schools, and other community organizations. She oversees the Arts Subcommittee of the New Hanover County Resiliency Task Force and recently joined the DREAMS of Wilmington's board. She also serves as a guardian ad litem volunteer child advocate. For years, Mastroieni led the museum's Connections Program for those living with Alzheimer's disease and dementia and was responsible for branching it out to people of all ages with disabilities. "An ongoing career highlight is being able to meet and work with so many children and families in our community," she says. "I love watching the kids create something they are proud of and explain what it means to me. I also get to work with incredible community partners and develop creative ways to collaborate so we can support one another's organizations." An upcoming project for the museum – the November unveiling of "Boundless," a United States Colored Troops Public Sculpture Project, will provide Mastroieni another opportunity with outside connections. "We look forward to introducing it to the community and developing educational resources to compliment it," she says. "My goal is to continue to create new relationships and share the arts as a vehicle for conversation, inspiration, and change."
---
To view the Women to Watch Awards Finalists main page, click here.
Photos by: Chris Brehmer