Women to Watch Award in Rising Star
Q&A with Rising Star category winner Jenna Curry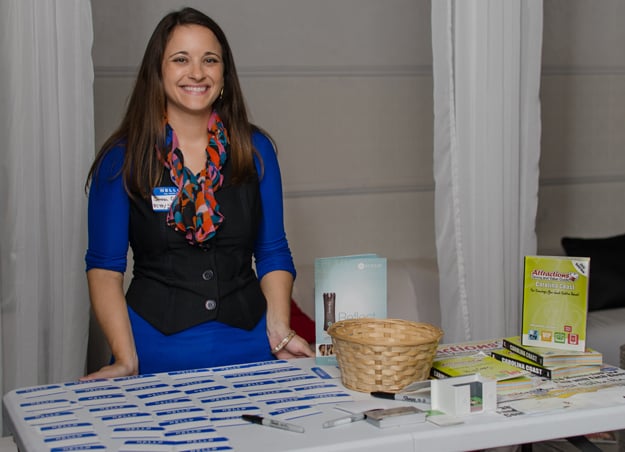 The 2014 Women to Watch winner in the Rising Star category, which is limited to women under the age of thirty, is JENNA CURRY, partner at LITTLE WING MARKETING.
Curry not only runs her own company with her business partner, but she also sits on several local nonprofits boards and started the Port City Young Professionals networking group that has continuously grown in recent years. She is a partner and director of marketing for Little Wing Marketing, a full-service Internet marketing agency in Wilmington. Several years ago, she founded and still leads the networking group targeting area professionals under forty, introducing them to nonprofit and business opportunities. The gatherings now pull about eighty to a hundred people each event and raises funds for causes such as the Wilmington Firefighters Memorial.
Curry is a speaker, trainer, and coach for Quality Enhancement for Nonprofit Organizations, or QENO, an organization that facilitates roundtable discussions with nonprofit leaders. She is a member of Cape Fear CREW (Commercial Real Estate Women), plays in multiple fundraising golf tournaments, and sits on the UNCW Alumni Association board.
WILMA: What inspired you to pick the field you're in now?
Curry: "I've been passionate about marketing, messaging, and bringing people together since childhood. As an eleven-year-old, I opened 'Jenna's General Store' out of my playhouse where I sold candy to the neighborhood kids and would leave bicycles out front so we always looked busy. I loved helping my dad write scripts for his printing company commercials – and also starred in them, too! When I ran for student council treasurer, I handed out fake $100 bills with my face on them. Let's just say, the wheels in my head have always been turning this direction, and it's hard to imagine doing anything else."
W: What do you hope to be doing in the years to come? Curry: "Right now, we are looking forward to growing Little Wing Marketing – our team, our services, and the amount of clients we are able to serve. Many small businesses have only scratched the surface of what can be achieved using the power of the web. I hope to see the Port City Young Professionals networking group continue to grow and provide more valuable opportunities for young professionals in every industry. I have no intention of leaving Wilmington or moving. I love it here, and it's exciting to see so much growth lately in the tech industry – especially for women.
I've recently started a new business in the skin care field as a brand partner with NeriumAD and look forward to helping more people look better and also live better using the products and by joining the business.
On a lighter note, I love hot wings and I hope to discover a recipe for the perfect wing sauce. If you're reading this, and you already have an amazing recipe, please email me, I'd love to try it. I also hope in the years to come to get my first hole-in-one on the golf course."
W: If you could host a dinner party with other women – famous or not, living or dead – who would they be? Curry: "Oh OK, how big is the table!? I draw inspiration from women who defied the odds with their accomplishments while still being part of a team. You can't talk about important women and food without giving credit to Julia Child. She'd have to be there. I'd sit her right next to Meryl Streep, not only because she's an amazing actress but because of Julie & Julia. I bet it'd be a riot! For business, I'd choose Sheryl Sandberg, COO of Facebook and Author of Lean In; Marissa Mayer, CEO of Yahoo!; and Amy Hood, CFO of Microsoft. In the sciences I'd choose Rosalind Franklin, instrumental in the discovery of DNA, and Fabiola Gianotti, former spokeswoman and particle physicist who worked on the ATLAS experiment at the Large Hadron Collider at CERN, which found the 'God Particle' or Higgs boson on 2012. I'd have to round out the list with my mom, grandmother, stepmom, and my best friend since childhood, Miranda, because they'd get a huge kick out of it, too."
W: What has being named a finalist, and a now winner, in the Women to Watch awards meant for you personally and professionally? Curry: "Personally, it meant a lot to me for my dad to attend the event and be able to see me win the award. It feels really good to make him proud of me. Professionally, it's given me the opportunity to connect with so many other amazing women in Wilmington who I admire and can learn from. It was extra special to be a finalist along with friends who I look up to a great deal: Fanny Slater who won the Rachel Ray Cookbook Contest this year and Stephanie Lanier who is taking the area by storm with her boutique real estate firm. It is such an honor to be considered among them."
W: Anyone you'd like to thank in relation to the award or any other comments to share? Curry: "I have to thank many people for helping me get to where I am today. First, I want to thank Mom and Dad for always believing in me and giving me incredible love and support over the years. I want to thank Louise McColl for taking an inexperienced, green, college student, and showing me the ropes while plugging me into so many opportunities in Wilmington. The numerous people who took an interest in me when I decided to grow in a different direction. Ben Snyder for bringing me in to Little Wing Marketing, helping me grow my skill set further, and for always believing in me. WILMA magazine for creating the award and recognizing women in the community. Cape Fear CREW (Commercial Real Estate Women), Caitlin Hoffman, and Kellie Wade for nominating me for this award and encouraging me every step of the way."
To view more of photographer Katherine Clark's work, go to www.katherineclarkphotography.com