Women to Watch Award in Public Service
Q&A with Public Service category winner Ashley Loftis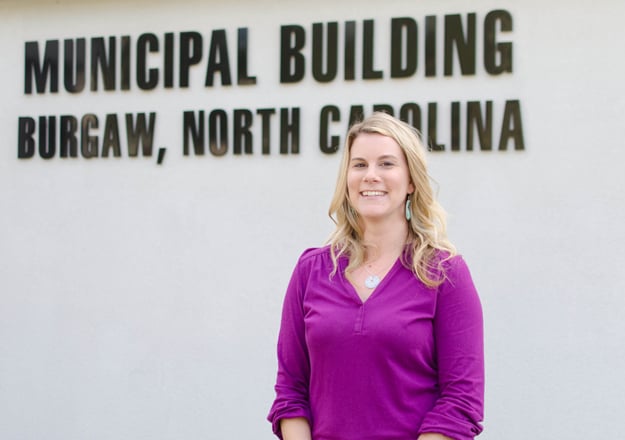 The 2014 Women to Watch winner in the Public Service category is ASHLEY LOFTIS, finance officer for the Town of Burgaw.
In the job for just two years, and Loftis has already made an impression with town officials. When she started with the town, Burgaw was in the middle of several large capital projects that involved the administration of grants, funding agencies, and state and federal reporting requirements. Town officials say she hit the ground running, and the projects never skipped a beat. Loftis also led refinancing most of the town's existing debt to gain significantly lower interest rates. In the community, she serves as treasurer for the annual North Carolina Blueberry Festival in Burgaw.
WILMA: What inspired you to pick the field you're in now? Loftis: "On June 28, 2006 my life changed forever when my husband was shot in the line of duty while working for the Rockingham County Sheriff's Department. At this time, I was working for a local CPA firm and did not have any experience with local government, except through my husband. When this tragic event happened, all the employees of Rockingham County came together to support us and help us through this time. During his healing process, the county in conjunction with the American Red Cross came together and held a blood drive in his honor. My husband and I were both able to attend the blood drive that day, and I will never forget how many employees and citizens of the community came out to support us and the American Red Cross. Most of the employees at that time, I did not know all that well. That did not matter. Since my husband worked for the county, I was considered a part of their 'family'. Through our whole recovery process, the amount of love and support that was received from employees of the county and citizens of our community was priceless. I will never forget it. From that moment forward, I began my journey of working within local government. I began my career with Guilford County Schools in the finance department and then eventually moving on to work with Rockingham County government. I have always had a passion for accounting, primarily forensic accounting, and wanted to pursue this career path within the local government. I felt that by working with the local government, I would be able to give back to the community that gave so much to my family. And on top of that, I was able to work with coworkers who are now my extended family. When I took my current position with the Town of Burgaw, I was skeptical that the atmosphere would be different and the people would not be as welcoming. Man was I wrong — working here feels like working back home."
W: What do you hope to be doing in the years to come? Loftis: "In the coming years, I envision myself laying on the beach soaking up the sun with my two children and husband playing in the ocean. We love the beach and our community in Hampstead. In the years to come, I plan on completing my certifications as Certified Public Accountant and continue pursuing continuing education for my Certified Fraud Examiners certification. Whatever opportunities are tossed my way, I will test them out and follow the path that is meant for me. I want to grow in my career and not become stagnate. I love learning new things, and I love change. I think change keeps us on our toes."
W: If you could host a dinner party with other women — famous or not, living or dead — who would they be?
Loftis: "It would have to be all the women in my family. I come from a long list of strong, independent women. I have always been taught that if you want something bad enough and you believe it, then you will achieve it. They have all been great role models for me and have all achieved great things."
W: What has being named a finalist, and a now winner, in the Women to Watch awards meant for you personally and professionally? Loftis: "Personally I am humbled by the honor. Listening to all the things that all the other women do and have accomplished has inspired me to want to do more for others. I am blessed to be a part of an organization where being strong willed, determined, and hardworking are recognized. Professionally, this is validation to me that what I am doing and where I am right now is where I am supposed to be. When I took this position, it was a huge leap of faith by uprooting my family and moving them here. There were some days where I questioned my decision, but now I have confirmation that what I am doing is right and that I need to continue on and do more."
W: Anyone you'd like to thank in relation to the award or any other comments to share? Loftis: "I would certainly like to thank my town manager, Chad McEwen. Without his nomination none of this would have been possible. Thank you for taking a chance on me and believing in me. Most of all thank you to my husband, Travis, for pushing me to make this move to better myself and for supporting me along the way. I know it wasn't easy! Also, a huge thank you to my family and the good Lord above for all the guidance, love, and support. I could not do it without you!"
To view more of photographer Katherine Clark's work, go to www.katherineclarkphotography.com.