Women to Watch Award in Nonprofit
Q&A with Nonprofit category winner Kyria Henry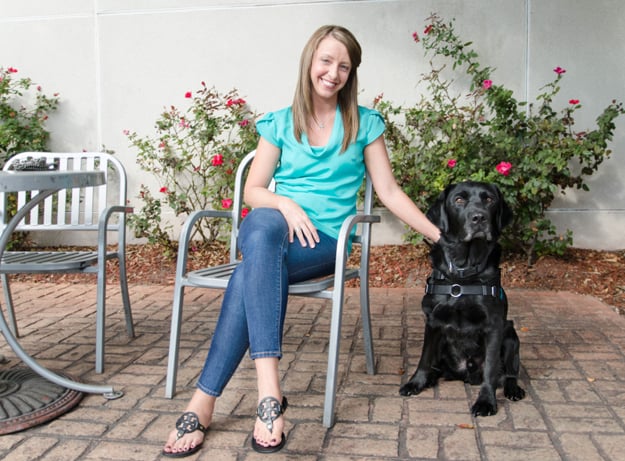 The 2014 Women to Watch winner in the Nonprofit/Volunteer category is KYRIA HENRY, founder and CEO of paws4people foundation.
Kyria Henry founded paws4people foundation at the age of twelve as a means of using dogs to help people. The organization specializes in training assistance dogs for two groups: children and adolescents with physical, neurological, psychiatric, or emotional disabilities; and veterans and active-duty service members with chronic/complex post-traumatic stress disorder, traumatic brain injuries, and military sexual trauma. Besides overseeing more than 300 trained assistance dogs, Henry also is the program director and teaches classes for UNCW's Assistance Dog Training Program, a unique program even on the national level. The first class started in 2011 and includes undergraduate students with majors ranging from recreation therapy to psychology.
The intent is to introduce the concept of assistance dogs and the people they serve to future professionals in a variety of fields. The UNCW students, the group's specially trained staff, and members of the community work with puppies to socialize them. Puppies then enter an inmate intervention program to learn advanced commands and give inmates work experience.
The paws4people group has more than 200 volunteers and operates in sixteen states, placing dogs nationwide.
WILMA: What inspired you to pick the field you're in now?
Henry: "I don't really feel as though I chose this path; I feel it chose me. What I initially thought was a hobby has turned into a passion and a calling. I am incredibly grateful that we are able to continue helping others through paws4people and paws4vets. I wake up everyday amazed that I am able to do this work."
W: What do you hope to be doing in the years to come? Henry: "I hope that with the continued support of the Wilmington community and beyond, we can continue our growth trend and grow from placing dozens of life-changing assistance dogs each year to hundreds. This year at our annual graduation ceremony, we graduated fifty-six assistance dogs with children and veterans with life-changing challenges, whose dogs are giving them a new way to live. I can only hope to keep growing so that we can help more people each year than the year before."
W: If you could host a dinner party with other women – famous or not, living or dead – who would they be? Henry: "I would love to be able to get together with all of my fellow Women to Watch 2014 winners to have the opportunity to get to know them better and find out about their amazing work. All of the finalists I had the pleasure of meeting were so inspiring. I hope to have the opportunity to spend more time with them in the future."
W: What has being named a finalist, and a now winner, in the Women to Watch awards meant for you personally and professionally? Henry: "paws4people re-established its headquarters from the DC-area to Wilmington three years ago. Both personally and professionally, Wilmington has been an amazing place to live and grow the organization. I was so humbled and grateful to receive this honor as a representative of my new home, and to see that paws4people has truly become a part of the Wilmington community."
W: Anyone you'd like to thank in relation to the award or any other comments to share? Henry: "paws4people is a family. A huge team of people make it possible for us to continue our mission of changing – and saving – just one more life at a time through the support and companionship of highly-trained assistance dogs. I owe a huge thanks each and every day to the amazing team we have who are all a part of helping me to live my dream and helping all of our clients to realize their dreams as well. Also, a huge thank you to the Wilmington community for welcoming us and for continually supporting us in our fundraising and awareness efforts. We are so grateful!"
To view more of photographer Katherine Clark's work, go to www.katherineclarkphotography.com