Women to Watch Award in Health Care
Q&A with Health Care category winner Jennifer Buxton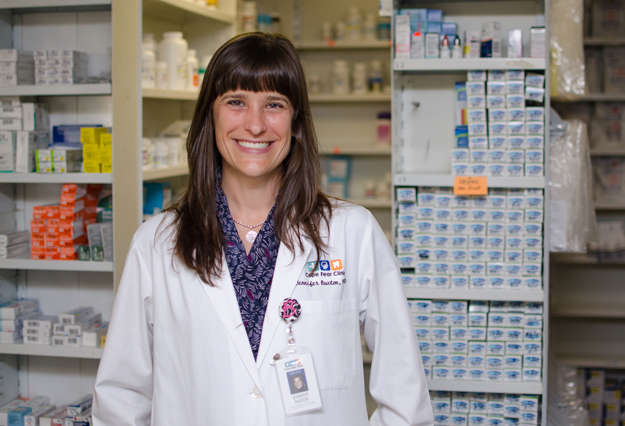 The 2014 Women to Watch winner in the Health Care category is JENNIFER BUXTON, director of pharmacy for CAPE FEAR CLINIC INC.
Jennifer Buxton started working at the charitable care provider Cape Fear Clinic in 2003 as a volunteer while still a pharmacy student at the University of North Carolina at Chapel Hill. She later served as a board member for five years before resigning her seat to take a more hands-on approach. She left a job managing New Hanover Regional Medical Center's outpatient pharmacy to become the clinic's deputy director of pharmacy services in 2011. As the clinic's first resident clinical pharmacist practitioner, Buxton revamped the nonprofit's on-site pharmacy to help more patients. Dispensed prescriptions grew from about 4,000 in 2011 to more than 20,000 in 2013. She also maintains a clinical practice in mental health, providing medication management to the provider's patients, and serves as co-director of Cape Fear Clinic's mental health program.
WILMA: What inspired you to pick the field you're in now? Buxton: "I grew up loving science and math and always pictured myself in a health care profession – making a difference in the lives of those in my community. As I investigated careers in health care, I came upon pharmacy and was immediately blown away. Pharmacists are the most accessible health care professionals and are repeatedly ranked as members of one of the most trusted professions as well. Pharmacy offers a breadth and depth of opportunity that I felt to be unparalleled in other health care professions. Pharmacists serve as medication experts on health care teams, patient educators, clinicians, immunizers, consultants, researchers, academicians, specialists, and administrators – just to name a few – and the opportunities only continue to expand and grow as health care evolves. Thus, the choice of pharmacy as my profession was an easy one; the inspirational part was the more specific choice to practice in direct patient care. The final year of pharmacy school consists of a series of rotations in different areas of the practice. I had previously observed practicing pharmacists making a difference in their patients' lives, but once I was able to make similar interventions independently, I was hooked!"
W: What do you hope to be doing in the years to come?
Buxton: "I hope to continue to improve health care delivery and advance the practice of pharmacy at local, state, and national levels – particularly as an advocate for the recognition of pharmacists as health care providers. Just as I promised when I first took the Oath of a Pharmacist, I plan to 'apply my knowledge, experience, and skills to the best of my ability to assure optimal outcomes for my patients', 'embrace and advocate changes that improve patient care', and 'utilize my knowledge, skills, experiences, and values to prepare the next generation of pharmacists'."
W: If you could host a dinner party with other women – famous or not, living or dead – who would they be? Buxton: "I would invite some of the most influential women the world has ever known, including Malala Yousafzai, Princess Diana, Shirin Ebadi, Betty Williams, Anne Frank, Eva Peron, Dorothy Hodgkin, Mother Teresa, Eleanor Roosevelt, Helen Keller, Marie Curie, Florence Nightingale, Clara Barton, Susan B. Anthony, and Joan of Arc, just to name a few. Some of these women overcame seemingly insurmountable adversity; some contributed greatly to the advancement of science or medicine; while others made great strides for peace, equality, or human rights. Each and every one of them has left, or will leave, the world a little better than she found it. Imagine the creative solutions to world problems that would result from having all these women in one room!"
W: What has being named a finalist, and a now winner, in the Women to Watch awards meant for you personally and professionally? Buxton: "Personally, I am truly honored to be recognized among the ranks of such an amazing group of women. I am thankful for the opportunity to meet and get to know so many successful local women from so many different areas of our community. Professionally, receiving this award further confirms that the hard work my colleagues and I do every day is both visible and valued. This recognition serves to further reinforce my commitment to improving healthcare in our community."
W: Anyone you'd like to thank in relation to the award or any other comments to share? Buxton: "I would like to thank the staff and volunteers of Cape Fear Clinic for their tireless work caring for low-income, uninsured members of our community. t is only through teamwork and collaboration that our accomplishments are made possible. I would also like to thank my boss, the executive director of Cape Fear Clinic, John Devaney, for the nomination; my husband and family for their unconditional love and support; and WILMA magazine for encouraging, supporting, and promoting the achievements of women in our local community!"
To view more of photographer Katherine Clark's work, go to www.katherineclarkphotography.com