Women to Watch Award in Business
Q&A with Business category winner Pam Fasse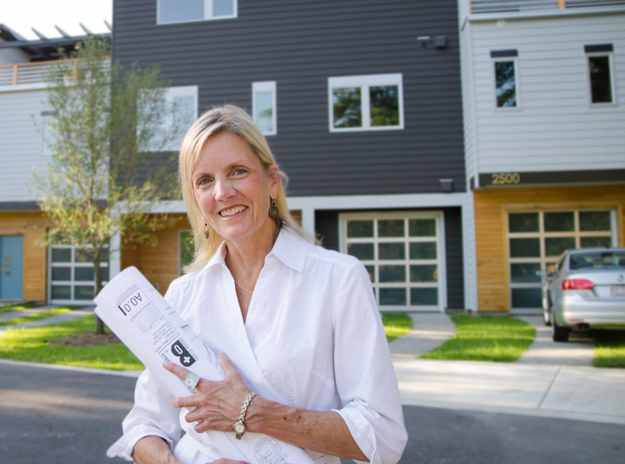 The 2014 Women to Watch winner in the Business category is PAM FASSE, president and licensed general contractor with FASSE CONSTRUCTION AND DEVELOPMENT INC.
As a builder, Fasse and the Wrightsville Beach-based company she heads up focuses on green building techniques. This year, her company finished the first part of a low-impact development called Tonbo Meadow, which is receiving attention for its sustainability features. She is active in the Cape Fear Builders Guild, which is now called the Cape Fear Provisional Branch of the U.S. Green Building Council–North Carolina Chapter, Cape Fear Green Building Alliance, and NC GreenPower, and she won two Lower Cape Fear Stewardship Development Awards.
WILMA: What inspired you to pick the field you're in now?
Fasse: "I've always been drawn to tangible and tactile — and construction is very rewarding in those terms. Creating interesting, healthy, livable spaces became an obsession while I was an undergraduate and studied Frank Lloyd Wright, (Ludwig) Mies van der Rohe, and other designers ubiquitous in the Midwest. I've tried other things, but I always came back to building."
W: What do you hope to be doing in the years to come? Fasse: "I'm working on the first LID (low-income development) community in North Carolina and am hoping to do many more. I focus on custom homes and small, infill projects and am constantly looking for plots of land that are not living up to their potential! I'd like to find a way to push the envelope on passive housing in New Hanover County, and of course, to educate consumers about the benefits of living 'green.'"
W: If you could host a dinner party with other women — famous or not, living or dead — who would they be? Fasse: "I would host my mother and sisters and as many great friends from near and far as I could fit in a room. I've been extremely fortunate to know the people that I do, that have shaped and supported, stood by and stood up, made me laugh, and made me a better person. My mother died recently, but she would love to be in a room full of love such as that would be. The older I get the more obvious it gets that it's all about the love!"
W: What has being named a finalist, and a now winner, in the Women to Watch awards meant for you personally and professionally? Fasse: "I'm so humbled by the amount of talent and intelligence in our community. Being recognized among these women is unbelievably special, and I don't take for granted that being watched means having a responsibility to do my best! It's very motivating personally and professionally. The road to this point has not been smooth or easy or short, but I'm very proud of all of the people that worked with me along the way. Hopefully, WILMA magazine's readers will look to all of these bright and talented women for future needs. I'd love to build a home, a community, or a business space for any of them."
W: Anyone you'd like to thank in relation to the award or any other comments to share? Fasse: "I'd like to thank English Jeffrey for her nomination and support, and thanks to WILMA magazine for being a part of the solution for bright women in Wilmington!"
To view more of photographer Katherine Clark's work, go to www.katherineclarkphotography.com.