Women to Watch Award in Arts
Q&A with Arts category winner Jen Iapalucci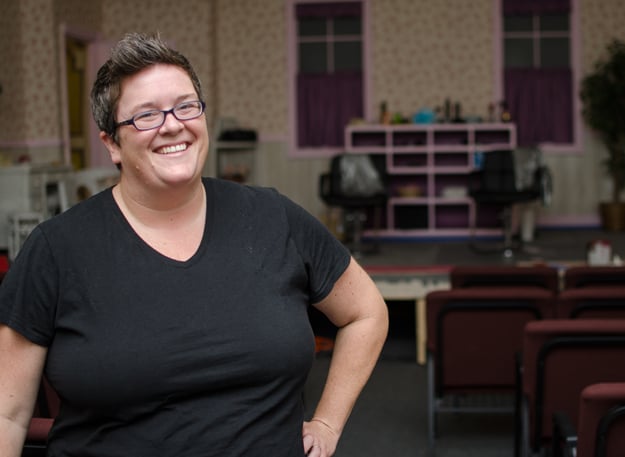 The 2014 Women to Watch winner in the Arts category is JEN IAPALUCCI, director of the BRUNSWICK LITTLE THEATRE
Iapalucci is a director of many of Brunswick Little Theatre's musical productions. The productions consist of casts of about forty people, and she encourages families to audition and be a part of the show. As a volunteer, she also has pitched in to perform, stage manage, make costumes and props, and any number of other behind-the-scenes jobs. She also has directed a small-cast comedy. Iapalucci founded the Let's PLAY! children's theater workshop in 2013 for children through Brunswick Little Theatre. Originally a weekly program, it expanded to include a summer camp version and continues to operate during the school year. When not working with the theater, she performs with her sister and brother-in-law in the band Motherboy.
WILMA: What inspired you to pick the field you're in now? Iapalucci: "I grew up in a family that was always involved with theater, both community theater and school productions, so although theater was never my main activity or interest as a child, it was always a part of my life. When I moved to Southport sixteen years ago as a newlywed, one of the best pieces of advice my mother gave me for meeting people in a new town was to get involved with the community theater. My husband and I were happy to discover that Brunswick Little Theatre is a warm and welcoming group, and although we both started out as performers, I quickly discovered my real love of working behind the scenes. I have a BFA in painting from the Lamar Dodd School of Art (University of Georgia), but theater has given me an outlet for my creativity in ways that painting never did; instead of me, standing alone at an easel trying to capture the images in my head, I get to be a part of a creative community, a theater family that lets me bring the pictures in my head to living, breathing – and singing and dancing – reality. I am delighted to share a love of theater with my older son, who is happiest when he's on stage. I founded the Let's PLAY! Children's Theater Workshop so that he, and other kids his age, could explore their interest in performance in a low-stress, safe environment."
W: What do you hope to be doing in the years to come?
Iapalucci: "I hope to continue directing shows for Brunswick Little Theatre, I definitely have a list of shows – that grows every year – that I would love to have a chance to work on. I have recently begun working with the Thalian Association as well and am so thankful for the opportunity to be inspired by the huge pool of talent in this community. Theater really is for everyone, whether you are onstage, backstage, or in the audience. I hope I can continue to encourage everyone in our community to give it a try."
W: If you could host a dinner party with other women – famous or not, living or dead – who would they be? Iapalucci: "I come from a family of fabulous women. They are strong, and creative, and nurturing, loyal and fierce and passionate. It has been far too long since all of these women were in the same place at the same time, my grandmothers and my mother, my sisters and my aunts and cousins and my nieces. It would take a ballroom to hold us all – or at least to contain the joyful noise we all make when we're together – but I can't imagine a group of women I would rather spend the evening with. Oh, I suppose if Julie Taymor were available to stop by for dessert, that would be okay, too."
W: What has being named a finalist, and a now winner, in the Women to Watch awards meant for you personally and professionally? Iapalucci: "It was such a surprise to be named a finalist! True story: when I got the call from WILMA about the nomination, I was in the middle of tech for Into the Woods with Brunswick Little Theatre, and when I first heard it was WILMA magazine on the line, I assumed it was a call about publicity for the show! It took me a few minutes to process what I was actually hearing. Honestly, it was really such an honor to be included in such an amazing group of women, and to be named the winner is very validating. I don't often seek out the limelight, so I am struggling a little bit with the attention, but I do feel so rewarded for the years I have devoted to Brunswick Little Theatre and encouraged and inspired to keep doing what I love."
W: Anyone you'd like to thank in relation to the award or any other comments to share? Iapalucci: "I would like to thank Gillian Carney, who nominated me, and the Brunswick Little Theatre, for allowing me to have so many terrific opportunities. Thank you to WILMA magazine, for the honor, but most of all, I thank my husband, Adrian, and my sons, Max and Milo, who share my love for theater, who support me unconditionally and never mind when dinner isn't served until after rehearsal."
To view more of photographer Katherine Clark's work, go to www.katherineclarkphotography.com