With Honors
Lindsey Neumann nominated for Coast Guard award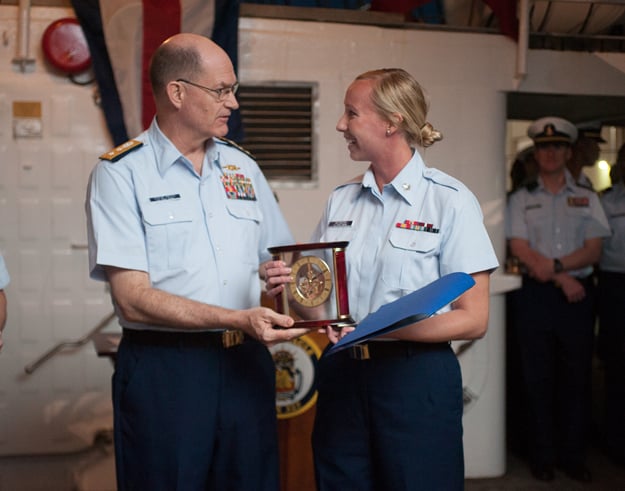 Wilmington's Lindsey Neumann was one of nine considered for the national honor of Coast Guard Enlisted Person of the Year this year. She was previously chosen as the 2013 Sector North Carolina Enlisted Person of the Year in February and then as the 2013 District 5 Enlisted Person of the Year, which encompasses the Mid-Atlantic states, in March.
"I believe my personal and professional drive as well as my dedication to the community has significantly influenced my nomination for the 2013 Coast Guard Enlisted Person of the Year," Neumann says of her nomination.
"I feel so honored to have even been nominated for these awards," she says. "I really appreciate the support I have received from my shipmates and my command in pursuing opportunities in and outside of the Coast Guard."
Neumann was chosen as WILMA's Women to Watch winner in the Rising Star category last year for her dedication and involvement in the Wilmington area. Noted for saving more than 216 lives during her time in the Coast Guard, she also has volunteered as a big buddy in Wilmington's Big Buddy Program and upheld a 4.0 grade point average as she pursued her master's degree at the American Military University.
She has made an impact by creating relationships between the Coast Guard and the community and by volunteering for nonprofit organizations and participating with Leadership Wilmington. She encourages her shipmates to take time to volunteer alongside her.
Although Neumann was not awarded with the final, national honor announced in April, she notes that the winner was a well-deserving shipmate of hers.
Neumann hopes to make first class petty officer and then attend the Coast Guard's Officer Candidate School in the near future. In the long run, she wants to become a command center chief or sector commander.
Nominations are open through July 1 for this year's WILMA's Women to Watch awards. For more information, click here.