Wilma's Women to Watch Winners!
237 nominations, 7 judges, 6 winners. And here they are...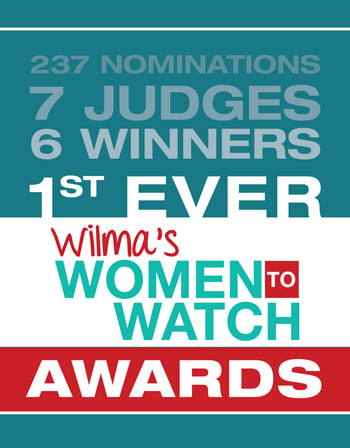 A few months ago at WILMA's office, we discussed an idea.
We're a women's magazine that every month profiles amazing things local women are doing throughout the community. Why not highlight some of those things through an award as well?
Numerous meetings, emails and brainstorming sessions later, the Women to Watch award was born. We put out a call for nominations to identify up-and-coming women in our region and were impressed by the quality and sheer number of submissions that came in after just a couple of weeks.
We then pulled together a wish list of local women whose accomplishments and varied career backgrounds could bring the insight needed to pore through the pages of nominations and pick the winners.
And pore they did. When the judging panel met, there was thorough and deliberate discussion – back-and-forth about the strongest contenders.
The advice we gave judges was to ask themselves: Did they think the nominee would have a big impact on the Wilmington community in the next 10 years? That kind of impact could come in many ways – building a business that creates jobs, helping form or grow a nonprofit, mentoring others who would become future leaders for example.
We gave the judges full discretion to pick the winners, and it ended up a unanimous decision in each category.
There are plenty of ambitious, talented women in the area you might not have met yet but should.
Allow us to introduce you to six of them.
Carmin Black, Carla Turner, Laura Hunter, J.C. Skane, Susan Savia, and Cicely Pringle
ABOUT THE JUDGES
Virginia Adams is the former dean of the UNCW School of Nursing, retiring in 2008 after 14 years in the position. She now consults for the National League for Nursing and is chairwoman of the steering committee for the International Council of Nurses' Nursing Education Network.
Emily Colin is the associate director of DREAMS of Wilmington Inc., a nonprofit that reaches youth in need through free literary, visual and performing arts programming. Her first novel, The Memory Thief, was released in August.
Susan Fennell became executive director of the YWCA Lower Cape Fear in January 2011. She previously led YWCAs in High Point and Brunswick, Ga. as well as owned her own business.
Judy Girard is president emeritus of Food and HGTV networks. She mentors at UNCW's Cameron School of Business and volunteers at Canines for Service with her therapy dog.
Michelle Li, an evening anchor and reporter at WSFX and WECT, has received the Edward R. Murrow award for writing and several regional Emmy awards.
Fran Scarlett is the regional director of the Small Business & Technology Development Center at UNCW. She also is currently serving as interim director of the UNCW Entrepreneurship Center.
Michelle Scatton-Tessier is director of the UNCW Women's Studies & Resource Center. She also is an associate professor of French at the university.