Wheels on the Bus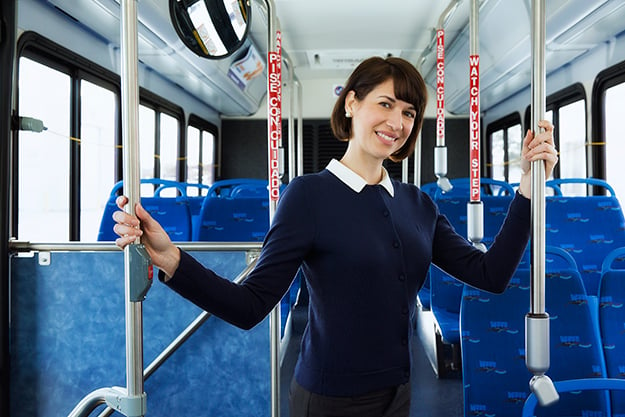 Vanessa Lacer wanted to do more, to make a real difference in people's lives and her community. While public transportation didn't immediately come to mind, that's where she's found herself, and it's the perfect place for her.
As the new mobility manager for the Cape Fear Public Transportation Authority (also known as Wave Transit), Lacer is making public transportation a viable option for the area's elderly and disabled. But that's just the beginning. Lacer is brimming with ideas to make the bus system one that a large percentage of Wilmington residents, young and old, of all incomes, will use regularly.
"I am thrilled to be here," she says, her enthusiasm infusing every word. "I love giving the community a voice, making transportation more efficient and improving access. All these things are so important and so positive. Being able to make change in our community is such a blessing."
A Wilmington native who has worked with numerous local nonprofits as a volunteer, Lacer knows the community. She also has degrees in sociology and public administration. And she just completed a year managing Wave Transit's database. During that time she learned detailed knowledge of every aspect of the bus system.
With her background, Lacer understands the human side of transportation as well as the administrative and governmental logistics to be met when providing transportation services. Add to that the extensive network of individuals and nonprofit organizations she plans to collaborate with, and she has all the ingredients to successfully meet her goal: to remove the barriers that prevent the elderly and disabled from taking public transportation and to increase opportunities for them to access it.
"I want to make public transportation age- and disability-friendly, to give these people access to transportation so they are not stuck in the suburbs," she says. "It's not just about getting them to a doctor's appointment. We've got people who could be active members of their community, a force for change, who are stuck at home because they can't get to a meeting."
Not surprisingly, Lacer came up with a creative, comprehensive, and multipronged plan.
First, she wants to increase awareness about the bus system by offering travel training to the elderly and disabled. They'll learn their transportation options as well as the ins and outs of riding the bus.
Lacer also plans to conduct surveys and focus groups to learn exactly what these populations need, and she will ask nonprofits and others who work with them for input. Then, Lacer will put out a call for projects to meet those needs. Under her stewardship, services such as neighborhood circulators, individuals who drive the elderly and disabled to-and-from bus stops, may soon be a reality.
But that's just the start of Lacer's vision.
She foresees a time in which many Wilmington residents choose Wave Transit over other transportation options, including driving. They'll not only use the bus system for their usual commutes, they'll get something extra to boot.
For instance, Lacer hopes to create special destination bus trips for excursions to the beach, Southport, and community events. She also wants Wilmington's bus stops to be comfortable and inviting. How about decorating them with art and having portable libraries at each one, she suggests. Making bus rides fun and engaging is another goal. Skeptics may scoff, but Lacer is undaunted. She's too busy putting together a customer appreciation campaign (drivers will nominate their favorite customers) to kick off that goal.
While Lacer is a fount of ideas to improve Wilmington's bus system, she's eager for more. If anyone has ideas for public transportation, Lacer says she is all ears.
"I want to be a resource for the community, she says. "Call and let's talk. I welcome you with an open door."
To contact Lacer, call (910) 202-2045.
To view more of photographer Chris Brehmer's work, go to www.chrisbrehmerphotography.com