Water Sign
Erin Carey works to help improve the health of Wilmington waterways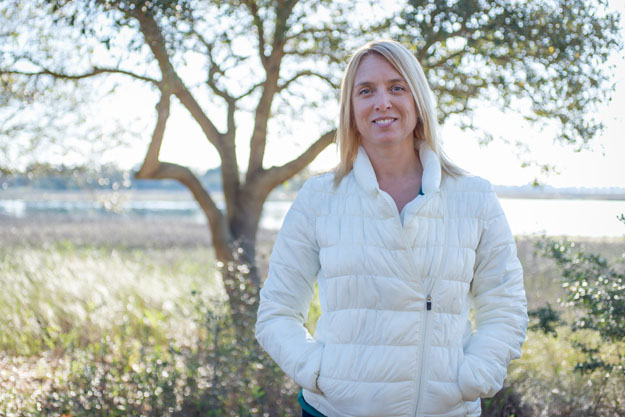 Erin Carey wants you to see the signs. Literally.
The ones this lifelong conservationist is referring to are the yellow "Closed Area" signs prohibiting shellfishing that can be found around some of Wilmington's waterways.
Of course, these signs aren't meant to protect the shellfish, but rather to protect Wilmington's residents from eating them – a protection necessitated when bacteria levels are elevated in Wilmington's waters.
And Carey, watershed coordinator for Heal our Waterways, fears that Wilmington's residents have become desensitized to them.
Through Heal Our Waterways, an initiative set forth by the Wilmington City Council, Carey is involved in a variety of advocacy and education efforts to bring awareness to – and improve – the state of Wilmington's water, particularly in Bradley and Hewletts creeks where water quality has been severely impacted by polluted runoff.
Carey came to Wilmington by way of Vermont, a place that "just breeds conservationists and environmentalists," she says. It was there, in the third grade, where she orchestrated her first petition.
"The petition was ridiculous because I was in third grade," Carey says. "I found a large rock out in the playground and named it and wanted to bring it inside and set it under my desk, and my teacher wouldn't let me. So I started a petition with the class because I figured if the class didn't care then she shouldn't care. I got everyone to sign it."
While she received detention in lieu of being able to keep the rock, her passion for nature and the outdoors – as well as advocacy – continued all the way to the present.
Carey transferred to University of North Carolina Wilmington from Ithaca College in New York to complete a degree in environmental science in 1999. She stayed in the area, holding a variety of jobs from nonprofit work and waiting tables to working on endangered species surveys and doing prescribed burns as part of a nature conservancy fire crew.
She returned to UNCW in 2004 to pursue her master's degree in marine science, where her study focused on water quality. After graduating, Carey worked as a microbiology laboratory manager and an environmental specialist before being tapped by the City of Wilmington for her "dream job," the watershed coordinator position with Heal Our Waterways.
A watershed, Carey explains, is an area of land that drains into a specific body of water. The entire world can be divided up into different watersheds; Wilmington itself can be divided into about seven – from areas that drain into Greenfield Lake, to the Cape Fear River and the Intracoastal Waterway.
The problem, Carey says, is the way Wilmington's significant population and infrastructure growth has affected stormwater.
"When it rains, instead of soaking into the ground like it normally would, it hits things like roads and rooftops and sidewalks and impervious surfaces," Carey says.
"The way our infrastructure is designed, it directs (stormwater) to pipes and culverts pushes it right into the tidal creeks. The problem is it picks up pet waste, it picks up oil, it picks up everything that's on the ground, like fertilizer, and it doesn't get treated before it gets put into the tidal creek. So, over the years, that has degraded our water quality," she says.
To combat this problem, Carey and Heal Our Waterways harness multiple stakeholders, from local government and schools to homeowner associations and private businesses, to come together on various projects.
One project is the Tidal Creek Community rain garden. North Carolina State University, University of North Carolina Wilmington, Surfrider Foundation, and Tidal Creek Co-Op came together to create the garden, which captures stormwater that would otherwise run into Hewletts Creek.
This kind of project, Carey says, is the perfect example of the kind of simple, cost-effective solution that follows when a community rallies together. Senior design students from N.C. State provided the design free, while UNCW provided the land and is doing maintenance on the garden.
"It could not have turned out better," Carey says. "Aesthetically, and function-wise, it does everything that it's supposed to do and more. And it's beautiful; it educates people. It's a shining example of the kind of retrofit that brings the community a level of awareness we couldn't have given them otherwise."
Bringing that awareness to local residents is one of Carey's primary goals.
"The degradation we've seen has happened over decades," she says. "Our ultimate goal is to open these shellfish waters where they were back in 1981."
But, she notes, Heal Our Waterways also wants to empower local residents.
"We want people to do is take a look at their own properties and say, 'All right, what can I do to minimize the amount of stormwater that's coming off of my property?" Carey says.
As it turns out, the solutions are simple, ranging from picking up after pets to minimize the bacteria going into the water, to planting native plants to minimize pesticide and fertilizer use. Other simple solutions include rerouting downspouts so they go into the yard, rather than onto driveways (and eventually into the drain) or purchasing a rain barrel.
Even building your own rain garden, Carey says, isn't that difficult.
The benefits to the community aren't just environmental, she points out.
"You can look at it as an economic thing. The shellfish harvest, the shellfish fisheries in general are a huge economic driver around here. Being able to swim in the water is a huge economic driver around here," Carey says. "If you can't get on board with the environmental part of it, it can have a serious negative economic impact as well."
Carey feels that her myriad work experiences prepared her well for this position.
"Working with different organizations, working with nonprofits, working in research, even working in the private sector, having those different experiences helps me relate to our stakeholders a lot better." Carey says. "If you know where an organization is coming from, you know their mission, then it's a lot easier to communicate with them. If I only had one kind of experience I would have no idea how to talk to other."