W2W Leadership Initiative's November Updates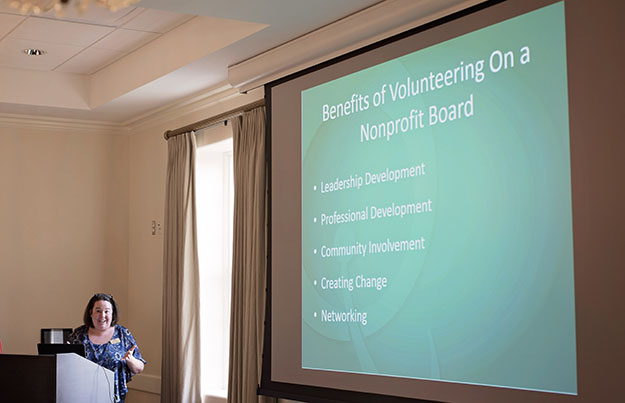 WILMA's Women to Watch Leadership Initiative has updates to share as we continue to work on the effort's core mission of helping develop more women leaders in our area.
Here's what we've been up to with various W2W Leadership Initiative programs, and what's coming up next:
GET ON BOARD: Last month, we held our most-recent Get on Board training session on UNCW's campus (above). The Get on Board program seeks to help more women in the region join boards of directors. Through our partnership with UNCW's Quality Enhancement for Nonprofit Organizations (QENO) and United Way of the Cape Fear Area, we offer training to potential board members and help match them with board opportunities. Women who complete the training session are eligible to list their backgrounds and areas of interest on our new website wilmasgetonboard.com so area organizations can expand their applicant pool. Local nonprofits, government authorities, and businesses with boards also can list their board application info on the site. The next Get on Board training session takes place at our upcoming Leadership Accelerator.
LEADERSHIP ACCELERATOR: Registration is now open for this year's Leadership Accelerator, a day of education seminars and networking, on December 1 in conjunction with our annual WILMA Expo. Seminar topics range from planning career goals to inspiring team members. A keynote lunch also features a panel of area business leaders. For more info and to register go to wilmaexpo.com.
WILMA NETWORK: The WILMA Network, made up of women from the companies that support the Women to Watch initiative, serve as a resource for each other and represent a variety of area businesses, large and small. Members participate in small-group networking events called 2nd Tuesdays.
IN THE LOOP: Keep up to date with these and other Leadership Initiative programs as well as applications announcements by going to WILMASToWatch.com or signing up for the WILMA Weekly newsletter on our website.
-Vicky Janowski, WILMA co-editor, and Maggi Apel, events director
Co-leaders of the Women to Watch Leadership Initiative
To view more of photographer Michael Cline Photography's work, visit www.michaelclinephoto.com.