W2W Leadership Initiative's May Updates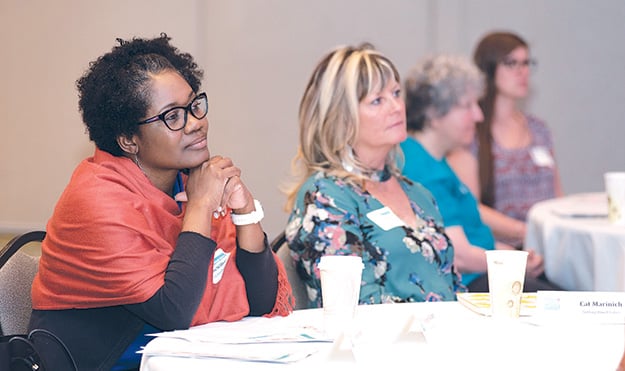 WILMA's Women to Watch Leadership Initiative has updates to share as we continue to work on the effort's core mission of helping develop more women leaders in our area. Here's what we've been up to with various W2W Leadership Initiative programs and what's coming up next:
MENTORING PROGRAM: The next year-long Mentoring Program held its new-group orientation (above) April 5. In the program, 30 mentors are paired with 30 mentees who applied to the program to work on leadership goals throughout the year. Special events will take place throughout the year and will be open to WILMA readers, so keep an eye out for announcements.
GET ON BOARD: WILMA's Get on Board website (WILMAsGetOnBoard.com) is up and running. With the mission of helping increase the number of women on boards of directors in the region, the Get on Board program provides training opportunities for those looking to serve. Once they go through the training session, women are eligible to post their interests and professional background info on the website to connect with local organizations. Local groups also can submit info to have their committee and board application details on the website. The next Get on Board training session is slated for this summer.
WILMA NETWORK: The WILMA Network, made up of women from the companies that support the Women to Watch initiative, serves as a resource for the women involved and represents a variety of area businesses, large and small. Members participate in small-group networking events called 2nd Tuesdays. This month the group comes together on May 7 to volunteer for Habitat for Humanity's Women Build.
IN THE LOOP: Keep up to date with these and other Leadership Initiative programs as well as application announcements by going to WILMASToWatch.com or signing up for the WILMA Weekly newsletter on our website.
-Vicky Janowski, WILMA editor, and Maggi Apel, events director, Co-directors of the Women to Watch Leadership Initiative W2W@WILMAOnTheWeb.com
To view more of photographer Michael Cline's work, go to www.michaelclinephoto.com.
Want more WILMA? Sign up for our WILMA Weekly email and announcements at WILMAOnTheWeb.com.