W2W Leadership Initiative's March Updates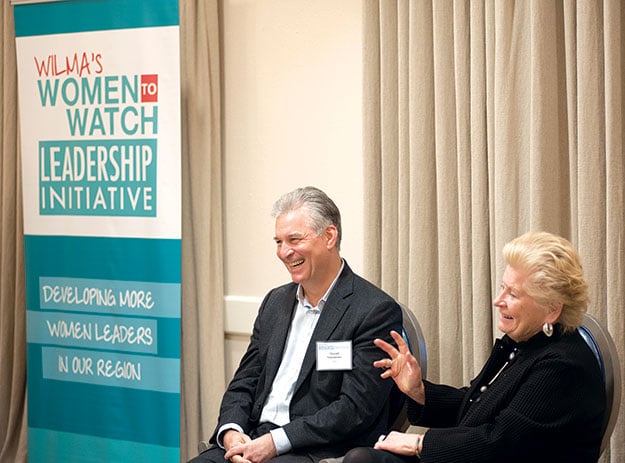 WILMA's Women to Watch Leadership Initiative has updates to share as we continue to work on the effort's core mission of helping develop more women leaders in our area. Here's what we've been up to with various W2W Leadership Initiative programs and what's coming up next:
LEADERSHIP INSTITUTE: PPD Chairman and CEO David Simmons and GLOW Academy Founder and former Food Network President Judy Girard (above) spoke to the WILMA's Leadership Institute about lessons in leading. The Institute is made up of twenty-five selected women who meet monthly for leadership skills training, interaction with area executives, and peer mentoring sessions. Applications for next year's class open again in the fall.
MENTORING: Participants in the 2017-18 mentorship program met last month for a wrap-up session. The event, a group mentoring session, took place at the City Club and gave the chance for the full group, which included about thirty mentees who worked one-on-one with their mentors for the past year, to speak with others in the program. Orientation for the upcoming mentoring program year takes place at the Greater Wilmington Business Journal's WilmingtonBiz Conference and Expo on April 5.
BOARD TRAINING: Partnering with UNCW's QENO, we'll hold a speed meeting event in April with area nonprofits for women who have completed our Get on Board training. Get on Board's goal is to get more women placed on area boards of directors. Those who go through the training also are able to post on our board connecting website at WILMAsGetOnBoard. Area organizations also can post their boards and committees info on the website.
IN THE LOOP: Keep up to date with these and other Leadership Initiative programs as well as application announcements by going to WILMASToWatch.com or signing up for the WILMA Weekly newsletter on our website.
 -Vicky Janowski, WILMA co-editor, and Maggi Apel, events director Co-directors of the Women to Watch Leadership Initiative W2W@WILMAOnTheWeb.com
To view more of photographer Michael Cline's work, go to www.michaelclinephoto.com.