Vintage Blues
Castle Street couture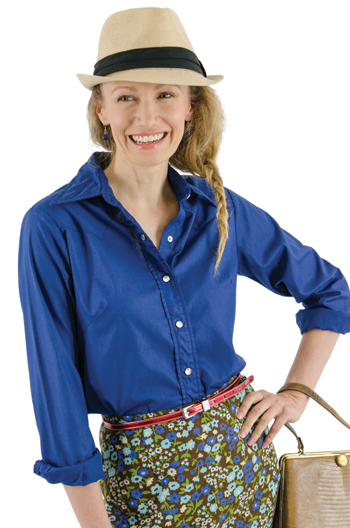 Left: Blue Western snap front SHIRT ($22), 1960s floral print pencil skirt ($24), both available at Second Skin Vintage. Hot pink skinny BELT and FEDORA (stylist's own)
There's a renaissance happening on Castle Street, with antique shops and vintage boutiques popping up along the 600 block. Relics and gems from the past are celebrated on this side of town, and you never know what classic piece you'll find to update your wardrobe. We discovered a staple pencil skirt, circa 1960, in a floral print and found multiple ways to wear it using thrifty finds from the shops of Castle Street. VIntage mavens and budget fashionistas, take note.
Teal pleated-sleeve BLOUSE ($5.99), available at Vintage Values. 1970s leather and button-cinched BELT ($28), available at Second Skin Vintage. Gold NECKLACE (stylist's own)
Yellow SHELL by Richard Jones ($2.49), white BLAZER by Daniel O Tahari ($5.99), and blue BELT ($2.99), all available at Vintage Values
Faux-lizard mid-century HANDBAG ($28), available at Second Skin Vintage
Model: Jennifer Chapis | Makeup: Danielle Forte
To view more of photographer Katherine Clark's work, go to www.katherineclarkphotography.com.