Unveiling the Mystery of Gender Studies
UNCW's Katie Peel heads up Women's Studies Resource Center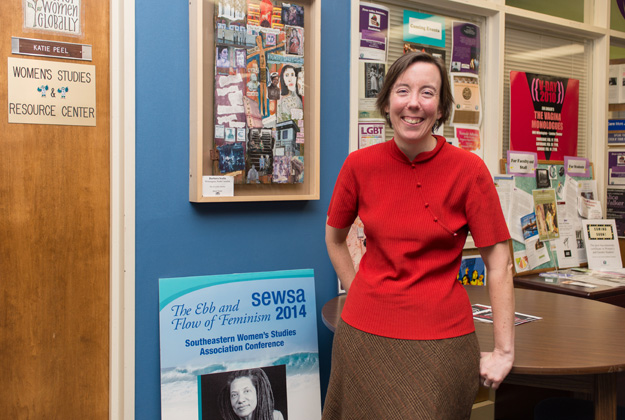 The fun part of Katie Peel's job is watching students understand they don't need to be afraid of feminism and gender studies.
Peel took over as the director of the Women's Studies Resource Center (WSRC) at the University of North Carolina Wilmington in July. She became interested in women's studies when studying English literature as a graduate student at the University of Connecticut, where she earned a certificate in women and gender studies and taught courses.
"I've always been drawn to issues of gender and sexuality in reading, but also larger issues of social justice," she explains. "Women's studies gave me the opportunity to study that on an interdisciplinary level."
Peel came to UNCW in 2008 as an English department faculty member, teaching young adult literature. As a faculty member, she was women's studies-affiliated, which allowed her to participate in WSRC events. She's been involved with the WSRC since she came to campus.
Teaching students about issues of gender has been one of the high points of Peel's professional life.
"The fun part is that, especially for college students, a lot of it is still really new. A little bit of that is regional, but you know, feminism is a word that they're still skittish about," she says.
To alleviate the skittishness, Peel explains the underpinning of feminism during her courses and presentations: People should be treated equally regardless of gender, class, race, sexuality, or other factors that could divide people rather than unite them. Gender is just one of the myriad ways in which people identify themselves, she adds. And feminism and women's studies aren't just for women.
"When you talk about it that way people find it a lot easier to accept," she says.
Students often come in thinking it's going to be an "angry, hairy lesbian class," Peel says. Once they understand the topic better, they understand women's issues fall under a broader umbrella of social justice issues.
The shift from faculty to her current administrative position has been an interesting one, Peel says. It has required her to use her scheduling and organizational skills more often than in the past. She particularly enjoys the fact that she is able to advocate on behalf of faculty, staff, and students in her new role.
Peel says the WSRC continues to work on behalf of issues of social justice and building a network of allies and supporters with common goals on the local level. For instance, the center is currently gearing up for its big fundraiser, the annual production of the Eve Ensler play The Vagina Monologues at UNCW's Lumina Theater. Proceeds from the show on February 12 and 15 will benefit the Rape Crisis Center of Coastal Horizons Center Inc., The Carousel Center, and V-Day International.Click here for more information.
The WSRC has two components. As its name implies, the resource center provides resources to faculty, staff, and students. Peel says that while the center doesn't provide direct services, it does provide what may be compared to triage – determining what needs to happen, in what order, and locating the appropriate resources. A typical day at the center may consist of helping a student who thinks that he or she is in an abusive relationship, talking with a staff member who's having difficulty with a colleague, and working with a potential faculty member preparing to present on their research.
The academic component involves managing the gender-related academic programs, including the gender studies minor and a post-baccalaureate certificate.
When Peel assumed the director position, she set about to acquire space for the center, which now consists of her office and the office of administrative assistant Peggy Styes. Additional real estate would allow for meeting space and a place to display resource materials. Since space on campus is much sought-after and limited, she's taken her place in the queue.
In recent months, Peel has been trying to expand the gender studies reach by reaching out to other departments and professors to have them participate in the gender studies minor or have gender studies included in some of their courses.
To view more of photographer Katherine Clark's work, go to www.katherineclarkphotography.com.