Twinkle Toes
Dance class isn't just for the kiddos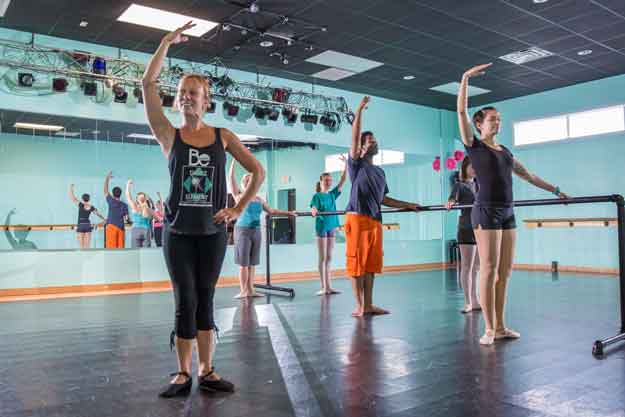 If you think dance is just for kids, think again. Wilmington women (and a few men) are indulging their passion for all types of dance – tap, modern, jazz, ballet, and hip-hop – and getting a good workout in the process. And, they're having a great time doing it.
The fitness benefits of dance are almost too numerous to count. You'll strengthen your muscles, improve your posture, increase your balance and flexibility, and enhance your cardio fitness.
"Dance is a wonderful form of exercise," says ASHLEY BARNES (above), owner of THE DANCE ELEMENT. "It's definitely a healthy way to exercise the whole body."
There are so many forms of dance, it's easy to find the style that best meets your fitness goals. For example, with ballet, you'll tone and lengthen muscles and develop fast- and slow-twitch muscle, but cardio fitness will be limited. With modern dance, you'll build strength, especially through your core. With tap dancing, you'll get a great cardio workout while increasing your balance and coordination; and with hip-hop, you'll get an intense cardio workout.
"Dance works muscles you didn't know you had," says LESLEY DEVANNEY, who started dancing as an adult. "I feel like my mind is sharper, and I definitely have better posture. My body is toned, and my clothes fit better. I look better, and I'm healthier. My doctor can't believe my blood work."
Devanney, like many adult dancers, doesn't restrict herself to one dance form. To get a well-rounded workout, she takes ballet as well as tap.
Another benefit to dance is that adults don't have to force themselves to attend class. One reason is that with dance, adults have an opportunity to express their artistry as they work towards their fitness goals.
"Dance isn't just exercise," says CORY SMITH, owner of the WILMINGTON CONSERVATORY OF FINE ARTS. "It's artistry. The adults enjoy the quality of having their bodies working in graceful ways. They leave a dance class feeling uplifted and inspired."
Equally important, dance gives adults a respite from their daily demands and responsibilities. In a challenging class, stress and concerns are forgotten as students focus on technique and the steps, according to Barnes.
"It's a really great escape to come to a dance class," says The Dance Element owner Ashley Barnes. "It's a great opportunity to leave everything else behind and be in the moment."
Furthermore, dance comes with built-in accountability – dancers' classmates and teachers expect them to be there, which gets them to class even when doing one more thing seems insurmountable.
Dance has another factor in its favor: It's social. As dance draws kindred spirits, it's easy to make friends. BECKY SPIVEY, who has danced on and off all her life, says members of her modern dance class gather for regular wine nights, engage in social activities, and look after each other.
If you are a beginner or haven't danced in a while, it can be daunting to stick your foot in a dance studio. But those who have done so say you shouldn't worry. Adult dancers, even those who have danced for years, welcome newbies, Devanney says. All the dancers encourage and support each other, and they share a lot of laughs as they learn new steps and choreography, she adds.
But, one mustn't forget that dance is an art form, and, as such, it is meant to be shared, to be performed. In the Port City, adult dancers have multiple opportunities to do that. Some perform specially choreographed pieces at their studios' recitals; some join studio companies and dance alongside the teenage students, and some perform at venues such as Cape Fear River Watch fundraisers.
The adult dancers who do perform find it worth the time and effort. Having a performance to work toward helps them be more disciplined, gain confidence, and feel a sense of camaraderie with their fellow dancers.
"It feels good to be on stage," Devanney says. "Everyone has the same goal. There's something very human about it."
At many area studios, adult dancers can buy a class card for ten or more classes, which provides discounted rates. The cards are generally good for six months, and you only pay for the classes you attend.
If you're thinking of taking a dance class, go ahead and get yourself to a studio.
"People should just give dance a try," Spivey says. "It's such a good workout, and those who have started say, 'Wow! I wish I'd known about it before.'"
To view more of photographer Chris Brehmer's work, visit chrisbrehmerphotography.com.