Tow Truck Divas
Diva Recovery born out of career reboots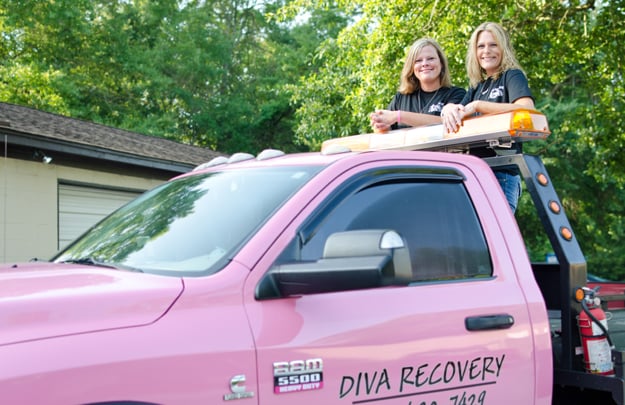 When RENEE REGISTER and TONYA THOMPSON met more than twenty-five years ago, they never planned on venturing into a male-dominated industry and succeeding. In their five-, ten- and even twenty-year plans, hauling vehicles behind their own was not considered.
Eventually, a pink tow truck became the solution to success.
It hasn't been easy for this pair of mothers, but they were determined to find a way to provide for their families in challenging economic times. Their company DIVA RECOVERY and pink tow truck are now constantly on the go in the Port City.
A car repossession once took the ladies a couple minutes to perform. Now, the duo can hook a car to their truck and tow it away in mere seconds.
People tell them the work and the women behind the pink tow truck would be perfect for a reality TV show.
"If we had a dime or penny for every time we've heard that, we would be rich right now, wouldn't even need to be working. It's crazy," Register says. "And you know, we didn't go out seeking that type of attention. We both were seeking jobs, went on several interviews. We were on unemployment. We had families to feed. We had to come up with something. We had to create ourselves a job." 


The tough economy took a toll on both women in 2009. Each were laid off – Register from her job at a construction company and Thompson from a car dealership. The women needed to figure out a way to make ends meet to support their children.

Since they were introduced as teens, Thompson and Register envisioned going into business together. They initially thought they could start a clothing line.

"We went through having children together, and our children, raising our kids together, and just pretty much always wanted to start our own business together," Register says.
Their need for stable work in a challenging economic climate took them in another direction in 2009 when they launched Diva Recovery.
"My husband was hesitant at first and thought, 'What in the world are you thinking?'" Register recalls. "Me and Tonya had already made up our minds, 'We're going to do it. I just need your blessing.'"
With no experience in the industry, Thompson and Register taught themselves from the bottom-up – literally how to tow trucks.

"It was tough at first because first we had to even learn what we were doing," Thompson says. "We did a lot of practicing in our own yards, picking up our own cars."
They started off their small business doing vehicle repossessions. They knew every second would be crucial with limited time to remove a car from someone's property before an angry lender demand they leave.
"You're rolling up on somebody's private property. You don't know if these people are going to act civil," Register says. "We always approach people with respect because it's ultimately a bad situation that your car is getting repossessed."
The duo gained confidence, efficiency, and respect as they got more tows under their belts. Notoriety amongst their peers quickly followed.
"The rumor around town at first was, 'Oh, they won't make it six months … and then, they won't make it a year,'" Thompson says. "Here we are five years later, and these guys now wave at us when we pass down the road. We get a lot of respect from them now."
The ladies and their pink tow truck may soon find themselves in living rooms across the country as well. Register and Thompson have been in contact with production companies from New Jersey and New York, pitching their story to networks. While they never sought that sort of attention, they're flattered.
"It actually tickled us that they even contacted us and were like, 'We would love to do a show about y'all,'" Register says.
There's been a few rough days when they've wanted to throw in the towel, but the lifelong friends motivate one another to continue working.
"It doesn't matter if it's normally done by a man, it can be done," Register says. "Ultimately it's about surviving in this crazy economy."
To view more of Photographer Katherin Clark's work, go to http://www.katherineclarkphotography.com.