Tofu Toque
Emily Lyons digs up vegan options at Eatery 17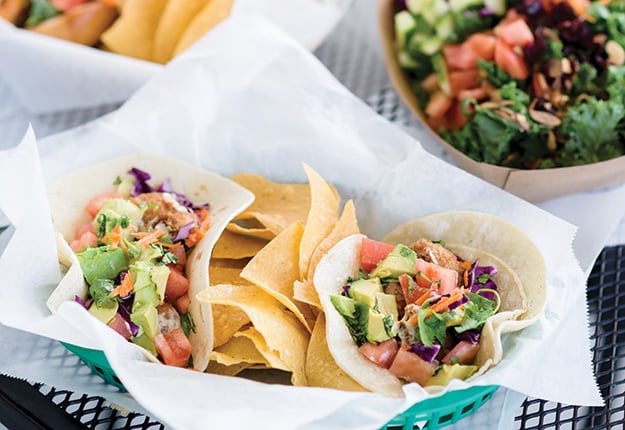 YOU KNOW YOU'VE taught your children properly about food when you have to hide vegetables from them because they'll eat (arguably) too many. EMILY LYONS, vegan chef at EATERY 17, forced her mother do to just that from a young age. "She would always have to buy extra cucumbers and tomatoes," Lyons says, "because I would snack on them so much."
Lyons has been a vegan for about six years, and the transition happened quickly for her – she removed meat from her diet and switched to plant-based fare with ease. But the switch isn't so simple for everyone.
Going vegan can often present challenges – many are concerned with getting enough protein, the challenge of finding food at popular restaurants, or being active on a mostly plant-based diet.
With tastes like those at Eatery 17, protein is easy to come by. Its tofu is packed with it, and the chefs treat tofu like the main attraction instead of a sideliner. One of Eatery 17's most popular specials is its "phish" taco – tempura fried tofu with avocado relish. "We try to make it the star of the meal," Lyons says. "We can substitute on the existing menu, but we also make new dishes with tofu as the star."
Lyons (left) came to Wilmington to study accounting at University of North Carolina Wilmington.
"But I was bored," Lyons says, "and I saw this ad on Craigslist for a dishwashing position at Sealevel (City Gourmet). Within a week, I was like the head of the kitchen."
Since January, Lyons has been cooking at Eatery 17 and expanding its vegan audience. She also does private chef work on the side. But she hasn't always been a vegan. Although she started going vegetarian at UNCW, she committed to the vegan lifestyle after seeing a PETA magazine on campus.
"I liked my steaks well done," Emily Lyons says of her pre-vegan lifestyle. "I think that's usually a sign that you'll eventually become a vegan."
Being a vegan, Lyons says, actually allows her to recover faster after the races she participates in almost every weekend. Lyons is known on Instagram as the Vegan Spartan, and she signs up for races all over the country. She's a part of the "Trifecta Tribe" in the Spartan Race community – someone who has completed the Spartan Sprint, Spartan Super, and Spartan Beast races.
"I started doing races after I became a vegan, so it wasn't any more challenging at all," she says.
With healthy plant-based plates from locations around the world like Eatery 17's, recovering after a race isn't hard to do.
Eatery 17's name doesn't just come from its location at 2547 South 17th Street by Shipyard Boulevard.
The restaurant also specializes in dishes from 17 different locations from the Southwest U.S. to the South Pacific – from California to Thailand and Korea to Mexico. They don't serve just vegan food, too, although Lyons is in the process of finalizing a vegan menu. From steak and cheese wraps to vegan kale salad with dried cranberries, almonds, and white balsamic dressing, Eatery 17 embraces visitors of all eating philosophies.
Owner Jonathan Heller, who also owns Reel Cuisine Catering (a custom catering/ food styling business for film), is a graduate of The Culinary Institute of America. He is also a personal chef for many visiting actors who film in the Port City – the most recent big name being Robert Downey Jr. during his filming in 2012 of Iron Man 3.
"We've been turning a lot of people toward trying vegan," Heller says. "And people are always so locked on mushy tofu when they think of vegan. We've been able to turn the corner on that a bit. Emily's brought in a lot of ideas for that."
"Everyone has a tofu horror story," Lyons adds.
Lyons has brought in specials every week that shake up the usual "mushy tofu" that people think of when it comes to vegan food. Instead, the restaurant now features specials such as pancit noodles, vegan burgers, Thai peanut salad, and green papaya salad. "I want to highlight what's on the menu that's already vegan too," Lyons says. About half the menu is vegan (or can be made vegan by simply removing cheese or egg).
She hopes to pursue a similar career as Heller, acting as a plant-based personal chef for actors with special dietary needs. Lyons says she "kind of fell into cooking and being a private chef," but she hopes to grow her personal chef business as well as vegan business for Eatery 17.
"I did it for ethical reasons," Lyons says about going vegan, "but then I realized the health benefits and environmental benefits. It's the all-around best diet to follow."
To view more of photographer Erik Maasch's work, visit websta.me/n/emaasch