The Picnic Pros
Spread out a blanket and enjoy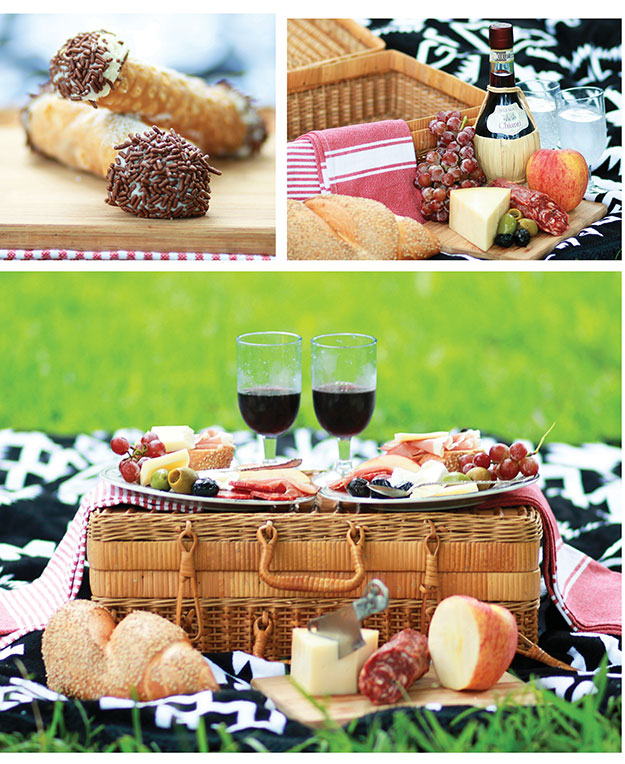 It's picnic season in the Port City. And, whether you're headed to the beach or boat or planning an evening under the Airlie oaks, these area specialty shops have pulled together basket recommendations to help you get to where you're going in no time – with a gourmet meal in tow.
FOR A EUROPEAN VACATION
With a full range of imported Italian products and homemade specialties, A TASTE OF ITALY offers all the components of a gourmet European-style picnic.
Owner CHRIS GUARINO and daughter SAMANTHA suggest: a link of dried sopressata and a chunk of sharp provolone or housemade fresh mozzarella, accompanied roasted red peppers, assorted olives, and crusty Italian bread.
Or, add in other Italian meats such as Genoa salami and prosciutto, which can be sliced and sold by the pound.
To drink, the Guarinos suggest a bottle of Bell'Agio Chianti and some San Pellegrino sparkling water. And, for dessert, pick up a box of assorted Italian cookies or try the homemade cannolis filled to order. Cheesecake is also on hand, as is strawberry tiramisu throughout the summer months.
PICK UP: A Taste of Italy, 1101 South College Road (items shown above)
FOR SUMMERTIME SALADS
KIM AND MATT LENNERT, of SPOONFED KITCHEN & BAKE SHOP, prepare a variety of summer salads every day that are perfect for picnicking.
Grab some: homemade chicken salad, corn avocado salad, and bruschetta salad featuring summer tomatoes, cucumbers, mozzarella, garlic croutons, and basil in a red wine vinaigrette for a flavorful mix of offerings that are sure to please. With a rotating selection of salads and sides, there's always a little something for everyone.
As for sweets: Cookie jar favorites include sea salt chocolate chip, lemon crinkles, strawberry shortcake, and coconut macaroons. Spoonfed also bakes up brownies, blueberry crumb bars, and lemon squares.
The retail shop carries a variety of cheeses, crackers, chips, and salsas.
Of course, no picnic is complete without some refreshing beverages. In addition to the wine and beer selection, check out Charleston, South Carolina-made Cannonborough sodas in flavors such as lemon laurel, raspberry mint, and honey basil.
PICK UP: Spoonfed Kitchen & Bake Shop, 1930 Eastwood Road, Suite 105, in Lumina Commons
FOR IMPROMPTU PICNICS
Another one-stop shop for picnic fare is THE VEGGIE WAGON. With locations in Wilmington and Carolina Beach, it offers pre-packaged sandwiches, salads and dips, that make grab-n-go shopping a breeze.
Co-owner MAX SUSSMAN suggests: the homemade chicken salad sandwich, prepared with all-natural chicken breast, celery onion, and pimentos and accompanied by a garden salad and the Southern macaroni salad.
A fresh baguette and some pimento cheese would round things out, with Rice Krispies treats made from homemade honey marshmallows for dessert.
To drink: The Veggie Wagon offers twelve craft beers on tap for growler fills, as well as kombucha, cold-pressed juices, and cold-brew, Island Roast coffee.
PICK UP: The Veggie Wagon, 3315 Masonboro Loop Road in Wilmington and 608 South Lake Park Boulevard in Carolina Beach
FOR SIPPING AL FRESCO
"Bistro wines are the perfect picnic wines because they are meant to be enjoyed outside with lighter fare," says AMY SILER, owner, SOIF DE VIN.
She recommends:
Mont Gravet Côtes de Gascogne, a light but flavorful white wine
"A perfect hot-weather wine, it's full of bright acidity with notes of tangerine and pairs with picnic foods from salty cheese to fried chicken. It's clean, refreshing, and lively on the palate," Siler says.
Mas Fi Cava Brut Rose, to bring in the bubbles
"This Spanish sparkling wine offers crisp fruit flavors of strawberries and watermelon, balanced by fresh acidity and foamy effervescence," she says. "It pairs well with most picnic foods, plus it covers two of the most important wine food groups: rosé and bubbles!"
Cru Beaujolais Régnié from Basty, "the ultimate bistro wine, Gamay"
"(It's) a bright, flavorful, wine that will be the perfect complement to the sausage and cheese in your basket. Light tannin, dusty cranberry, and lively acidity make Gamay the perfect food wine. There's a reason it is served in all the bistros of Lyon."
PICK UP: Soif de Vin, 5226 South College Road, 9-B
When it comes to picnics, what's on the menu is only half the fun. The setting – along with the weather – can make or break an outing. Local chefs weigh in on their favorite picnic spots and what they take with them.
"Obviously, we love the beach down here, but one of the more unheralded spots for a great sunset picnic is under the trees at Fort Fisher. You get the breeze off the ocean and the sun setting over the river at the same time. It's beautiful and hard to beat.
As far as food, our rule is the simpler the better. We opt for a simple smoked catfish dip, some pickled vegetables, cured salumi, a fresh baked baguette from The Veggie Wagon, and a cold bottle of dry rosé."
– Craig Love, chef and owner, Surf House Oyster Bar and Surf Camp
"My favorite spot for a picnic is Greenfield Lake. It is charmingly rugged and swampy, but beautiful year-round. You are always sure to see some serious wildlife whether it's springtime geese families or summer turtles and gators.
There are a lot of areas and gardens around the lake that are designed for you to post up with your favorite food, favorite people, and a beautiful view. Most days at Greenfield Lake feel like you have the place to yourself."
-Lydia Clopton, pastry chef at PinPoint Restaurant and owner of Love Lydia, a bakery coming soon to the South Front District
To view more of photographer Terah Wilson's work, visit terahwilson.com.
Want more WILMA? Sign up for our WILMA Weekly email and announcements at WILMAOnTheWeb.com.
Comments
comments