The Other Side of Service
Military Spouses Face Unique Career Challenges, but Local Efforts Aim to Provide Resources and a Path to the Top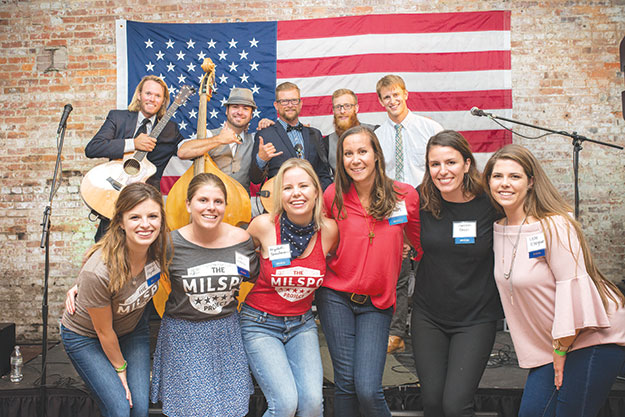 When CORINNE WALKER – then Corinne Corto – moved to Wilmington to pursue her MBA, she thought she'd get her degree and move on to wherever the best employment opportunities presented themselves.
Instead, the Erie, Pennsylvania, native ended up meeting her future husband, Jesse, and after studying abroad opted to stay in the Cape Fear region as he served with the United States Marine Corps.
Even before officially becoming a military spouse, Walker began to experience issues unique to those married to active military service members when it comes to employment.
 Employment Challenges
According to a 2017 survey by Hiring Our Heroes through the U.S. Chamber of Commerce Foundation, unemployment remains around 16 percent among military spouses, nearly four times the national average and the average in Wilmington.
Additionally, even when military spouses can get a job, their skills and education are often underutilized, with about 70 percent of survey respondents indicating their employment did not match their education and experience.
In fact, military spouses and families are still largely at Great Recession levels of economic crisis, says ELIZABETH O'BRIEN , director of the Hiring Our Heroes' Military Spouse Program.
O'Brien, a military spouse herself, says the typical challenges military spouses face in the job search are the loss of networks from frequent moving, non-linear career progression, or resume gaps and limited career advancement opportunities should they finally land a job.
In Wilmington, which is surrounded by multiple military bases for different branches, the difficulties for military spouses are even more complicated. Additionally, many spouses who do find work end up driving up to an hour each way from their homes near military bases, often for less-than-ideal jobs.
"That's a whole other level of complexity that a lot of military spouses around here deal with," Walker says. "You know, in a way, you're giving up something for your significant other, and you understand that going into it, but there are some days you get upset and frustrated."
Creating a Support System  
The challenges faced by military spouses haven't gone unnoticed on the national stage. Earlier this year, a bipartisan bill was introduced in Congress to expand the Work Opportunity Tax Credit provisions to include military spouses.
The measure would incentivize businesses to hire military spouses through the tax credit.
Locally, University of North Carolina Wilmington worked with the U.S. Chamber of Commerce to "get military spouses out of the fine print" through education efforts and training for relocation and the job search.
SIOBHAN NORRIS, military liaison and program manager for UNCW's Office of Military Affairs (pictured to the right in green), and REBECCA CHRISTIANSEN , associate director for employer development at UNCW, have worked to build a foundation for the nationwide effort to provide resources for military spouses and increase the number of spouses pursuing higher education to further their careers.
"We are looking to serve military spouses in every stage of their life cycle," O'Brien says, noting that the UNCW efforts are being used as the baseline of success for new campuses that come online.
Those efforts also include providing training through UNCW's Cameron School of Business to help military spouses adapt when they are forced to move.
"If you're not flexible, if you're not adaptive, you're not going to be able to maintain a career," Norris says.
Norris is an Army veteran and military spouse herself, and her family has moved fourteen times in seventeen years, giving her an insider's perspective as she works to help other spouses.
"I've had to reinvent myself so many times to find a job," she says. "I feel like I am a walking example of why Liz (O'Brien) and her team are doing exactly what it is that they are doing."
Wilmington is also the home of THE MILSPO PROJECT, a nonprofit working to encourage entrepreneurship among military spouses across the country and around the world.
"Military spouses represent the other side of service that is sometimes forgotten about," executive director ELIZABETH BOARDMAN says.
Boardman, also a military spouse, says her goal was to create a community for military spouses to overcome the challenges they face.
For Walker (pictured above in black), The Milspo Project was the lifeline she needed when she was struggling to find her place in the workforce and as a military spouse.
"I found these people who felt the same way I did, and all of a sudden I had a community, and that just really changed everything for me," she says.
Her new community connected her with Norris and Christiansen at UNCW and eventually with Geo Owl, where she currently works.
Connection with other military spouses, Boardman says, is critical to combating the isolation the military lifestyle can create, and The Milspo Project works to provide members with a support system to foster relationships between military spouses – particularly those who have chosen entrepreneurship as a way to combat unemployment.
Ultimately, the women leading the way at UNCW and The Milspo Project, as well as individuals such as Walker who have used those resources to further their own careers, hope the business community will consider military spouses as an untapped resource of employment potential.
"We are highly educated, highly mobile, and highly adaptive," O'Brien says, "and military spouses are going to come in and create a better corporate culture."
HONOR AUCTION
The Milspo Project's second annual Honor Auction fundraiser and Military Spouse Appreciation Day event is coming up, with music and dancing, craft beer, food, and a silent auction.
MAY 11, 5-8 P.M. PALATE BOTTLE SHOP & RESERVE, 1007 FOURTH STREET
INFO: http://milspoproject.org/honor-auction